Shopping Cart
Your Cart is Empty
There was an error with PayPal
Click here to try again
Thank you for your business!
You should be receiving an order confirmation from Paypal shortly.
Exit Shopping Cart
Features, Reviews and a Blog by John Sciacca
| | |
| --- | --- |
| Posted on October 7, 2010 at 3:40 PM | |
A frequent telephone conversation with customers goes something like this:
"John, my such-and-such isn't working."
This opening volley is then followed-up by several – and I mean SEVERAL – minutes of multiple inquiries where I attempt to determine that it isn't the cable box that is at fault (about 82% of the time) or that they don't need new batteries in the remote control (10% of the time) and that it truly is NOT the cable box like I'm still thinking it is (another 7% of the time). When we finally determine that it isn't a cable box and/or battery related issue, the EXT IN button isn't pressed and that the cat hasn't somehow unplugged something, often the verdict is, "Well, you're right. It sounds like it might be broken."
"What? Broken? BROKEN?!? What do you mean broken? I was just using it!
"Yes, and, well, now you're not. You see, sometimes things just break."
"It can't be broken. No."
"Look, I can send someone out there and charge you $60 to tell you in person that it's broken, but from everything you're telling me, it's broken. There's nothing we can do. It's dead, Jim."
"What? Why? I didn't do anything to it."
Then I pull out an oldie but a goodie. "Well, as long as we live in an imperfect world where things are designed and built by imperfect people, they are going to be prone to breaking. Sometimes suddenly and for no apparent reason whatsoever."
So, I know the drill. Sometimes things just...stop working. It isn't because you accidentally walked into the pool with it in your pocket, weren't holding onto the Wii-mote tightly enough and Ninja-starred it into something or tried cramming 5 discs into the single slot. Like a dog that wanders off to die alone, sometimes a component just knows when its time has come.
My first run in with this phenomena was several years ago. You can carbon date the time by the fact that this story involves a Laser Disc player, my beloved Pioneer DVL-700. (The original DVD/LD combi spinner. Yeah, I paid $900 for it. Take that, Blippy!) We watched a movie one night, I powered the system down, and the next night it wouldn't even turn on. Poof! Dead. Why? I don't know. I'm no electronics whisperer. Perhaps it was a gentle, subtle hint that it was time to move on from the big disc to fully embrace the little disc.
So when I returned from CEDIA, I have a full Netflix stack lined-up and ready to go. Amongst the discs are some real winners – Iron Man 2, Prince of Persia – and some queue fillers – I've Loved You So Long, and some other random title. So I go to pop a disc into my PS3, it spins it up, it shows me the thumbnail of the disc, I select it to play, the screen goes black, and then…nothing. And nothing. And nothing. Requires a hard system reboot to get back to the home screen (or "Dashboard" if you prefer to parlay in PS3 parlance). So I figure, hmmm, could be some weird firmware doo-glitchey. So I check and sure enough, a firmware update. That will somehow magically transport my PS3 into the useless world of 3D capability. I download the update, I install it, I rebooticus and try again to watch and...the cool, nothingness of the black screen. Grrr! Reboot, pull the disc, check it for scratches, fingerprints or other DNA left behind from the previous Netflixer, and try another. There's the thumbnail of the cover, great, press play and...the serene void of black space. DAMN YOU!!!  Reboot, pull the disc, try a DVD this time. Spins the disc, shows a DVD in player, press play and...the eternal slumber of black nothing.
Ahhh!!! What is happening?! This was working BEFORE I left for CEDIA. In that time, it has just been sitting in my rack, doing nothing but sucking – very expensively – filtered and battery backed-up power waiting for my return. I power cycle. I hard power. I bang it on the top. I lift it up and slam it down a couple of times. I give it a stern talking to. But nothing. But it CAN'T be broken because I want to use it RIGHT NOW! And Dana is out of town and it is most definitely movie night EVERY night! It is movie WEEK!
So I snicker to myself. Heh, heh, heh. Fine, PS3. This is how we're gonna play it, PS3? Well, I can end-run you at your own game! I'll circle back, I'll rally the troops and I'll flank you with a surprise Netflix streaming attack! Ha! Winner, John!
Except, Netflix streaming requires a disc to be in the drive to operate. And while the disc would load, it wouldn't spin enough to let me stream any movies. Noooooo! Why?! Why, PS3? I've been nothing but good to you? Why are you spiting me? I'd rather you didn't power on at all than appear to go through 99% of the working ritual to then just give me a silent, black-screened shrug as you flip your hair, pull on your jacket and walk away leaving me standing there, alone, holding four totally useless Blu discs in my hands wondering if maybe you're just going off to the bathroom and that, no-no, don't take her plate, I'm pretty sure she's coming right back. Then, after a good bit of waiting, and water refilling and bring me some more damn bread!, the overwhelming sadness of the fact that your player is broken and it isn't ever coming back hits you and you just break down and start weeping uncontrollably and wondering what you could have done differently.
Now my PS3 is like a lover that has moved on to someone else but who still comes over to crash at your place. Sure the body is still there, but it has mentally checked out, and the body is now an empty husk no longer interested in me sticking things into it. (Dude, I'm talking about discs. Let's try and keep this above board.)
Apparently my original PS3 – actually a PRE-release PS3 that at one time was like one of 10 in the entire country. I know. I'm so cool. You're lucky to know me. – is the 80 Gig model that is backwards compatible with older, PS2 discs. And it uses a different laser pick-up to read these older discs. And apparently that pick-up over time is prone to failing and stops reading discs. Who's cool now, John?! (Sadly, like most times when that question is posed, the answer is not me.)

So until I work out a replacement solution – Help me, Sony Electronics! You're my most likely hope! – the only Blu in my house is my mood. And the reflection of my sad-sad robot tears on the back of the Iron Man 2 disc.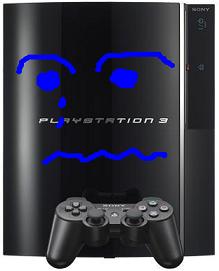 Categories: October 2010, Electronics, Movies
/