Shopping Cart
Your Cart is Empty
There was an error with PayPal
Click here to try again
Thank you for your business!
You should be receiving an order confirmation from Paypal shortly.
Exit Shopping Cart
Features, Reviews and a Blog by John Sciacca
| | |
| --- | --- |
| Posted on October 19, 2010 at 2:44 PM | |
…next stop, The Blu-ray Zone!
One of my favorite TV series of all time is The Twilight Zone. I loved this show. Loved, LOVED it! Back when I was in the 5th and 6th grade in "why are we living here again?" Bakersfield, California (I clearly remember our first day living there. The city threw us a little 118 degree welcome party. Welcome!!!) we lived so close to school that I got special permission to walk home during lunch. And during that lunch, my mom would make me a bowl of Top Ramen in my special bowl (I still have it, though now no one, and I mean NO ONE is allowed to use it) and I would watch two episodes of the Zone before hustling back to school. I would (literally) Zone-out and watch all the marathons when they came on, usually 4th of July or Labor Day or something. (You see, kids. This was back before the days of the SyFy channel where you could catch the Zone every night.) I remember one day I watched like 14 hours straight and think that I actually caught a small dose of radiation sickness from the rays blasting out of our 25-inch CRT TV. Then, when I bought my first VCR – a Sony Betamax, thank you very much – I would set it to record the nightly episodes of the Zone at like 1 in the morning for later viewing. In high school, I did a freshman book report on Marc Zicree's "The Twilight Zone Companion."
I have heard  every episode of the Zone multiple times, and seen every episode save for one. The first time that Season 3's Episode 84 "The Hunt" came on, I was in the hospital convalescing from a swimming-pool-skipping-quarter-to-the-left-eyeball injury. My eyes were bandaged for two weeks a la "The Eye of the Beholder" and now I purposefully DON'T watch that episode out of some odd nostalgia. (I know; it's weird and makes no sense. Welcome to John-ton, population me!)
So, they have just started re-re-releasing the Zone episodes in a definitive Blu-ray edition with a new 1080p HD transfer and an entire Fifth Dimension's worth of extras. So I thought I would reach out to another TZ fan, Sound + Vision's editor-in-chief, Mike Mettler, and get his take on the new 5 disc Box Set of Season 1. His comments are below, interspersed with my quips in yellow where I could no longer sit on my hands and stop typing.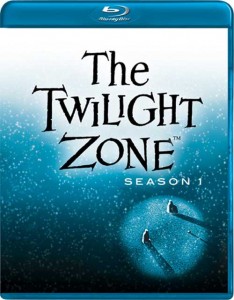 Don't delay, my friend. Get Season 1 N-O-W. Season 2 is out November 16 and I doubt they'll put out a complete series box until at least a year from now -- if not longer, depending on when they plan to roll out Seasons 3-5 (not yet announced).
I'm just as fanatical. Watched them quite religiously, even charting the Chicagoland airdates in pencil in my copy of The Twilight Zone Companion by Marc Scott Zicree (first edition, of course!) when I watched then nightly at 10 p.m. central during high school... I have every officially released videotape and DVD, both individual and boxed -- PLUS all of the laserdisc box sets, books, etc., etc...
Visually, you see a lot more detail -- especially (sorry, ladies!) the makeup on the females and the various states of blemishes and beauty marks. Hello, Anne Francis... (Episode 34 "The After Hours" ) still lovely, of course... and, uh, Inger Stevens (Episode 16 "The Hitch-Hiker") is as amazing-looking as ever...
Also, there are many more commentaries (Zicree is better than Gary Gerani), and some filmed interviews with actors in the relatively present day that I haven't seen before.
What is your favorite Zone episode OVER ALL? (Allseasons). And what do you love about it?
My favorite Twilight Zone episode is "Person or Person Unknown," Episode 92, from Season 3 (original airdate: March 23, 1962), written by Charles Beaumont, directed by John Brahm, and starring Richard Long (who also appeared in the Season 5 ep, "Number 12 Looks Just Like You" ). Long is David Gurney, who awakens after a night of overindulgence to discover that no one — not his wife, his friends, or his co-workers — remembers him at all. "I'm David Gurney!" he repeatedly exclaims to no avail. When he finally comes across a photo that he thinks proves his existence, he's no longer in it when he shows it to his psychiatrist. (Nope, there wasn't any Photoshop trickery in 1962, folks...) He crumples, defeated, only to awaken in bed with his wife, night cream on her face, talking as she heads to the bathroom. He sighs; everything is back to normal. It was just a scotch-and-martini-fueled dream... or was it? When she emerges fresh-faced, she doesn't look at all like the wife he remembers! The look of horror on Long's/Gurney's face is absolutely priceless before the cut to Rod Serling's closing narration. "A nightmare turned inside out..." Classic TZ twist.
Why do I like/love this episode so much? I think it has more to do with the overriding concept of the will of the individual — that someone will not be swayed from his beliefs regardless of what others insist and what the world tries to tell you. Sometimes, you have to follow your instincts and believe in yourself, what you feel, and what you're doing, no matter what. It's a common Twilight Zone theme, and one worth applying to your own life, frankly. Just ask David Gurney... Or maybe you shouldn't...
As a massive fan with 156 episodes to choose from, it is almost *painful* to be forced to pick a single favorite episode. I loved so many of them such as Ep 126 from Season Five "The Living Doll" or Ep 100 from Season Four "I Sing the Body Electric" or Ep 70 from Season Three "A Game of Pool." However if pressed, I think my FAVORITE episode is Ep 79 from Season Three "Five Characters in Search of an Exit." (Interesting to me that Mike and I both picked our favorite episodes from Season Three. Guess this is when Rod was really hitting his creative stride.)  Why do I love that episode so much? The single sentence summary captures the "What the HECK is going on here?!" mystery of watching that episode as a pre-teenager for the first time. "An Army major in dress uniform, a clown, a hobo, a ballet dancer and a bagpiper find themselves in a giant cylinder with no memory of who they are or how they got there."
What are your top 5 Season 1 episodes and why?
1) "Third from the Sun," Episode 14; January 8, 1960. Palpable, nail biting tension in the nuclear age, with annihilation imminent and a spaceship trip to a savior planet in the balance — all shot with amazing, off-kilter camera angles to boot. I could watch this one over and over and OVER, and never get tired of it.
2) "Walking Distance," Episode 5; October 30, 1959. Gig Young literally steps back into his youth to come face to face with himself as a lad, and learns how to move forward without being trapped in nostalgia for the past (or at least for ice-cream sodas that cost only 5 cents — "you'll lose your shirt" ). I also grew up in Homewood — albeit in Illinois, not New York — so there's additional resonance here for me.
3) "The After Hours," Episode 34; June 10, 1960. "Marsha... Marsha... Climb off it." Always loved that clearly dated turn of phrase. Anne Francis gets sent express to a special floor of a department store where only one piece of merchandise is sold — and with a good, or shall we say, stiff reason.
4) "The Hitch-Hiker," Episode 16; January 22, 1960. "Going... my way?" Drop-dead gorgeous Inger Stevens drives across the country, hounded by a hitch-hiker who eventually takes her on an eternal ride. As unquestionably beautiful as Stevens is, you can see her blemishes quite clearly on Blu-ray, and you can also tell from when and where you see them on her face what likely sequences the episode's scenes were shot in.
5) "Time Enough at Last," Episode 8; November 20, 1959. Burgess Meredith as Henry Bemis, a misunderstood bookworm who has all the time he needs and all the time he wants to read into perpetuity after nuclear holocaust strikes — except for that pesky broken-glasses problem at the end. "Why, that's not fair, not fair at all." Buck up, Bemis! I still think you'd be resourceful enough to find and/or make another pair (or two, or three!) for yourself... Hmmm, I wonder if he'd also be able to invent the "Internet for one"...
As a youngster "Walking Distance" didn't resonate as much, but it certainly does now. That's one of the great things about this series is that it can mean different things at different times and viewings. Of Mike's picks, "Time Enough at Last" would make my top 5. To Mike's list I would at Ep 7 "The Lonely" where a man is on an off-world prison planet is given a fembot companion, Ep 35 "The Mighty Casey" about a robot baseball player with no heart, Ep 19 "The Purple Testament" about a soldier that can see which among him will die and Episode 17 "The Fever" with the eerie FRANK-LINNN!
What is your Season 1 dud?
"Mr. Bevis," Episode 33; June 3, 1960. Orson Bean tries gamely here as a hopeless bumbler with a compassionate-beyond-reason guardian angel, but Serling's attempts at humor fall resoundingly flat. (Humor was often not his strong suit.) This was supposed to be a spec/pilot for a potential comedy starring Bean as Bevis, but thankfully this was the end of that road.
Agreed. Rod was never falling further than when he was trying to be funny or – even worse – slapstick.
What is the best bit of supplemental material?
I love the new interview footage and the commentaries from TZ expert Marc Scott Zicree and the various actors and directors, but my favorite extras have to be the 1958 Westinghouse Desilu Playhouse presentation of "The Time Element" — essentially the pilot for the series — and the 1952 Tales of Tomorrow version of "What You Need," neither of which I had seen before. Different versions of classic eps we know and love, with the same overall TZ vibe. Can we have some more, please... That's what *I* need.
Onward to the fifth dimension,
Mike Mettler

To travel through another dimension, a dimension not only of sight and sound but of mind. A journey into a wondrous land whose boundaries are that of imagination, here's a link to the Press Release  that details all Season One's episodes and special feature goodness. Your next stop, the Twilight Zone!

Categories: October 2010, TV, Guest Blog
/