Shopping Cart
Your Cart is Empty
There was an error with PayPal
Click here to try again
Thank you for your business!
You should be receiving an order confirmation from Paypal shortly.
Exit Shopping Cart
Features, Reviews and a Blog by John Sciacca
| | |
| --- | --- |
| Posted on October 21, 2010 at 5:16 PM | |
Dan – as in "my friend Dan" – used to always chide me about having an American Express card. "You PAY for a credit card? I can't believe that YOU would PAY for a credit card." (Dan also complexed me into never using the air conditioner at any temperature other than max cool. "Why are you going to have the air conditioner working WITH the heater? It's like having them fighting against each other. If you want it cold, make it cold; otherwise leave it off." Then, one day years later I was in his car and noticed that the temp gauge was resting comfortably between the arctic blue of full AC and fire island of max heat. "Dan, what gives?" He decided that while he still thought that it made no sense to have the systems fighting against one another, it was more important to be comfortable. With age comes wisdom.)
So, WHY would I pay to have an American Express card?
First, yes, there is a certain amount of pride and feeling of power and importance when you pull out the Platinum Card. (Though this level of pride shrivels up in shame compared to Black Card pride.) And even though the high ninetieth percentile of people accepting your card could care absolutely less about this piece of plastic compared to the Barbie Fun Dollars Visa, there is that rare breed that is impressed.
Second is the service. When there is a problem, yo they'll solve it. No need to check out the hook; the DJ will revolve it. Question a charge? Removed from bill. Problem with service? Handled. Plus, if you're really lucky, you'll score a $25,000 plant out of the deal.

Third, are the perks. If my plane crashes and I purchased the ticket with Platinum, Dana becomes a millionaire. (If I lose some combination of hands, feet, sight and/or hearing, she can use the $500 grand to help silence my complaining. And believe me, if I don't have use of my iPad typing finger, there WILL be a lot of complaining.) If I come down with some medical condition in a foreign land, Platinum will fly a loved one over. Which is nice because I already know that Blue Cross is going to deny whatever it is that I got. "You were too far from home. You should have expected to get sick. This is really on you." While I am not much into concierge servicing, once we did need a reservation at a restaurant and when I called there was nothing available until after 9. When Platinum Concierge called we got a table almost immediately. (I asked the Platinum Concierge if they could get us into Disneyland's "secret" Club 33 once and she apologized that she couldn't. So I asked her if she would be able to get me in if I were a Black Card holder and she said -- totally awesomly! -- "Sir, when you ARE a Black Card member, call us back and we'll let you know." Nice! Though, also, sad...) When I purchased our tickets for Star Wars in Concert, we got awesome seats. When we saw John Mayer in concert, o'le Platty got us advanced ticket purchase.  When we went to Europe a few years ago, young, naïve traveler that I was (SO not Gold then) thought that traveler's cheques would be the way to roll. (Spoiler: They are NOT.) So when we ran out of cash money, Platinum arranged for a cash pickup at a local office. "Or, if it is an emergency, sir, we can have a courier bring you some cash straight away." While I have yet to use it, if you buy a First or Business Class ticket internationally, Platinum hooks a brother up to take a sister along with a free companion ticket. (Every time I think that I'll pull the trigger on flying First internationally – I mean, how much MORE could it REALLY be? – I call and then seize up when I hear that the coach tickets are like $600 and First is like $8000.)
Fourth are the airline clubs. The Platinum Card is like purchasing a $400+ membership into an airline's private lounge program. Delta, US Air, Continental. When you are flying, show your boarding pass and Platinum at the door and "come right in, sir." Plus I can bring two guests. Where we leave the dregs of society behind and slip into the semi-plushy confines of the quietude of free snacks and drinks. Oh, and free T-Mobile WiFi in US Air. You can read about my US Air experiences here or the far more thorough international tour du clubs that my brother posted here.

Finally are the crazy awesome random offers. My brother just sent me this: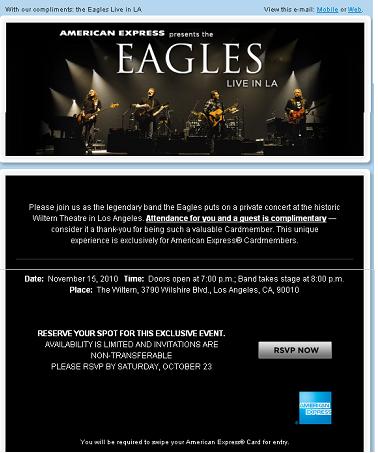 An invitation to come and see The Eagles – yes, *those* The Eagles – in concert, for FREE. With a guest. That is awesome. (Totally unawesome is me not being able to take him up on the offer of being the plus one.) So, Dan, that's why I pay for an AmEx card. And suck it, Capital One! You are NOT in my wallet! (OK, to be honest, actually you are in my wallet, but tucked in the back where no one sees you and only because I need a back-up Visa for when places don't roll AmEx style.)

Categories: October 2010
/