Shopping Cart
Your Cart is Empty
There was an error with PayPal
Click here to try again
Thank you for your business!
You should be receiving an order confirmation from Paypal shortly.
Exit Shopping Cart
Features, Reviews and a Blog by John Sciacca
| | |
| --- | --- |
| Posted on November 3, 2010 at 10:52 AM | |
Philips recently announced that it is closing the doors on its Pronto remote control division. Distributors will be able to place orders through the end of November – or until inventory runs out – and Philips will honor all of its warranty obligations and Pronto remote will certainly continue to exist in the marketplace for a while amongst loyal integrators and programmers, but for all practical purposes, the Pronto remote control is dead. And instead of heaping dirt onto its grave, I want to eulogize this once great remote control platform and speculate on what went awry.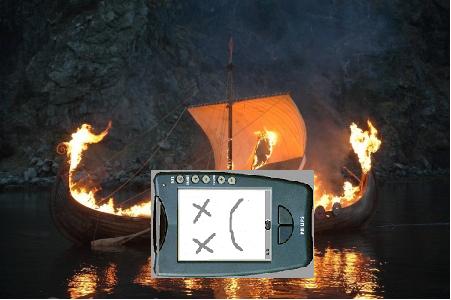 While the original Pronto – the TSU1000, if memory serves– didn't invent the programmable touchscreen controller, it certainly revolutionized it. Up until the Pronto, if you wanted to have a remote who's CPU didn't max out with basic head-to-head learning you needed to look at a seriously expensive – think Crestron or AMX – panel. Pronto changed that. Forever. By introducing a remote retailing for under $500, the Pronto gave customers access to programming a remote via PC just like the pros with the Pronto Edit software which allowed programmers to change...everything! Want to make a button a macro? How about any or every buttona macro?! Want a custom button with a page flip to your favorite page with channel icons? Done. Want to include a custom graphic of Austin Powers saying,"You make me horny, baby! Yeah!"? Done. (I only use this example because I did, in fact, have a customer who wanted that very thing. America; she is the land of the free and crazy.) Want to play a hidden game of Tetris? Why not?! This may sound, "Sure, everything does that today," but back when Pronto was introduced this was a quantum leap.
Pronto Edit gave end-users a rare Golden Ticket to the crazy fun/lunatic fringe world of being a custom installer, allowing them to delve deep into programming in a manner that no other remote ever even considered. (Remember the Harman Kardon TC-1000 remote powered by Microsoft that came out around the exact same time? No? That's right. That's because the Pronto frickin' buried it.)
And over the years, the Pronto continued to change and evolve. From 256 shades of sweet-sweet grey tone up to a screen with ALL the colors. Embiggened screen real estate. Higher resolution. Drop-in driver support for Escient and Lutron products. Then more and more two-way drivers. Then IP control. And this year at CEDIA, there was undeniable excitement in the Pronto booth. And with good reason. They were launching a new product, the TSW9500 in-wall touchscreen controller which represented a new product segment for them along with Pronto Edit Profession 3, the latest iteration of its programming software.
To continue reading and see what I think went wrong, click over to Residential Systems...

Categories: November 2010, Electronics
/