Shopping Cart
Your Cart is Empty
There was an error with PayPal
Click here to try again
Thank you for your business!
You should be receiving an order confirmation from Paypal shortly.
Exit Shopping Cart
Features, Reviews and a Blog by John Sciacca
| | |
| --- | --- |
| Posted on November 5, 2010 at 3:09 PM | |
Straying off-topic a bit here... But my partner and I were talking today about this and that and the other and somehow we got onto the topic of the cardboard heat shield thingy surround his paper cup of coffee. Which he soon finished and stacked next to the other 4 cups on his desk. Whose ultimate end-journey in life will be to get thrown into the trash. (And hopefully before the ants come.) And how much waste is generated by all of these heat shield thingies – and paper cups – all over the country because we as a nation are too retarded to realize that yes, a hot cup of coffee is indeed going to be HOT and that if we should grab the cup and then go "OUCHEY!" and spill it into our delicate crotch tenders, we will then be not only free but encouraged to sue said coffee provider where a jury of other similarly retarded capitalists will decide that, "Hell, yeah! You can't be expected to know that a hot cup of coffee is actually gonna be THAT hot! Have some millions!"  (Congratulations. You just successfully navigated a 111 word, crazy run-on sentence. I hope you made it through that journey in one piece.)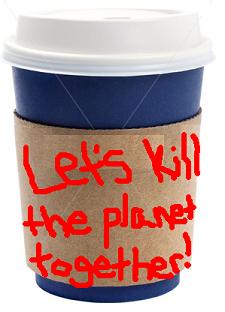 In contrast, on MY desk has 3 separate coffee mugs brought from home, waiting to be returned home where they will be washed and reused ad infinitum. (Or until Dana gives them away to her dad when he comes and visits. That seems to be the life-cycle of many of my coffee-related drinking items.)
So the more I thought about it, the more I thought how companies could make a GIANT dent in the waste being churned into the land fill and the consumption of millions of tons of natural resources by making a simple – VERY simple – change.
Reward people for bringing in their own cups.
There. It's that simple. You bring in your own cup, you fill it, you get some discount off the price of the drink. You drink your drink and you return later to repeat. And who cares how big your cup is (within reason, of course. You bring in your horse's water bucket, you no get fill up) 12 ounce, 16 ounce, 24 ounce, whatever. Because, let's be honest, the cost of the drink is practically inconsequential. Those 4 ounces of coffee (or coke or tea) probably don't cost a single penny. Also, with almost every place in the world now offering free refills, does it really matter if you fill up a 10 ounce cup four times or a 20 ounce cup twice or just go all in with a single 40-Oh pour? (That was rhetorical. But, it doesn't.)
The most expensive thing of the drink is definitely the cup and the lid. (And you, you cardboard heat shield thingy! You and your complicated, pricy legal jargons!) Give someone a quarter off the price of the fill-up and if the company has any heart left over, donate another quarter to some environmental cause like Replant America or Trees For Life (if those aren't names of actual environmental causes, well, they should be) or something *real* like the Forest Stewardship Council.
Think what this would mean if just one company like McDonald's got on board. How many millions of drinks a day do you think McD's sells? How many millions of cups and lids and straws is this? How many thousands of pounds of trash into the landfills and how many trees and how many whatever straws and lids and that waxy cup liner substance are made of would be eliminated? Plus, beyond all the waste that this would save, think about all of the litter that it would remove from the highway meridians. And the fossil fuels of the trucks shipping this cups and lids across the country.
Now imagine that it isn't just McDonald's. But also Starbucks and Burger King and Wendy's and Taco Bell and Chick-Fil-A and... You get the idea.
And what a great message from the company. "Hey! We care enough about the planet to make a change. Bring in your own cup, get a larger drink, save some money AND play a part in helping us save the world." I'm sure there are lots of reasons why this wouldn't work, but I can't think of any...
Categories: November 2010, Coffee
/