Shopping Cart
Your Cart is Empty
There was an error with PayPal
Click here to try again
Thank you for your business!
You should be receiving an order confirmation from Paypal shortly.
Exit Shopping Cart
Features, Reviews and a Blog by John Sciacca
| | |
| --- | --- |
| Posted on November 22, 2010 at 5:36 PM | |
Scroll to bottom for update and link to official contest page at Kaleidescape's Website!
Following my blog last week about thinking outside of my own wallet, I had opportunity to talk to the folks over at Kaleidescape. They loved my unbridled enthusiasm for their system – with the mutually unspoken hope that one day I'll be able to actually afford to join the cadre of owners. (I picture that we have a secret handshake and where these cool, blue colored blazers and get together for movie sessions where we sip Johnnie Walker Blue and laugh at how other people have to wade through all of those trailers and warnings!) But as much as I like their system, they felt that a lot of the people that actually OWN a system would be even more fervent in their Kaleidescape fan-boy status. (Doubtful, but I concede possible.)

So with the launch of their new Modular Disc Vault imminent – the last puzzle piece to completing the trifecta of components needed to create the complete Kaleidescape Blu-ray experience – I suggested they run a little contest.
Why not let system owners share their stories of why they love their Kaleiedescape systems. Let's hear about what makes the Kaleidescape experience so great. Is it the managing of you 500+ DVD collection? Is it the centralized storage that streams to any/every TV in the home? Is it that they loves the technologies opulence? Is the fact that the glowing blue lights look oh-so-sexy while flying in the richly appointed G7? Whatever. Let's hear the stories. My guess is that lots of people would be eager to share their stories of why a Kaleidescape system is so awesome and worth the price of admission. But since I know that getting you people to actually break the fourth wall and comment on something is like asking you to perform a Tom Hanks Castaway style tooth removal, I suggested they make it worth your while to comment. Why not GIVE the winningest, bestest essay a FREE Modular Disc Vault?
Why not, indeed!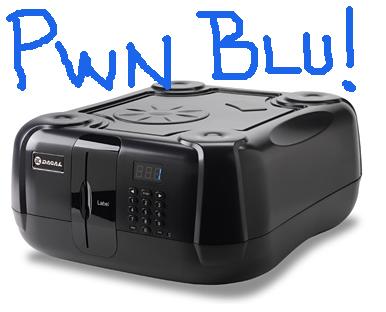 Kaleidescape liked the idea. Nay, they *loved* it. So they are deep – DEEP – into the process of finalizing all the particulars of the contest, but they are letting me break the news because, well, they kinda love me a little. (OK. Cause I pitched it. And then said please-please with extra beggy-beggy can I be the one to launch it?! I think I just finally wore them down.)
So, the contest will appear next week. I'll update this post with a link to the actual contest entry page over at Kaleidescape's site. I'll give you a tip: photos and videos will be looked upon favorably! First price will definitely be a Modular Disc Vault. (Though they say they would be willing to work with the winner if, say, you didn't have an M-class player already.)  Second prize likely won't be a set of steak knives, and third prize definitely doesn't involve any firing.
Also, don't try to enter if you don't actually OWN a Kaleidescape system. No matter how awesome your story may be – well, I guess there is an outside -- WAY outside -- chance that a truly epicly awesome story might soften their tech and silicon filled hearts – this contest is only open to actual system owners. And believe me; they KNOW who owns their systems. Like a way more tech and way less beardy Santa, Kaleidescape knows who's been naughty and who's been nice. And the nice one's own systems. I guess that makes me naughty. Oh-so naughty...
UPDATE: Well it took a bit longer than expected, but Kaleidescape has finalized the contest rules and official legal jargons and posted the page so official entries begin immediately. So, if you've been wanting to complete your Blu-ray experience, there's no better way to do it than right now possibly for...FREE! So head over to Kaleidescape by clicking this link to the contest page, come up with your best story, picture, or video (up to 3 attachments totalling 100 Megs) about why you love your system and may the best man -- or woman, or, heck, child; my 4 year old, Lauryn, has quite a compelling story about using the kid's remote and why she loves watching "her collection" -- win! Bonne chance!
Categories: None
/