Shopping Cart
Your Cart is Empty
There was an error with PayPal
Click here to try again
Thank you for your business!
You should be receiving an order confirmation from Paypal shortly.
Exit Shopping Cart
Features, Reviews and a Blog by John Sciacca
| | |
| --- | --- |
| Posted on November 13, 2010 at 11:51 AM | |
I'll admit... I'm a Polo Ralph Lauren fan boy. Like big time. And if you thought that it was just a happy irony that Lauryn is named Lauryn, well, sorry to spoil it for you. (Also, the inspiration for her middle name was a Mont Blanc pen slogan.)  It's also not an exaggeration to say that like 75% of my clothing (if not more) is Polo Ralph Lauren. When I was a golf professional, I had a personal contact at Polo Golf named Karen that I would call to order things. "Karen, hi! I'd like to order a sweater. Something in Blackwatch. And how about some more loafer and khaki pants." One of the first presents I ever gave Dana was a Polo purse. In Blackwatch. (Inside was a Broken Arrow and a bottle of rain... Oh, me so romantic!) Every few months Polo would come by with the new clothing collections – Spring, Summer, Fall, Winter (note: I always thought Fall was the best) – and I would go through the hangers with, "I'll take this and that, and these and..."
But, even with that level of dedication, when I saw this message from RalphLauren.com in my e-mail in box this morning, I was skeptical.  "See The World's First 4D Experience."  Et tu, Ralph Lauré? Have you jumped onto the 3D sharkwagon? But decided that the way to one up 3D was to go to...4D? Are we going to look back on this as another design "mishap" like when you make pink and aqua colored shirts covered in giant seahorses or marlin heads? Here was the GIANT image that was in the message: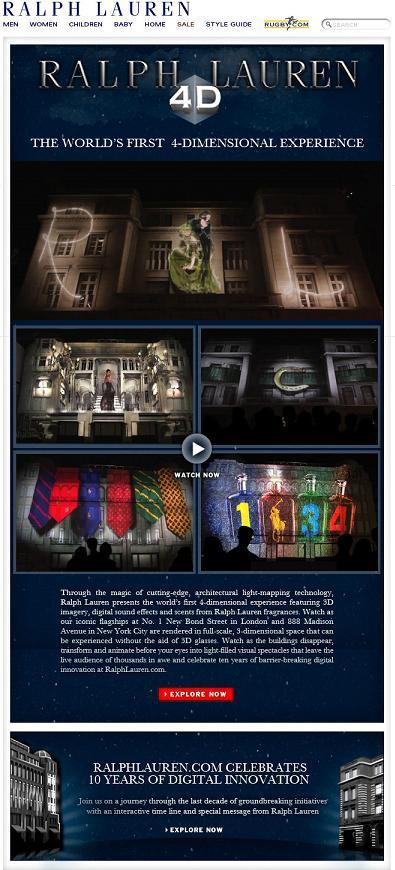 The text says:
Through the cutting-edge, architectural light mapping technology, Ralph Lauren presents the world's first 4-dimensional experience featuring 3D imagery, digital sound effects and scents from Ralph Lauren fragrances. Watch as our iconic flagship [stores]…are rendered in full-scale, 3-dimensional space that can be experienced without the total pain-in-the-ass aid of 3D glasses. Watch as the buildings disappear, transform and animate before your eyes into light-filled visual spectacles that leave the live audience of thousands in awe and celebrate ten years of barrier-breaking digital innovation at RalphLauren.com
So at least the Polo experience doesn't require glasses, so I am already way more interested then in about ALL of the other 3D experiences. Plus it doesn't look like 4D is going to require HDMI 1.5 or anything, so bonus #2. And having Polo fragrances waft over me while I'm watching may or may not be a deal killer. In fact, in downtown New York, having a crowd sprayed with fragrance might should be a mandatory thing. Just saying. Also I didn't realize that RalphLauren.com has been digitally innovating anything let alone doing so for 10 years now. So, I decided to click over and watch the video. And while I was expecting it to be a fail (and to totally be ripping it apart here!) I've got to say...it is frickin' cool! Even on my lame-ass monitor. (Though NOT with my lame-ass work DSL!) This is totally the kind of additional D that I can totally get behind. Makes me wonder what Disney – ah, forget about them – makes me wonder what Pixar could do with this! (Oh Toy Story 4D! I'm already thinking about you!) Check out the videos here at Ralph Lauren 4D
I can only imagine what the experience was like in person and would love to hear if anyone knows a friend-of-a-friend that saw either of these events that took place on November 10 in New Bond Street, London or Madison Avenue, NY. Why doesn't anything cool ever happen in Myrtle Beach? Don't bother answering that.
Categories: November 2010, 3D TV
/