Shopping Cart
Your Cart is Empty
There was an error with PayPal
Click here to try again
Thank you for your business!
You should be receiving an order confirmation from Paypal shortly.
Exit Shopping Cart
Features, Reviews and a Blog by John Sciacca
| | |
| --- | --- |
| Posted on November 14, 2010 at 10:46 AM | |
Festivus-Chrisma-Chanu-Kwanz-tacular day came early this year, at least to the Sciacca house. When we came home from a day of out-and-abouting last week, there was a little care package sitting on my front porch. Well, one little care package and two not-so-little ones. And instead of care they were filled with awesome...my Kaleidescape system arrived! With them getting ready to release some new hardware, (Disc Vaults in the Modular and Integrated variety) I've managed to convince them to get me a long-term loaner system so I can keep playing and reviewing the new stuff without having the hassle and expense of repacking and returning the system every 2 weeks. (Darryl W intimated that this might have involved a lot of crying on my part and, well, I'm above nothing.) So what arrived was a 1U server packed with 4 2TB drives -- the equivalent storage of 250 32-Gig iPads! -- a M500 Blu-ray player and a M300 Blu-mini player! With a Modular Blu-ray Disc Vault to come!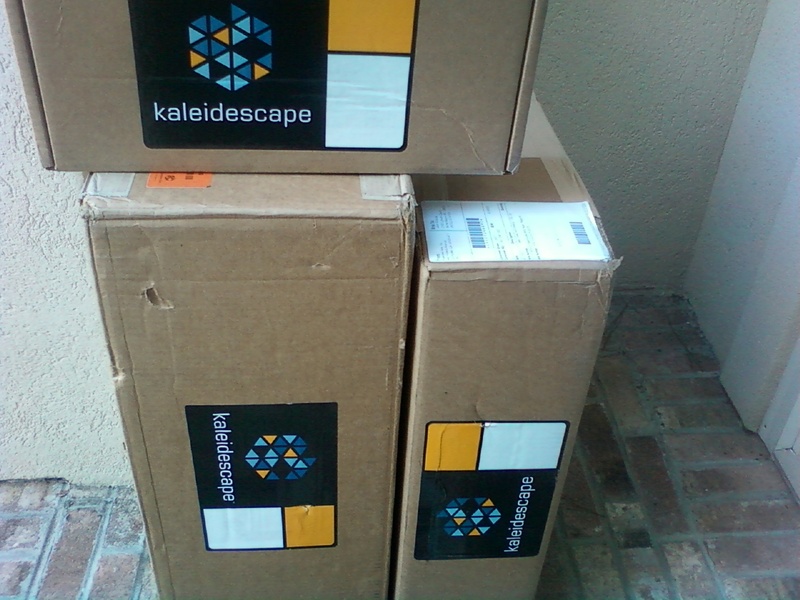 To put this level of joy into perspective, imagine that you just completed 8 years of med school. And passed the Bar. And paid off your mortgage. And got drafted up to the Bigs. And got married. And welcomed your first child into the world. Now imagine that this all happened on the same day. Now roll all those emotions into one single emotion set off with the type-size and font that the NY Times would run with the banner headline "Time traveling Elvis returns and stops all war, cures cancer, proves aliens exist – and come in peace!" And then make it one font-size bigger!
So I've had the boxes just sitting there – taunting me with all their boxey goodness – and waiting for me to get the free time to connect them. (And for a new Gigabit switch to arrive. Because the Kaleida Blus require the Gigabits.) So last night I finally jumped in it and decided to at least get the system up and running if not totally properly racked in. (I have also decided to upgrade my Marantz pre-pro to the new AV-7005 I saw at CEDIA. It was just eating me up inside like a technological cancer and the only cure was a silicon upgrade. So along with the K'scape install, my rack is going to require a full on, Gunny-level "Oh you're a real funny guy with all yer cables and wires. So, yer name's no longer Johnny, it's Cable Guy!" Camp Lejeune-style tear down and rebuild that with programming I'm guessing is going to take me the better part of a day.)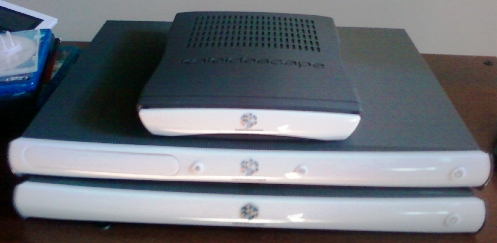 So I get the components all unboxed, I wire the new switch in, I connect the K'scapes to my UPS and the switch and add the HDMI cable and power everything up and...black screen. My player is unable to connect to my server. And instead of the blue lights of happiness, all lights are coming up amber. And not the good kind of Jurassic Park dinosaur fossil amber.  I am getting the amber lights of malaise and non-connection. So I re-check my connections. I'm getting Giga lights on the switch and the activity lights on the K-pieces are blinking so that seems good. So I reboot the router, reboot the switch, reboot the components, lights go to blue...screen says connecting...I hop around from foot-to-foot waiting expectantly for the familiar screen filled with movie covers to appear and then...lights go back to amber. No connectey.
Now, I am not one of those guys that feels too macho to pull over and ask for directions.  (In fact, my feelings of machismo pretty much hover around non-existent. When your biggest athletic prowess is golfing, and your first name isn't Tiger, well, you can pretty much resign yourself to never being amongst the biggest and strongest in the room. Even if that room is a Women of CE breakfast.) I far prefer throwing in the towel and asking for help at even the slightest sign of trouble. Why beat my head against the wall when someone else's head has already made a perfectly bespoke dent ahead of me? So I call tech support. The tech says that he can see that the server is reporting home which is a good sign; at least my network is net-working. He proceedes to have me try a bunch of different things; plug this, unplug that, try this cable, connect it this way, reboot that. Still nothing. After about 40 minutes I think that we're both thinking the same thing: that I probably won't be watching Ghost Writer on Blu-ray tonight. (Though to be more accurate, the tech was probably just thinking my player might be broken.)
He gives me a case number and I break for dinner. After dinner I call back and get a second tech that has me reconnect the server to the network and immediately says, "Hey! I see the problem! Your server is running software version blah-blah and it needs to be running blah-blah version 4 to communicate with the new Blu-player. If you just leave it alone for a second it will automatically update. Wait. OK. It's done. Now just reboot the server and you should be all set!" And I did. And I am!
Had I just done NOTHING – well, the nothing would have actually been something in the form of patience – the problem would have automatically sorted itself out.  Now I've begun the rather addictive process of feeding DVDs into the server, slowly developing my movie library. (I'm feeding in disc #45 at the moment...) At 17-18 minutes per disc, I should have my whole collection imported by the end of the month! Just in time for the Disc Vault to arrive. For all my Blu-ray imports. Along with my new pre-amp. And the full Kaleidescape experience to begin in earnest! I see movies in our future. A LOT of movies!
Categories: November 2010, Movies, Electronics
/