Shopping Cart
Your Cart is Empty
There was an error with PayPal
Click here to try again
Thank you for your business!
You should be receiving an order confirmation from Paypal shortly.
Exit Shopping Cart
Features, Reviews and a Blog by John Sciacca
| | |
| --- | --- |
| Posted on November 17, 2010 at 5:45 PM | |
Traded some e-mails with my high school English/journalism teacher recently. (I must halt the narrative for a moment here to inject that when you read the title "high school journalism teacher" you are likely thinking of an older, powdery-haired, bespectacled woman that sits regally at a desk sipping herbal tea, while quietly making notes on papers with a red pen and smelling like pressed flowers. That's YOUR high school teacher. Mine was different. Jodie – after turning 40 and having been graduated for over 20 years, I've decided I can finally progress to her Christian name and leave behind the "Mrs. Russi" – was a 49-er Cheerleader. WHILE she was my English teacher. All those rock songs about teachers and hotness and got-it-badness? Yeah. They were about Mrs. Russi.) So, I have been keeping her posted on the blog and she has, in turn been humoring an old student by electronically patting me on the head – "Good boy! Nice work! Keep it up!" – by reading and replying.
So she finally posed the inevitable:  Who is this Darryl Wilkinson and why is he so insanely jealous of you and your obviously superior wit, prose, style, super-human blogging output and devastatingly better looks?

Wait. I strayed off topic; went all stream-of-consciousness on you there for a second. What she actually wrote was "I think maybe your next project should be a book then..."
Which, of course, any self-respecting writer (obviously this excludes Darryl) has as a goal. And hopefully one day I will. But there's so much time, and effort and then the uncertainty of being published and whaaa! But then, the E-Gods seemed to look down on me and smile. Or smirk. Or grimace in pain. Or maybe it was just gas. It's hard to tell. But lo-and-behold, I resurrected an e-mail from [email protected] from my Spam Folder. (See! AOL does filter some things out!) The subject: "Give your child the thrill of being a published author."
As a loving, caring parent, I of course immediately thought, "Forget about Lauryn! She's still young. She has her whole life ahead of her! But me...I could go any day! Give ME the thrill of being a published author!"
I threw caution and random, hidden .exe file downloads to the wind and opened the message, said, "Or course! Hurry up damn you!" when asked if I wanted to see the blocked images and download the non-secure content. And then saw this: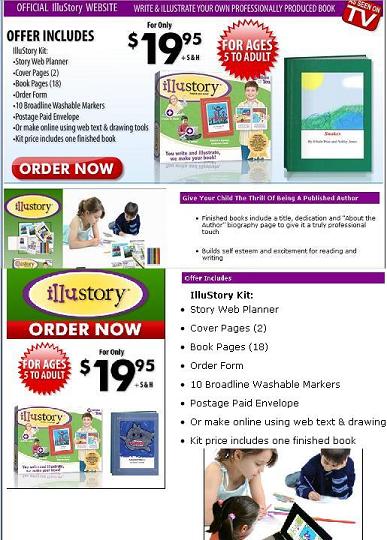 Now my love for Sky Mall is above reproach. And if you've never read my Sky Mall posts, check this one here the third in my Sky Mall-ogy (which includes links to the previous posts). But if there is an outfit that competes with that Mall o' the Sky for awesome uselessness, it is those master hucksters from As Seen on TV.
These guys have elevated Ron Popeil and his pocket fisherman, chop-o-matic and solid flavor injector to an intergalactic ballet of cheesy, tacky goodness. For those times when a regular Snuggie Pillow won't show the world how much you desperately love and crave the respect of your favorite NFL team or player regardless of his past I-didn't-know-it-was-wrong doings, rock the NFL Snuggie Pillow! When you feel like you're plunging neckline is making you look like a two-bit whore but you're running too late to go back and change into your mud-brown modesty bhurka, the cleavage concealing Cami Lace lets you gracefully walk that fine line between total anonymity and public, cleavage baring humiliation! Never wonder again if that cute guy is looking at your chest or face! With Cami Lace, you'll KNOW he's looking at your chest, trying to ponder exactly what kind of botched medical procedure, curse of nature or chemical burn you're trying to hide! If you've ever felt that a regular, lady-sized donut didn't fully satisfy your American cravings for bigger, better, greasier and fatter, the Big Top – a how-is-this-legal? Donut 25-TIMES the size of normal – lets you say, "I'll have just one more!" and actually mean it this time! And if you need to get rid of your old lady arm flab – or train for the Porn-O-Lympics – look no further than Shake Weight! (Just, please, use in the way, WAY privacy of your own darkened, windowless interior room. And never, EVER use in front of your children. It is shameful and scaring.)
So the gist is that for $19.95 (plus shipping and handling; oh As Seen on TV, you and your beloved S&H! They LOVES their shipping and handling the way Gollum loves The Ring . With their myriad options of expedited handlings and rush shippings and jump-to-the-head-of-the-line super prioritizing and just-act-now-ing) you can be an author. But more importantly: I can be an author.
Think how awesome my blogs would look all hand illustrated with 10 Broadline Washable Markers and Cover Pages (2) and Book Pages (18 )! Plus, when I'm hitting a creative lull, I can use the Story Web Planner to chart those devilish plot twists. Should Keyser Soze walk away or shouldn't he? Luke, I am your father; or AREN'T I?! Rosebud...my favorite smelling flower bud! And, no; I don't really see dead people at all. Illustory has likely been behind the greatest cinematic revelations in history!
And it clearly says that it's "For Ages 5 To Adult" so I don't have to feel weird at all about telling people that, yes, I have written several *hundred* books. All in crayon!
Categories: November 2010, On Writing
/