Shopping Cart
Your Cart is Empty
There was an error with PayPal
Click here to try again
Thank you for your business!
You should be receiving an order confirmation from Paypal shortly.
Exit Shopping Cart
Features, Reviews and a Blog by John Sciacca
| | |
| --- | --- |
| Posted on November 20, 2010 at 2:54 PM | |
Granted, "Nice Guy" is not generally a phrase that is employed when speaking about The Sciacca. I mean, I *try* to be nice, but it doesn't always work out that way. Because after you've spent an entire day/week/month of having your soul rubbed mercilessly against a washboard and then repeatedly beaten against a creek rock like an Amish woman trying to clean Jebediah's stained field under pants from repeating the SAME questions on the phone over and over and over ("Have you changed the batteries?" "Have you rebooted the router?" "Have you rebooted the cable box?" "Are you pointing the remote AT the equipment?" "Yes, I AM sure that it's your cable box." ) it can be difficult to pony up a smile and act all chipper and, "Hell, yeah! I'd love to hear about that Bose system you've owned for 15 years and why it is the best thing that was ever invented! Let me just pull up a chair and ignore all that paperwork and ringing phone so I can *really* engage in this stimulating conversation about why the 901 is pretty much the speaker God would have made had He decided to put in a couple of hours on that Seventh Day! And if we can work in a way to discuss how your off-brand, tier-three TV is just as good as the ones I'm selling, then, hot damn! Even better!"
But, sometimes, I AM nice and am occasionally reminded that being nice can pay off. (Plus, I generally just come across looking like a mean-spirited, people-hating, mouth breather here, so I thought I would open up a new window into my cold and dark soul and show you that, yes, occasionally the dark and angry clouds DO part to let in brief eye-piercing rays of sunlight and happiness and even the occasional rainbow. My soul still ruthlessly hunts down unicorns for the well-known aphrodisiac qualities of horn marrow.) Accodingly, I thought I'd share a few of Sciacca Success Stories from recent times.
First: A project that we completed four years ago was recently sold to a new owner. In doing a walk-thru, we discovered that one of our components (a slick little NTSC TV tuner called Grand Channel X) was broken. This little fella was wonderful for taking modulated video channels (like cameras, Escient GUIs, etc.) an giving a composite video out and IR control to feed to Elan Via panels located throughout a home. Except, when they switched from NTSC to ATSC, these things went away and are darn next to impossible to find now. So, I was looking for something similar in the Best Buy store. While there, I ran into the guy that I had attempted to buy an iPad from (Your request to purchase an iPad has been...DENIED!) and we started talking. After he immediately said "I don't really know what you're talking about, but I'm sure that we don't have anything like it" we moved on to the part where he started asking me about a Middle Atlantic rack for his parents. Now, this is where I could have been typical John and said, "Look, I don't really have time for this. My family is waiting in the car. And I really wanted to try and sneak in some time looking at the new Blu-ray movies and PS3 games and talking to you is going to severely curtail that." Instead, I discussed his parent's needs and I told him to stop by the store and I'd be happy to help him out. Then, he offered, "You know, that thing you described sounds a lot like a VCR. A tuner and a video output. I have some old VCRs lying around. I'll bring them down to you." Pow! My problem fixed! And he DID bring them to me. And we installed them. And solved our problem. And his parents bought two Middle Atlantic racks! Nice John: 1
Second: A client had been having difficulty with his Kaleidescape system. Except that he really *wasn't* really having difficulty with it, he was just trying to make it do things that it hadn't been designed to do (like create ridiculously long 14 hour movie scripts with hundreds and hundreds of sequence steps or rebooting the system – repeatedly – while it was importing and then wondering why the imports kept failing, or saying his Kaleidescape was "crashing constantly" when it was really his LAPTOP that was crashing while running the K'scape Web utility). So, after lots of long – and I mean "LONG" like making my blog look like the amount of text you'd find on the back of a business card long – e-mails and phone calls, we got him all squared-away. In fact, I even personally retrieved his server, replaced all of his drives with new 2TB versions, replicating all of his content and reinstalled his server. (All without dropping one single bit or byte!) He was so pleased with the service, he brought me this: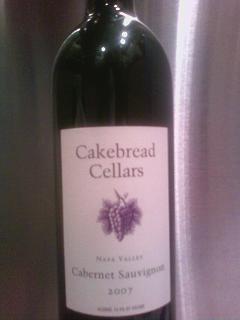 And for those that don't know me, a quality bottle o' the red -- that has been lovingly aged and matured in new French Oak under the care and tutelage of one of Napa's finest -- is one of the surest fire ways straight to my heart. (Plus, I found a $20 bill on the ground at Cakebread one time. Right after spending $20 for a single tasting at Opus One. Seemed like the universe's way of returning balance to my wallet.) Nice John: 2
Third: Another long-term client recently upgraded his old Sharp projector to a new Runco Q. The first part was supposed to be the "hard part" what with the HDMI retros and the moving the projector back-os, but it went smooth-smooth-smooth right up until it the part where it was supposed to be the easy part; the part where I was supposed to change like 10 commands on his remote for the new projector. Except that's where it went ass-ass-where's my Crestron program?!!-ass! So I had to spend hours – an entire day, actually – rebuilding his program from virtually the ground up. Just slightly less work than, say, redoing a pyramid. So a few days after I dumped it into his panel he called me and said that a couple of commands with his new DirecTV receiver weren't working that great and could I come take a look. So I drove down and fiddled with timing and pulse length and learned new codes and deleted the old buttons and join number and added new buttons and join numbers and downloaded and rebooted played with the location of the IR emitter on the sub-atomic level and begged the A/V Gods to show me some mercy and finally got it to work. Somewhere along the way, the homeowner and I got to talking about drinking. It might have been me muttering under my breath, "Oh, you cursed Gods of Crestron, get me through with this and I promise I'll pour a drink SO big that it will drown the tears of a 1000 programmers!" So he leaves and then comes strolling back in. With a box and a glass. "You ever try this?" My answer? "No. But I'd love to." His box? Johnnie Walker Blue, the bluest – and best – of Mr. Walking Johnnie and his rarest blend of finest Scotch Whiskeys. So he pours me two-fingers of paradise and I forget all about how un-simple SIMPL really is. Nice John: Well, still a 2 cause I didn't do anything especially above and beyond nice here, but I still have 2 and a delicious glass of Scotch. So I'm counting it.
Categories: November 2010, CTA
/