Shopping Cart
Your Cart is Empty
There was an error with PayPal
Click here to try again
Thank you for your business!
You should be receiving an order confirmation from Paypal shortly.
Exit Shopping Cart
Features, Reviews and a Blog by John Sciacca
| | |
| --- | --- |
| Posted on November 22, 2010 at 7:42 PM | |
As Netflix subscribers go, I think I am about as loyal as possible. When I moved to Myrtle Beach from the Bay Area back in march of 1998, DVDs were just starting to come of age. I remember when I bought my player, it was one of like 4 models available and there were 10 titles out. When we moved to Myrtle, there were no stores renting Laser Discs (the primary videophile format at the time) let alone DVDs. So when I discovered Netflix, I think within about a month of them opening, it seemed too good to be true. I could pay them a flat monthly fee, and rent as MANY DVDs in a months as I wanted and have access to every available title? Really?! Sign me up!
And I did. And I've been a Netflix subscriber/member ever since. And when I started out, I believe my 4 movies per month plan was $17.99. And in the past almost-13 years, they've sent me a T-shirt and a DVD holder caddy. Check my Flix-a-licious swag here: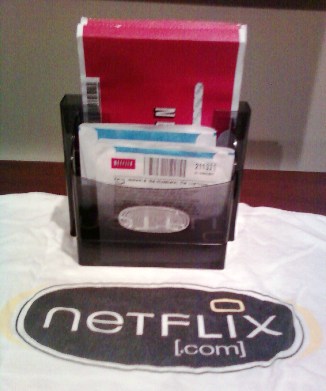 Then Netflix started making changes. And by "changes" I mean reductions and increases. First, they took away the four movie plan, but grandfathered me in, which was cool. Then they raised the prices to $19.99 a month but sent an e-mail out saying that they appreciated all the long-term subscribers and that we would be grandfathered in to the old pricing. And that they would stand by us and not raise our rates. Ever. Then they raised our rates. Then Blu-ray came out and at first they were free. Then they weren't free, but cost an extra $1 if you wanted to be all that you can Blu. But a $1 was fair, and I was cool with it because Blu-ray was so much better. But then they raised the Blu-ray rate to $5 a month. Which wasn't cool, but was still "What are you gonna do? Gotta watch Blu..."
Then today I got the latest love letter from Netflix. And by love, I mean they are writing to let me know that they are soon going to be loving some more of my money. To the tune of an extra $36 a year, raising my monthly rate from $21.99 to $24.99. Granted, this isn't going to keep us from eating, but it is essentially now paying for 14 months and getting 12. And when it comes to fractions and paying 14/12th is not the way I like to go.
By some way of trying to bizarrely offset this bad news they also announced that they are offering a new plan; "a new $7.99 a month plan which lets you instantly watch unlimited TV episodes and movies on your computer or TV. This plan does not include any DVDs [or Blu-rays]. And as a reminder, not all titles on DVD are available to watch instantly. This new plan is available immediately – if you'd like to switch to this new plan at any time, simply visit Your Account." Wow! Really?! I can ditch my current plan, give up DVD AND Blu-ray renting AND instead go to only watching your vastly reduced library of Watch Now titles in lower video quality and lesser audio performance! Really?! Well, GIANT RASPBERRY AND TO YOU, NETFLIX! And the I'm-not-saying-you're-number-1 finger as well!
Netflix says, "Our selection of TV episodes and movies available to stream has grown dramatically, and as a result most members want us to deliver unlimited movies and TV episodes two ways: streaming instantly over the internet plus DVDs by mail. The price change will allow us to continue to offer the popular plan choice of unlimited TV episodes and movies streaming instantly along with unlimited DVDs. The new plan, which does not include DVDs, is a great option for the increasing number of members who only want to watch instantly."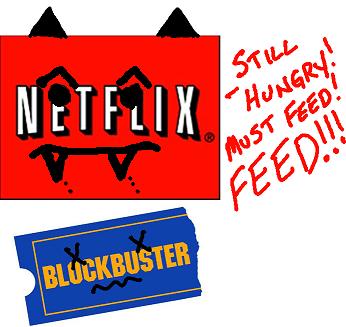 I think the more honest answer is, "Look, thanks for helping us destroy Blockbuster and all. We appreciate it, we really do. Big Blue was an evil, soulless corporation that lived on sucking the late-fee blood out of its victims until it left them shriveled and wasted like a wisdom tooth dry socket. But, well, they're gone and now we're the only game in town. So, we're gonna keep raising prices until we break you people. Oh, what's that? You threatening us with Redbox? Really? Like we're gonna believe that you'll trade us in on driving down to the grocery store and picking up some movie like a third-world lettuce picker. Oh, and enjoy their whopping like 10 Blu-ray selection! And how often is that movie you want not available? Sure. You go ahead and go to your Redbox. But we both know you'll be back. And when you do, we're gonna ask you and Redbox why you left. And when their lies ain't the same as your lies... Well, we ain't gonna hurt no Redbox. But we're gonna hurt you. And not gentle like before... but bad. With a rate increase that will make this one look like a sweet breath of summer rain. You remember that, ya hear!"
Categories: November 2010, Movies, Rants
/