Shopping Cart
Your Cart is Empty
There was an error with PayPal
Click here to try again
Thank you for your business!
You should be receiving an order confirmation from Paypal shortly.
Exit Shopping Cart
Features, Reviews and a Blog by John Sciacca
| | |
| --- | --- |
| Posted on November 23, 2010 at 2:45 PM | |
"So, John, how was your weekend?" you ask. Well, brother, if you think you're gonna get a simple "Oh, fine. It was just fine," then you've come to the wrong blog!
I spent my weekend hunched down behind my A/V equipment rack, playing that game that all A/V enthusiasts know and love so well called "Out with the old and in with the new." I have received some sweet oh-so-sweet new equipment recently, and had just been waiting for the skies to part and clear my schedule with enough hours in the day to prevent me from getting deep – DEEP – into the upgrade process and then having to quit before nothing at all worked. "Look! I know it's dinner! But these things aren't gonna just put themselves together! And if you want to do something tonight that isn't reading or going to be early, then let me work, woman!"
On my install docket was the Kaleidescape system in the living room, a Kaleidescape Mini-Blu (M300) player in our bedroom and a brand new – Oh, come on! Like you guys didn't know I was gonna do it the very second I saw it at CEDIA! Please! I was dropping neon, glowing breadcrumbs in the shapes of giant arrows pointing towards "JOHN WILL UPGRADE HIS PRE-PRO" – Marantz AV7005 processor.  (Note: I'm trying to sell my old AV8003. It is in mint condition and I'll even autograph the box or owner's manual for you if that  sweetens the deal. Or you can deny that you've ever heard of me and that I was never within 1000 miles of it.  I can go either way.)

Thinking ahead, and knowing that Lauryn could in no way keep out of my hair for the *hours* of removal, rewire, reinstall, reprogramming I had ahead of me, I came up with a plan. I would first add the new Kaleidescape player into the bedroom, thus enabling her to watch an endless loop of her movies in the bedroom whilst I worked in peace in the living room. Yes, brilliant I know. So I snaked a Cat5 cable from bedroom to living room, terminated cable, tested cable and then connected cable. Then I did what was supposed to be the easy part: installing the player to our bedroom TV. Should be simple, component video and analog audio and power connection. Except the 32-inch tube TV we have in the cabinet fills the space from front to back and side to side and top to bottom down to like a molecular level and I could not turn it, scoot it, reposition it at all. So I started removing the back from the cabinet. One nail at a time. (Of course, the balsa wood, two-piece construction was so thin and flimsy that there is NO WAY this thing is going back together the way it was or any kind of perfectly square.) So with that done and Lauryn happily watching Enchanted and Robots and Monsters, Inc. for the infinity-eth time, I went to the Big Job.
First up, removing the Sony 400-Disc DVD changer and Escient. These megalo boxes were replaced – and then some! – by two Kaleidescape pieces, M500 player and Server. The giant crater left behind from the Sony is awaiting the Modular Disc Vault, whose arrival -- I'm told -- is imminent. (And forthcoming review for Jeremy over at Resi...)  Then came the magilla of the install, removing the old Marantz AV8003 and installing the new AV7005. Careful, one wire at a time, label as you go, use Ninja-like focus to ignore the pins-and-needles tingling as I squat using-a-European-pay-toilet-style for what feels like hours, remember the inputs that you're plugging things into and......Done! Then I plop down in front of the computer to start the programming process. Gentlemen, I can rebuild it. I have the technology. I have the capability to reprogram the my system for Kaleidescape, Lutron and new Marantz. This will be that system. Better than it was before. Better, stronger, faster. And cooler. Way frickin' cooler!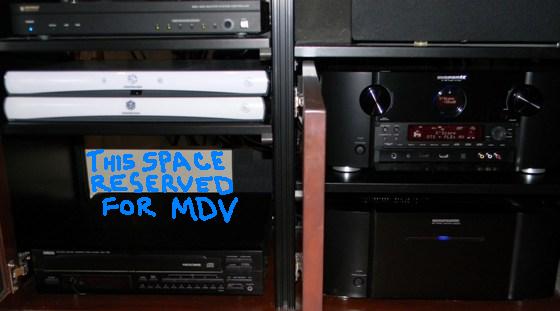 Because my original URC program died along with my old laptop, I import my existing programming from the remote and the MSC processor onto my new laptop and start going to work. (Note to Crestron: This one step would have saved me EIGHT HOURS of time on another job. Just sayin'...) Testing codes, adjusting timings, fixing this and that.  And I am just butting my head against the wall trying to get the Kaleidescape and URC system to work via RS-232. I try straight through cables. I try null-modem cables. I try changing the command strings. And at some point I finally come to the realization, "Why am I killing myself trying to control Kaleidescape via RS232? Just use IR for heaven's sake! You only need like 15 commands!" So I do and like 5 minutes later it's totally done. (URC tech support did call me first thing Monday to help me through the problem, but at that point, I didn't really see the point in redoing it. K'scape offers like every command I possibly need in IR.) So I finally get it done and then use the new Web setup feature on the Marantz to configure my system which is WAY faster and WAY cooler than the old on-screen way. Very cool.  
First thoughts? Aesthetically, I think the Marantz piece looks brilliant. I love the porthole design. It is as sexy as a simple circle surrounded by blue light and filled with text writing can be. Which, apparently, is pretty damn sexy!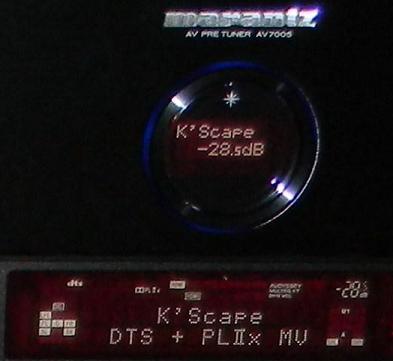 The new GUI overlay on top of HDMI video is WAY better than the old, IBM block white text on solid blue background from the AV8003. Net streaming with Pandora, Rhapsody, Napster and Internet Radio and iPod integration are all great; really nice implementation and a feature that I'm going to use big time. I like that it shows album art too. Yes, I know it's a simple thing, but I'm a simple man with simple tastes. (I didn't say cheap. I said simple.) Improved Audyssey which I can't really make a judgement on yet (but Audyssey is sending me the Pro install kit and license so I'll be writing more on that later) but I've run the 8 position setup routine and have engaged Dynamic Volume for (hopefully) better low-level listening performance. I ran out of the correct gender RS-232 cables (I had to choose between lighting control and processor controller and, well, processor won. Pretty easily.) so I need to bring one home from work to actually add the Lutron RA2 controller to the system. But I've tested them and I KNOW my codes work and that is like 95% of the battle.
Kaleidescape also sent Lauryn a kid's remote and, well, she LOVES it. She carries it around with her. She says, "Hey! Where's my remote?!" And then she points it at the TV and says, "I'm going to turn the TV on and watch my collection now." It is amazing how quickly she mastered it and took total ownership of it. It's really great. What isn't so great is when you are right in the middle of something and she comes up behind you with her remote and POW! Say goodbye to whatever you were watching and say hello to Lauryn's Collection! (Fortunately, Kaleida keeps track of all non-finished movies, so resuming exactly where you were is a simple proposition. Simple that is if Lauryn hasn't already decided that now is time to start watching Enchanted. Again. How does she know that I love her? How does she know that I really, really, truly love her? It's not enough to take the Lauryn you love for granted. You must remind her, or she'll be inclined to say, "Goodbye to your movie! It's time to turn on my movie!" That's how you'll know...)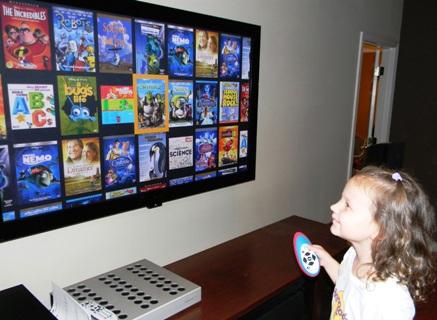 So, feeling randy, I thought I'd jump on installing the new Lutron RA2 light switches I had for Lauryn's bedroom and bathroom. (The occupancy sensor should A) automatically turn her lights and fan OFF when she isn't in the room to keep Lauryn from sucking the planet's energy core dry one killiwatt at a time and B) automatically turn the bathroom lights ON when she comes in to keep any big, scary monsters away.) So I get Lauryn's room done (after discovering that the electrician mis-labeled our electrical panel and what was labeled "Bedroom 1" was really the Kitchen GFI circuits) and then I go to the bathroom. Get the switches all pulled out of the wall and then say, "What the...? What is that extra wire doing there? Well that's not right. That's not right at all!" Then I start looking around the room and notice the "Has that thing been here the whole time?!" 3-way switch located like 4 feet away. Behind a door. LAME! So I can't install these switches until I get the correct 3-way accessory. Ugh! So, another weekend project already mapped out!

But, all in all, a pretty eventful weekend. So, what'd you do?
Categories: November 2010, Electronics, Movies
/