Shopping Cart
Your Cart is Empty
There was an error with PayPal
Click here to try again
Thank you for your business!
You should be receiving an order confirmation from Paypal shortly.
Exit Shopping Cart
Features, Reviews and a Blog by John Sciacca
| | |
| --- | --- |
| Posted on November 28, 2010 at 9:40 PM | |
A few weeks ago I reviewed Panamax's new BlueBOLT enabled surge protector for Jeremy G at Resi. (Here's a link to my review so you can read the whole thing if you like. Go ahead; I'll be here when you get back. That's how I do.)
Now surge protectors are nothing new, and for the most part, usually nothing too special. (Unless you're talking about that Surge-X electricity-eating monster that I saw at CEDIA. They blasted that thing over-and-over again like some kind of refuses-to-die, nightmare-came-to-life Richard Bachman character. They hit this thing with an insane amount of voltage until other products circuits and resistors were literally exploding with their innards rolling around in chunks at the bottom of this glass tube, while this wispy black, crack-pipey, scorched-electronics-smelling smoke came slowly roiling out. Also, with pregnant Caster-Lauren standing mere inches away from those repeated 6000 volt blasts, I didn't know whether to secretly root for or against her unborn baby developing some kind of awesome X-Man mutant power.) You can go down to Wal-Mart or Target and buy any old surge protector for under $50. And while those inexpensive devices are technically better than nothing, they're not the kind of things that you'd want to stand between your gear and some heinous power situation. Kind of like hiring some smells-like-stale-gin dude named Uncle Cletus -- who, PS: isn't your uncle, by the way -- to be your bodyguard. Sure, he might stumble in the way of a bullet. But, then again he just as equally might gut stab you himself while in the throws of some kind of lack of booze-fueled DT's rage.
What makes this Panamax product so great and different are three things: 1) it offers much better surge protection 2) it actually monitors, records and reports the power coming into your home and your energy usage and 3) it sits on your home's Network allowing you to access it and control it from anywhere in the world.
Why would you want to access your surge protector remotely? Well, one of the things that was cut from my review for space – oh, print media! How you truncate and abridge the Sciacca writing style! Each word is as precious to me as my own child! – was an anecdotal example of how I used this remote access feature:
While living with the M4315-PRO, my wife called me at work to say that our cable box was acting up and that Lauryn was about to have a meltdown because she couldn't watch a "showy-show." In the past I would walk her through the process of reaching behind the rack, feeling for the power cable – but not the AC plug that I use for power sensing the cable box! And don't disconnect any of the A/V cables or pull any of the IR emitters loose! – unplug it, wait for a minute, plug it back in... Now I just pulled up my BlueBOLT account on my computer at work and power cycled the cable box's outlet. Just like that, with about 45 seconds of Web browsing, order was restored! [This last part was directed at custom installers who might, find another use for the remote power capabilities.] Also – and I'm not saying this is a Panamax sanctioned idea – let's just say that if a customer wasn't paying his bills, you could power down his TV during the big game or kill power to his router, or... Just saying...you could.
That explains why you might want to access it, but why might you want it to access you? Well, I set my device up to automatically send me e-mails in the event of power failure or over or under voltage or loss of Internet access basically to see if that feature worked during the review period. So today while I'm sitting at church – Lauryn has been fighting a cold, so Dana stayed home with her; that will be important in my story – my phone vibrates to indicate a new e-mail. So I covertly slip Lady Phone out of my pocket and look down to see that I've received three, rapid-fire e-mails:

Hmmm.... The front breaker has been tripped. Power has been lost. And then almost immediately cut back on. And power has been restored. Not the kind of thing that, say, happens all on its own or can even happen on its own. But the kind of thing that requires a small finger to prance its way up to it. And wonder to itself, "Hmmm. Finger, what do you think would happen if you flipped that switch?" And then actually flip the switch. And then immediately realize what they did – when the Plasma TV suddenly and unceremoniously goes black with a big power relay click! – only to think, "Oh, finger! What have you done?" and quickly flip it back on again. And then yell (so I'm told) "Mommy! I'm sorry! Don't tell daddy!" Only one person I know would do such a thing. And that person *knows* that she is not to touch my electronics. So it looked like Panamax was e-mailing me an urgent "booty in need of spanking" message. So when I got home I walked in and said, "Lauryn, I'm going to ask you a question. And I want you to tell me the truth. And I'm going to tell you that I already KNOW the answer to the question. So, tell me…did you touch my electronics?" After assurances of "I'm sorry" and "I won't do it again" I assured her that if she did, I would know. Because Panamax would be watching. And Panamax would tell me. And then...Spank to the cavuto!
Besides realizing every-parent's-dream which is an automated, remote, need-of-spanking e-mail notification, the system also monitors and records power coming into the home and power usage. And for the past couple of months I've had several components plugged into the Panamax device including my 8 x 140-watt Marantz power amplifier, my 60-inch Pioneer Elite Plasma, my cable box, my Meridian-Sooloos music server, and recently the Marantz NA7004 I'm testing and Kaleidescape M500 Blu-ray player. So I thought I'd share a couple of graphs that the Panamax generates.
This is our power usage in amps over the past two days:
It is essentially saying, "No one is using anything. No one is using anything. Just relax, no one is using any….PLASMA TV ON! MAX POWER!!! Oh, God! So...much...POWER! It hurts, ouchey, it HURTS! OK, phew. It's over. TV off, relax again. Lauryn is in her room, they're taking a nap, they're eating dinner, a little music, and then, OH, NO! TV BACK ON! OK, relax, bed time. Stand down. Let's take a breather every one. Oh, thank goodness, looks like a quiet Sunday morning. OK, lunch time, brace for it. Brace. Hold fast! TV ON! Stand fast on the top deck! OK, looks like Lauryn is going outside to play, and...oh, no. Wit! She's back! Oh, help us, she's back! AFTERNOON MOVIE WATCHING SESSION!"
On this next chart you can see our monthly energy usage: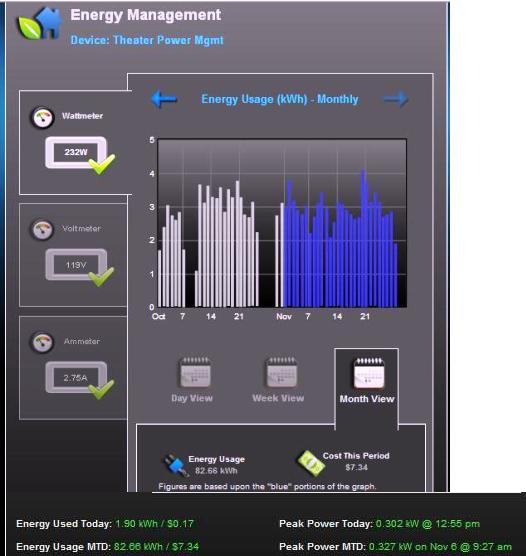 At the bottom you can see that today we've used 1.90 kWh, or almost two full dimes worth of electricity. For less than the cost of 3 minutes on a pay phone, Lauryn and I have watched Toy Story 2, and Shrek, and multiple Pixar shorts. For the entire month enjoying my A/V system – not considered power or Al Gore friendly in any way – has used 82.66 kWh. Which might sound like a lot, but in actual dollars and cents comes out to a whopping cost of $7.34. Seriously, that is like the best $7.34 that I spend. For the price of lunch at Chick-Fil-A, I get to enjoy 30 days filled with amazing picture and sound with a library of nearly 50 Blu-rays, 150 DVDs, over 9000 songs and all the Internet radio and Time Warner HD cables and DVRs I can stand. And all under the constant, vigilant, round-the-clock monitoring and protection of Panamax. Not bad. Not bad at all.
Categories: November 2010, Reviews, Electronics
/