Shopping Cart
Your Cart is Empty
There was an error with PayPal
Click here to try again
Thank you for your business!
You should be receiving an order confirmation from Paypal shortly.
Exit Shopping Cart
Features, Reviews and a Blog by John Sciacca
| | |
| --- | --- |
| Posted on December 2, 2010 at 5:27 PM | |
As I write this, I am sitting in the US Air Lounge in "Oh, God! What have I done? Why am I here?!" Buffalo. I am staring down the last remains of what shall be the first of several Budweisers and empty chip bags and ticking off the minutes – 263 of them actually, or 4 hours and 23 minutes – until my plane is scheduled to leave. This will be a personal best Lounge duration visit, though not really a record I'll be proud to ever try and top. There are only so many free Budweisers and bags of chips one man can hang his shingle to. I say "scheduled" because as I look out the window it is pouring snow, if that is such an expressing. I'm looking at the piles on the ground – some parts of the big Buff got 24 inches last night they say – and wondering just how good the odds are that my 737 will be staying instead of leaving. When I ask the locals, they say, "Don't worry! This is just Buffalo in the winter! If we didn't work in the snow, we wouldn't work!"
So, why is John in Buffalo now, in December of all times, you ask? Well, that's because some rocket scientist had the brilliant idea to hold some Cisco training. Here. In Buffalo. Now. In December. But as I griped that to my DBL rep, Brian, he pointed out that there was also an equally brilliant rocket scientist who knew perfectly well that the training was here, in Buffalo, now, in December when he – I – agreed to come. So, touché!
I'm actually here for two reasons. First, let's be honest, I never want to miss a chance to spread my Golden wings and fly. And since this is actually one of the first flights I've taken since becoming Goldmember, as Firefox's Major Mitchell Gant would say, I really wanted to "see what this thing can do." (Turns out it can get you seat 1A coming AND going. Goooooold-membah! He's the man, the man with the First Class touch! A touch so much!) Second, I *thought* the Cisco training – titled "Cisco Data Center Networking Sales Specialist" – would be beneficial to me in spec'ing, building, designing, selling Cisco enterprise grade networking stuff. (Remember the word "thought;" it is what my English teacher, Mrs. Russi, would have called foreshadowing...)
It turns out that while I've never been to Buffalo before, I happen to know someone who lives in these unfair climes, fellow Sound + Vision-er, Al Griffin. Defying all sense of logic, reason and the basic human desire for self-preservation, Al actually lives in Buffalo of his own volition, probably due to some kind of self-imposed exile or penance for committing a sin so grievous in a previous life that only years of Buffalo living can approach some form of atonement. True story: It turns out that those are the 1 and 2 reasons for living here! So when I found out I was coming, I asked Al what kind of weather to expect. The perennial editor, Al succinctly replied, "Cold." And when I asked what I should wear, he either said bring ALL of my clothes or bring my warmest clothes. Having grown up in California and now living in Myrtle Beach – where it was 70 degrees when I left, thank you very much – my warmest clothes are probably more like spring fare for Buffalo. Fortunately, I doubted that any part of the Cisco training would include outdoor activities so I layered up and headed out.
I arrived to weather that was, shall we say, considerably not the 70 degrees that I left. Here is the view out of my Hilton Garden Inn window. What is all that white stuff? Why is it staying on the ground? Where am I? What's happening? Why are all those voices laughing at me? Big yellow, warmy sun ball, where are you? Help!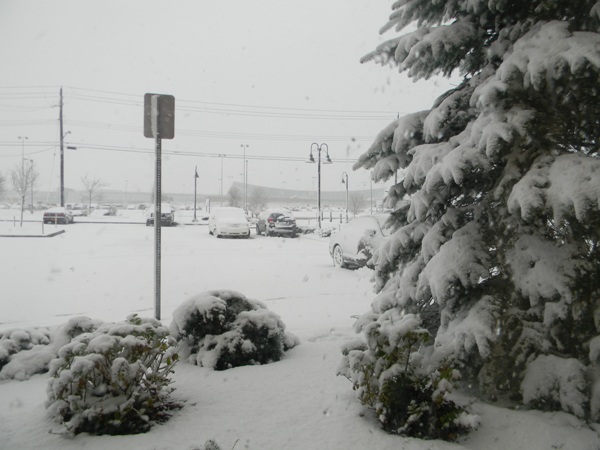 It's finally time to leave the hotel and endure the face-punch which is leaving your hotel in Buffalo in December so I board the bus to the Cisco training. But despite what I've been led to believe by industry advertisements of glassesey, sharp-dressed, sensible heels wearing, top coupla buttons undone as if to say,"Hey, I'm here to work but that doesn't mean that I'm not a woman that likes to party!" snarky looking IT tech girls, semi-smilingly working away at their server workstations, the IT drones that are attending this class look nothing like this: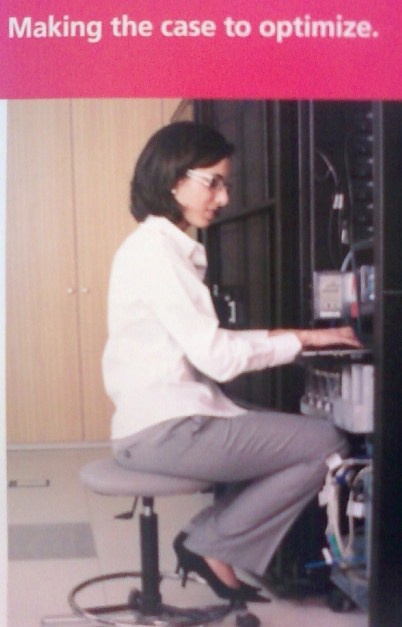 First, they are pretty much all decidedly LESS female. Like totally not even trying to look female or glassesey at all. And you can replace the thick, cutey-cut hairstyle with a lot of baldness. And the stylish dressing with jeans. And the skinnyness for not-skinnyness. Though, many in attendance do have similar – actually larger – sized boobs. They also do all seem to enjoy sitting for long periods of time, and attack the cokes and chips snack tray like it had personally wronged them. One guy totally resembles Comic Book Guy and another is shaped unnaturally like a pear.
So, about 5 minutes into the class it becomes TOTALLY apparent that I'm in over my head. Like, so far over my head that I'm looking up and I can see the water change like 4 different shades. Oh look...there goes James Cameron in DSRV exploring the Marianas Trench! Hey, James! Good luck with Avatar 2! Turns out that when they said "networking data center management" there was going to be no talk whatsoever about building a stable network for say, your lighting and automation control system or connecting your Blu-ray for a super-duper-stable network update. No. What they meant was designing, building and maintaining multi-million dollar, giant air-conditioned rooms filled with banks and banks of switches and networking hullabaloo for things like India-type call centers!
The class instructor is speaking in such high-tone Geek that he might as well be speaking a foreign language. Sure, I pick up a phrase here and there like "Blade Server" or "Wired Ethernet" or "Cisco" but for the most part I am just staring ahead trying not to call any undue attention to myself by breathing too loudly and constantly wondering things like, "What the hell is a CDP appliance or a SANTap? And why all these damn capitals?!" I never knew that so many acronyms existed, all seemingly identical! I feel like Charly after the Flowers for Algernon special sauce wore off. Except that I'm fully cognizant of the fact that I'm dumbening... It's true what they say; ignorance would be bliss. Ignorance to the fact that I'm THAT guy in the room that has no clue what the hell is going on. Apparently the instructor occasionally says things that are funny, because simultaneous chuckles break out, but then I just look around with a dumb grin like, "Yeah, fellas! That was a real humdinger!"
So, day one ends and we go out to a pretty decent dinner where the waitress says – I'm paraphrasing here – "We have some really cheap Pinot Grigio and Merlot that they are serving, but if you want something else, you can order anything off the wine list." To the list! Sadly, the term "well stocked wine cellar" carries much less weight in Buffalo than it would in, say, other cities that aren't called Buffalo. But I manage to find a nice Chardonnay, Cab and Shiraz to get me through the dinner where I try and feign my way through conversations with my table mates and not come off looking like the special needs person I totally am. Turns out that there are only so many lewd jokes you can successfully pull off where the punch line entendre is "Gigabit."
After dinner, I get together with Al, and a giant big-ups to him for leaving what I can only assume is the warm, crackling fire, chestnuts roasting, warm glass of spiked cider with a cinnamon stick and golden retriever at his feet confines of his home to come out and pick me up at my airport hotel. Coming out on a night that was A) Awful and B) Also awful. So we find this nice little wine bar called Pairings which is perfect for two guys to come in out of the cold and share a small, private, intimate table and bottle of Pinot and some warm roasted brie. (Oh, that's right, Darryl Wilkinson! I see other people! You never call, you barely text, you've stopped blogging. It's like I hardly know who you are anymore!) So, great, relaxed convo with Al where neither of had to worry about rushing off to the next press event of whether or not we felt like one of us tended to sometimes edit out the soul out of the other of us-es writing. When they started locking the doors and turning the lights off, we decided that it was time to leave, and especially get off the roads before the nightly white out rolled in making driving akin to Russian roulette.
Next day (today) was another full one of John-in-the-weeds, broken up by breakfast, break, lunch. Ironically, even though we are at Cisco training, they were unable to get us a WiFi connection so I couldn't even computer my way through the day. Then, after the instructor made some comment like, "You all know and love the Catalyst 6500..." followed by several slides that all looked like the same slide he starts talking about something that seems to be simultaneously called "Energy Wise," "Embedded Event Manager" and "Intelligent Building." Now, these might be three entirely different things; as a foreign speaker, I was only picking up ever third or fourth word. But, the point my addled brain picked up was that they all ended up sounding like one thing: automation. Ka-pow! This I know. This I know but good. He's talking about a strange and wonderful future where we'll be able to control lighting and drapes and HVAC. I know this future. I call it, "The present!" The student has become the master. Bow to your sensei! (This poster was up on one of the Cisco walls. Note to poster designers: When in doubt of your poster's awesomeness level, add a Ninja!)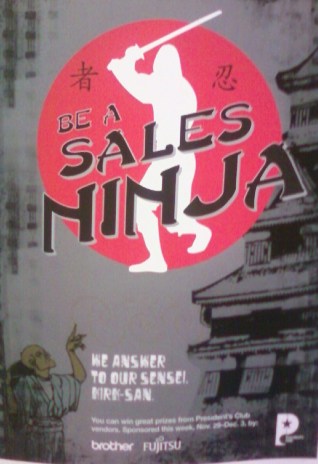 So when he makes some comment about how in the future we're gonna start seeing lights with Ethernet connections and be able to log-in and remotely adjust HVAC, it's time for Yoda-Sciacca-Segal to speak up. "Why would you need to go through all of that trouble and expense of pulling Cat cabling to each light and need special lighting and network administration just to be able to dim your lights at the close of business? There are tons of automation solutions that will do all of that today. Crestron, Control 4, Lutron, Vantage..." Here he stammers for a second but then throws out some verbal feint like Cisco networks are the backbone of all these things or something and how the network administrator something-something. Sure, his patois had some $2 words in it, but we both knew that I won this round! Then he got up off the floor, retied his gi and went back to slowly killing my brain with more acronym spinning roundhouse kicks.
So, that's why I'm in Buffalo, and as I close, it has somehow managed to start snowing even harder and angrier, and my feet – even though safely ensconced inside of socks and shoes and the actual airport – are hurting with cold. Despite all of that, Cherrl (a Grrrl who's name spellingmakes we want to break out in, "I was like, good gracious ass is bodacious, flirtacious, tryin to show faces" except she is like grandmother age, not at all flirtacious and even less so bodacious and there is nothing hot in herre about Buffalo) behind the counter says my plane is in the air and that I definitely probably should get home tonight. I'm hoping that Buffalo's final gift to me is not an extra day in Buffalo. But I've already told Al that, as Buffalo's official ambassador, if I get stranded he is going to be the first person I call! And he thinks I was kidding...
Categories: December 2010
/