Shopping Cart
Your Cart is Empty
There was an error with PayPal
Click here to try again
Thank you for your business!
You should be receiving an order confirmation from Paypal shortly.
Exit Shopping Cart
Features, Reviews and a Blog by John Sciacca
| | |
| --- | --- |
| Posted on December 7, 2010 at 6:00 PM | |
The consumer electronics industry is known for a lot of things – entertainer and raiser of our nation's children, sworn servant to its unholy master The Darth Lord iJobs, destroyer of worlds – but a smoking hotbed of beautiful babies it is not. In fact, it is often a beautiful baby wasteland. (Granted, the industry isn't attracting a ton of Don Drapers and [insert name of other attractive guy here] either. When the annual spokesperson for our biggest event of the year is hosted year-after-year by Bill Gates and then Steve "I ain't CRAZY!!!" Ballmer, you know that we aren't getting past the ropes at the Viper Club based on looks.)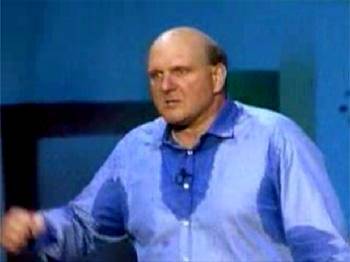 Now, granted, our industry does indeed attract some fine looking women. About twice a year. And in a mainly, hmmm, shall we say, less technical and more entertainerly role.  Girls hired to stand around the booth at CES? Definitely hot. Well, hot-ish. Some look hard. Like they just got finished "working" another "shift" and now their "boss" just dropped them off. These women are often "models" or "dancers" or "entertainers." (Are all of those quotes kind of helping you towards the kinds of "women" – wait, that probably shouldn't have had quotes; they are indeed women, I'm not saying this is a Crying Game kind of thing – I'm describing. The kinds of women who didn't, say, go to school on an English scholarship or join the Math Team or memorize classic chess match opening gambits.) These girls have a level of product knowledge that usually hovers somewhere between, "Do you really want to know that? Wouldn't you rather I just lean over and sign this calendar picture of me?" and "Oh, you're one of those poindexter guys. Talk to that guy over there; he actually works here."  My general tack when approaching a booth at CES is to avoid these women and their vapid interchanges and head straight for someone who knows something about the company. Though, I will admit, my assumed booth girl ignorance once bit me.
It was at the Earthquake Audio booth, and I went up this attractive woman and said, "Hi, I'd like to know more about this product (an amplifier I think). Can you get me someone who can tell me about it?"
"I can tell you about it," says attractive booth girl.
"No thanks," says chauvinist Sciacca, "I want to talk to someone who actually knows about the product."
"I'm the Vice President of the company. I know about the product." And that is what  two-feet tall feels like.  
PR and marketing is another area where the A/V world has fully embraced hotness. In fact, I think this is a strong pre-requisite towards being hired in a firm that handles PR for A/V, and it makes a lot of sense. Let's see. Vast majority of A/V journalists are men. Who would these men be likely to give more attention too? Let me see, let me see... And the marketing girls DO know their stuff about the gear (or can at least act all bubbly and happy to see you and, "Oh, John! We loved that piece you wrote on us! Thanks so much. Really...it was the best! So much better than Darryl Wilkinson! Oh, wait, there he is. Let's move over here before he sees us..." ) Now, I'm not saying that you'll actually toss them some hand tools and a laptop and throw them in to rack out a system. But they could at least intelligently describe the features of the system, once someone else had, you know, hooked it all up and got it working.
OK, so, where the hell am I going with this? Ah, yes, MCM. So, I got an MCMElectronics.com catalog in the mailer yesterday, and this thing is packed with all kinds of technical doo-dads and widgets. Neutrik Speakon connections? 8-channel XLR snakes? Optical pick up for Sony KSS-240A? A/V over Gigabit adapters? USB to Serial kits? Oh, yeah, this place has got it.  It is also just PACKED with good looking ladies. Turns out they are advertising what looks to be the hottest roster of women working in the entire CE field. So, I Lady Phoned some pix from the catalog for you to see for yourself. (I apologize for some of the picture quality; Lady Phone cam doesn't do too well with small images...She is more a Big Picture kinda gal.)
This first girl is just totally Marsha, Marsha, Marsha Brady. Which is a good thing. She is also clearly a tech support ninja since she has garnered her the cover spot. Also, I'm pretty sure that she'll hook you up with FREE GROUND SHIPPING with a total smile and cute little laugh cause that's how she do. I'm also sure that you can request her for all of your needs. Tech support needs, I mean.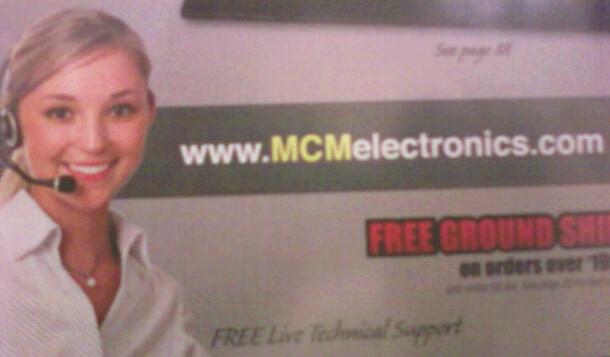 This girl is obviously smart because she's wearing glasses. And her hair is pulled back in a "Sure I mean business and I want to be taken seriously, but that doesn't mean that I can't still be cute!" ponytail. Her smile says, "Sure, lets discuss all of your resistor and soldering needs. You know that I love it when you talk tech!"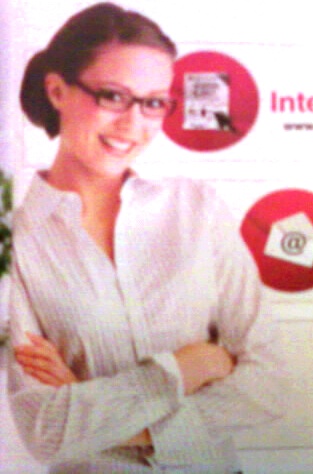 Regardless of how cold it is, the girls of MCM are always available for your tech support needs. Even when the heat goes out, they'll throw on hat and coat and be ready to thoroughly discuss and process your solder flux or Chemtronics Freeze Spray orders.  This little vixen is available when Marsha is too busy dating some hunky captain of the football team or glasses is out learning a new language or doing Pilates.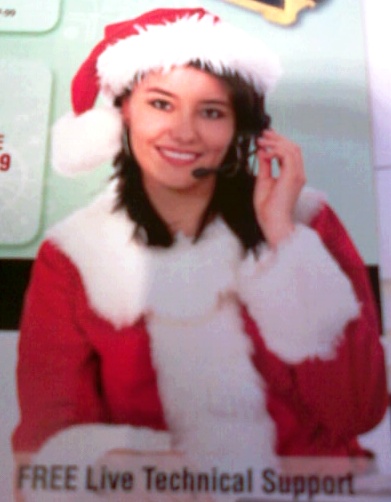 Black, white, Asian... Regardless of your preference, rest assured that MCM has you covered! Also, I will NOT tolerate any "I'll give these girls a LARGER quantity! Yeah, baby!" jokes here. The women of MCM are consummate professionals. They come in to work, do aerobic stretches and have team building pillowfights with all those fresh-out-of-college girls that make up the quotes team. If you can't respect them, you should just leave now. Come on people!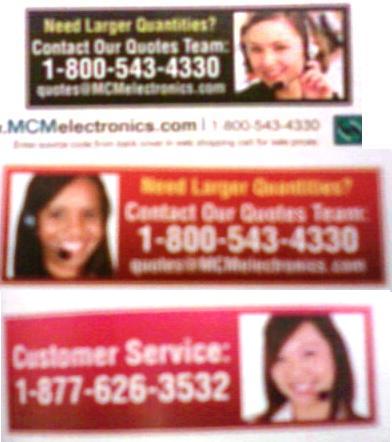 They don't want to lose a single sale because blonde-haired, blue-eyed Marsha-types aren't your thing. And, don't think that just because you need someone in service or a large quantities job quote that you'll be forced to talk to some hideous, hair-growing-out-of-mole troll or, worse yet, some dude. Absolutely not! MCM takes their staffing hotness seriously, and ensures that *every* employee is up to maximum hotness.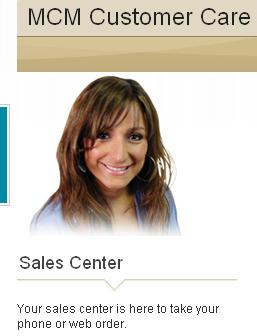 This girl at Sales Center is here to take your phone or web order or just, you know, chat about how your day is going. MCM Customer Care. With maximum hotness. That's what it's all about.

Categories: December 2010
/