Shopping Cart
Your Cart is Empty
There was an error with PayPal
Click here to try again
Thank you for your business!
You should be receiving an order confirmation from Paypal shortly.
Exit Shopping Cart
Features, Reviews and a Blog by John Sciacca
| | |
| --- | --- |
| Posted on December 14, 2010 at 5:22 PM | |
I won't lie; I would really love it if Lauryn would embrace my love for writing. I like to picture us sitting side-by-side on the couch one day, she with a hot cocoa, me with a latte, some cerebral, writerly jazz going on the stereo, each of us with our laptops out – me with a PC, Lauryn with a "Oh, dad! Why can't you be cool?" Mac book – as we share WiFis and work on our writings. Bouncing ideas around and tossing out witty rejoinders to one another.
And she does have a great imagination and can tell a great story when she wants to. She already likes to tell free-form versions of Willy Wonka where sometimes Charlie is a cat or other times where no one wants to go to the chocolate factory. She also made up a great story about a unicorn that was lost on rainbow island. I loved that little unicorn, and can think of no place more beautiful to live than an island. Made of rainbows.
But, it seems that her true talents lie in art. And not in THE ARTS, but art, specifically drawings. She generally prefers to work in mixed-medium, usually starting with an ink pen and then using crayons or colored pencils for shading. I've already shared some of her previous artistic highlights, her Picasso-esque drawing of our family watching Yo Gabba Gabba on TV and then her casting for Mask 2: The Face is Back.
Yesterday while I was busy at home with all of my work thingies, I took Lauryn into our room and set her in front of our $20,000 babysitter; the Kaleidescape movie server with her kid's collection. So I'm doing my thing and Lauryn is watching her movies and keeping herself pretty busy, buth then she comes walking out.
"Daddy. I made you a picture. It's me. Holding my kid's remote."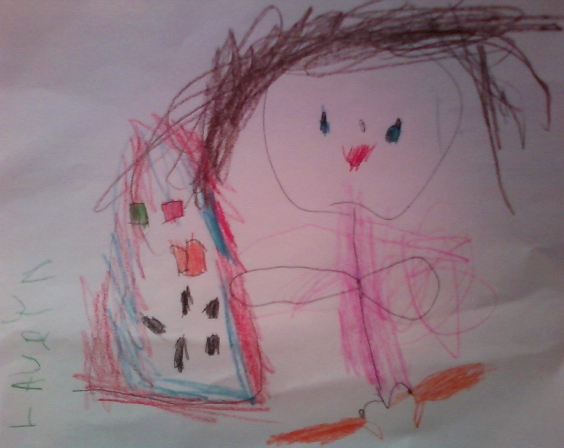 First, I love, LOVE, L-O-V-E that she has made a drawing of herself AND technology. And her drawing is just SO spot on! Notice the button coloring on her drawing compared to the actual kid's remote. Green, Red and Orange buttons? Yep, they're all there. And see how the pause button (the Orange one) actually *looks* like the II of a pause button?! Lauryn is wearing a pink sweater and she would like me to point out that her shoes have heels. Also, that is a fairly accurate depiction of Lauryn's hair, which, like Samson's, has never been cut. It is the source of her creative power. And occasionally seething rage.
Here is an actual picture of Lauryn holding the actual kid's remote. Note the similarities: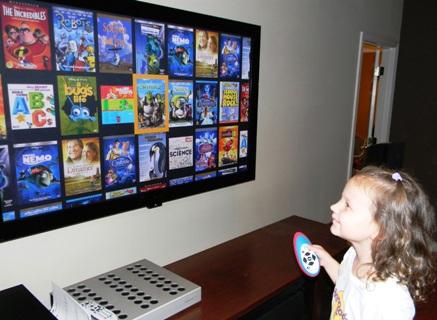 So then we go out to dinner at Gordon Biersch and she gets her kid's menu and starts drawing. First she colors in the giraffe. Then she draws in a big, yellow sun (which Lady Camera couldn't accurately capture) and then she draws a person.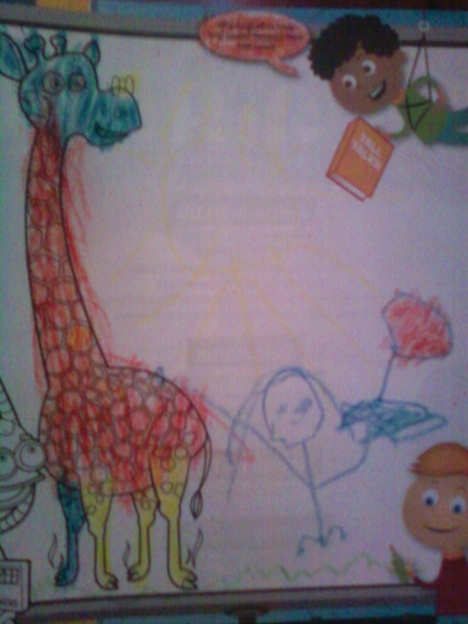 "Is that you?" Dana asks.
"Yes."
"Are you holding a big, red flower or a balloon?"
"No. That's my glass of wine."
"What? You don't drink wine!"
"No. That's me. When I'm grown up."
"When you're grown up?"
"Yes, when I'm grown up. And I'm petting a giraffe. And drinking a glass of wine."
"Well, what's that big blue thing?" I ask. "Is that your hand?"

"No, silly daddy! That's the bottom of my wine glass."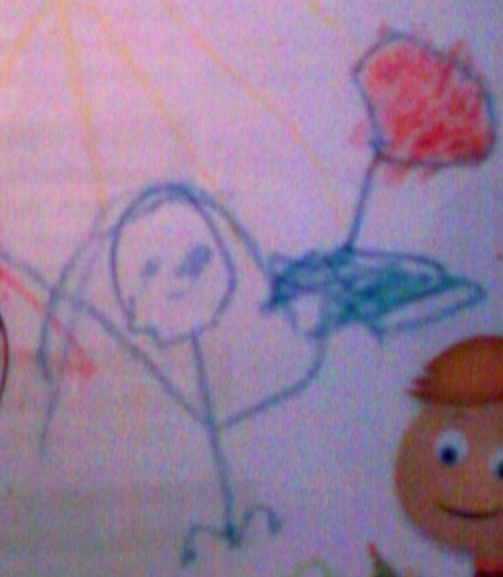 AWESOME! It's just...it's so...it's just so AWESOME on many levels! First, look at the size of that wine glass! It's magnificent! It's bigger than her head! And that is probably the most generous pour EVER! Second, she already knows enough to drink red, and she probably would have colored in a scarlet burgundy or purpley Cab if Gordon-B had offered her more than 4 color choices. Then she knew that a nice wine glass had a good base to it; none of those Riedel 'O' stemless models for her. And, she is holding it at the base! Knowing that she doesn't want her hand to warm up her wine!
I swear, I love that little girl! Even though she often kicks me when I'm sleeping or is quick to turn off my movie and turn on one of hers if I don't catch her sneaking up with her kid's remote, but I just love that wittle-Warren! More and more and for different reasons every day! Here's to having fun with your little artist, whomever or wherever they may be!
Categories: December 2010, Family, Electronics
/