Shopping Cart
Your Cart is Empty
There was an error with PayPal
Click here to try again
Thank you for your business!
You should be receiving an order confirmation from Paypal shortly.
Exit Shopping Cart
Features, Reviews and a Blog by John Sciacca
| | |
| --- | --- |
| Posted on December 26, 2010 at 2:20 PM | |
Yesterday, some friends had a Scotch tasting get-together. Apparently this is an event they hold annually, but this is the first time that I've been invited to join their little soiree. They all get together, and break out their highest-shelf goodness and bring it over in an "I'll let you try mine if you let me try yours" kinda thing. Now, I'll be honest, I'm not much of a Scotch drinker. In fact, prior to yesterday, my entire lifetime liquor inventory of Scotch included exactly zero bottles. But what I am much into is getting together with friends and drinking premium-class booze. (OK, I'd probably drink Popov vodka out of a plastic cup if the company was good. But you'd better at least have some decent olives!)
So, I headed to a local ABC store that was supposedly known for having a large inventory of quality Scotchery and I picked up three bottles that were "new" from a company called Compass Box. Hoping to impress the group and arrive with something that said, "Yes, I know my Scotches and I'm not afraid to put up some decent bottles to join your Secret Society," I picked up $150 worth of items called Asyla, Oak Cross and The Peat Monster. From what I've been told, Scotch that tastes like you've dredged your mouth through the entire length of an old, Peat Bog marsh, where you all but breathe out a thick, mouthful of smoked peat goodness and have thick chunks of big, dripping peat sticking to your lips and chin beard is supposedly a desirable trait. So, I figured anything that is going to go and call itself The Peat Monster had to be bloated with peat bog filled goodness. And the box described it as, "For those who love big, rich, peaty and smoky malt whiskies, this is your whisky. The Peat Monster combines extremely smoky malt whisky from Islay with medium-peated Highland whiskies to create a balanced and approachable monster, but a monster nonetheless."
Not wanting to show myself the inexperienced, Scotch-novice, I reached out to a couple of people and requested the proper Scotch drinking etiquette. Does one swirl their glass to allow the air to open it up? Does one pour it over ice? Does one use a hollowed out ivory tusk as a straw? These are the tips I needed to know.
Jeremiah, our Scotch-drinking host, offered, "Ice is cool, but a splash of water is better yet."
Kirsten aka "Glasseser" is quite the Scotch aficionado and she offered, "For blends, I tend to add a cube or two. Actually I'm not sure what the etiquette is for blends. For single malts, one cube 'opens the flavor,' but I leave the flavor closed usually. I ain't no bitch."
Perhaps the most succinct advice came from none other than Darryl Wilkinson. Darryl who has made a life from an economy of words, replied quite simply, "Single malt, single cube." That's the kind of advice I could work with.
However trusting Darryl is always a slippery slope, and can end up with you feeling like you need alien-probe resistant underwear. Also Kirsten further caused me to question the wisdom of following his advice when she responded, "'Single malt, single cube' is the sophisticated thing. I think I'm just a rebel purist. One cube in summertime, otherwise straight, peat bog smoke. I always knew I was more man than Darryl..."
Knowing that I'd have an entire top-shelf worth of high-end Scotches to sample, I decided to try my own three bottles the night before the big event, figuring I could cross three off my list, and perhaps establish some kind of Sciacca Scotch baseline of flavor desirableness. (Also, we were going to be watching the extended, Director's Cut of "Eat, Pray, Love" on Blu-ray, so I figured that some serious, quality high-caliber drinkin' would help me to Sit, Watch, Not Poke Fun.) I decided I'd use price as my guide, working low to high, and took the Wilkinson "single malt, single cube" approach.
The Asyla was approachable, light, nothing too overpowering or complex and something that is definitely a nice way to introduce new drinkers to the complex, potentially frightening , stuffy, upper-crust world of neckerchief wearing Scotchery. Next up was the Oak Cross, which spends time in French oak barrels and had a nice toasty vanilla-oak flavor that was pleasing to the wine drinker in me. If this was mid-price, I couldn't wait to enjoy The Peat Monster. So, I popped the seal on the Monster and took a whiff and what the?! Scorched electronics have a *very* distinct smell. If you've ever had an amplifier or other component that has fried or had its capacitors immolate in a blaze of electric-glory, you'll immediately recognize that eucalyptus-ey and mentholatum-ey and high-sweet-burny smell. It is unmistakable. And that is *exactly* that small of The Peat Monster. (Remember when I was telling you about my December 24 customers, and the folks from Ca-na-da with the long-Ooooo's? They brought in a fried amp. So the smell was fresh in my nose, like a corpse sniffing hound.) And I couldn't get over it. Every taste was like drinking a burnt amplifier. Especially once it started "opening up" in the glass, it made our room reek of fried gear, which, as you can imagine, is not the kind of smell I'm comfortable with in my home theater. It was SO strong that Dana couldn't even have the glass next to her on the couch. I had her smell the glass and she recoiled, saying, "That must be broken; you need to see about taking it back." Turns out that is just the strong, sweet, Scotch-lovin' smell of peat. Welcome!
So, I get to the party and Jeremiah has all of the bottles lined-up for Scotch drinking goodness. Say hello to my little friends!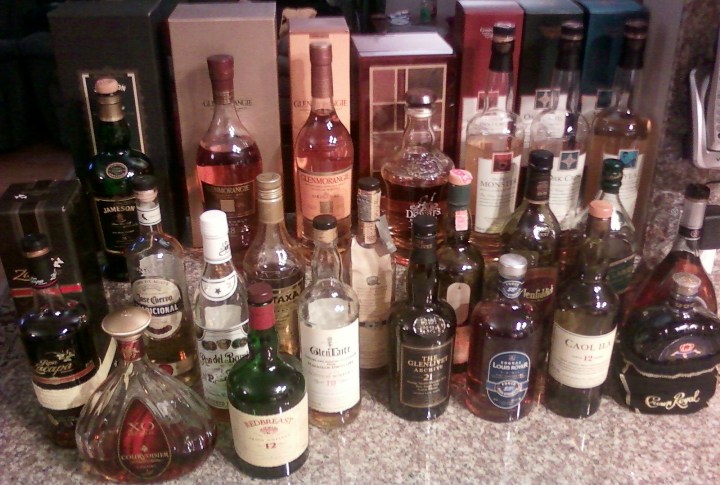 The highlight of the evening was a bottle of Dewar's Signature. This was a $200+ treasure that another new member to the club, Jim, brought in hopes of impressing everyone and saying, "Hey guys! Clearly you picked the right guy here." And I must say, whether I was just totally bowled-over by the presentation case or the hand-signed, hand-numbered, hand-dated bottle, or the 1 pound heft of the cork stopper, or just the pomp-and-ceremony to which Jim pulled this magnificent bastard from its velour-lined cradle, this was the 27-plus year old Scotch of Scotches. Smooth, complex, rich, like dozens of different flavors dancing around in your mouth; each flavor a scantily clad Keira Knightley, Survivor Courtney and Winona Ryder simultaneously high-kicking and delicately massaging your palate with another note of flavor-filled goodness.
Also, the box this thing came in was just incredible. My Rolex Submariner now sells for over $7000. And you'd think it would come in a nice box. And, it did. Green and leather and hinged and whatnot. But the box that the Sub came in was shamed by the box this liquor arrived in. This box took my box's pants down and spanked it and sent it to bed crying with no dinner. It was a beautiful, lacquered, inlaid ornamental case worthy of passing from generation to generation, a family heirloom that happens to hold a bottle of liquid heaven. If you were told this box held an ancient Samurai sword or royal document you would merely nod in agreement. I took one look at the box and proclaimed that I wished to be cremated and interred in it and then left on our fireplace mantel for all to enjoy. (Sadly, I question whether I've led a life worthy of such a fine box.) It was that nice. Here's a picture: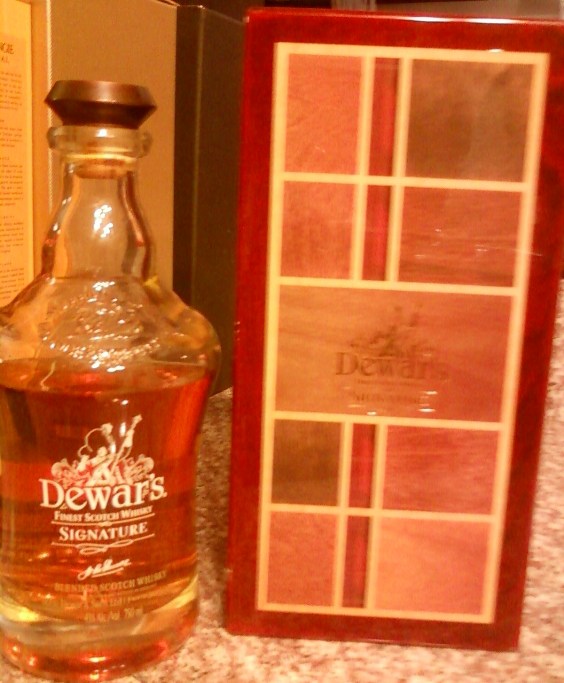 Only thing is, Jim is now in the uneviably position of needing to TOP himself with what he brings next yeat. Might I suggest this...a 50-year Glenfiddich.
Also available for sampling was a Courvoisier XO, GlenMorangie "Extremely Rare" 18 year (and I've come to find out that when they take the time to actually etch the bottle with the words "Extremely Rare" it is often worth taking note), GlenLivet Archive 21 year, GlenTaite 19 year, Lagavulin 16, Glenfiddich 15, a Caol Ila 12 year and a couple of pot-stilled Irish whiskies including a wonderful Jameson Limited Edition 15-year pure Pot Still and a Redbreast 12 year.
Another member present was Tom, a co-worker from CTA who also often answers the call of duty to recommend liquors that he knows I would like, usually as I am standing in a liquor store contemplating shelves filled with brown-colored booze with strange and intoxicating names. Tom is like my alcohol-Sherpa, guiding me safely to the top of the costly and delicious mountain of woody-flavored alcohol goodness.
Now, I was anxious to hear what others thought of The Peat Monster. Would the discriminating Scotch palate say, "Hmm. Yes. This takes the peat-bog loving part of my brain down into a dark alley, and treats it to some serious, pipe-hittin' goodness." But, no. Everyone in the group felt The Peat Monster was just too monster-ey. Comments like, "The peat flavor is coming on, and just when you've had enough and are ready for it to stop, and say, 'yes, that was just enough!' it instead jams its foot to the floor and drives over your palate, smashing it, then backing up and burning out a long, peat-rubber tire squeal all over it."
Also interesting was how some in the group chose to describe the flavor characteristics of some of the liquors. Jeremiah, who instructed that I should warm the Courvoisier XO up, preferably under my arm or cradled delicately in my crotch-tenders, said that it was like "drinking a floral bowl of potpourri."
But, it was Byron who had the, um, "best" description of the evening. And by best, I mean a description that you would never, ever see on a marketing label of someone who actually hoped to remain in business selling liquor, and which you try your best to expunge from your mind before going to take a sip. His description?
"Diesel fuel."
As in, "This tastes like diesel fuel." And then, softly whispered into your ear, with mingled scents of various Scotches and 88% dark chocolate – "diesel...fuel..." – as you are about to take a sip. Now, I hear "diesel fuel" and I'm not thinking something good and delicious. I'm thinking that awful, garage filling, thick and oily smell coming from my parent's old Mercedes when it tried to start on cold mornings. But, apparently Byron was offering this flavor note from a place of love and appreciation, and that sipping $50 bottles of alcohol-filled diesel is what pleases Byron. In Byron's lexicon, there are three flavor notes to pot-stilled whiskies. Flavor one: Diesel fuel. Flavor two: Peanut oil. Flavor three, if you are lucky enough to have your palate survive the onslaught on flavors one and two: Apricot jam. I told Byron and Jeremiah that they should both steer clear of careers in marketing...
However, in Byron's honor, I have taken his prose and will close this blog with a label on a bottle describing his ideal pot-stilled whisky. Enjoy and stay thirsty!
"This rare blend of whiskies has been pot stilled in the gutted tanks of an old Freightliner, carefully crafted and then lovingly stored in a rusted out oil drum left over from the Second Great War. These barrels are the last of the great diesel reserves used to feed the machinery of the Red Army and were discovered buried deep within the frozen fields of Svetlogorsk. The barrels were emptied, given a light rinse, and then carefully filled. After 15 years in the barrel, the whisky obtains a pleasing steel and rust color, and occasional shimmering of loose metal flakes. Cracking the bottle's heavy seal and removing the cork produces an immediate, heavy, room filling odor that is instantly recognizable and reminiscent of a thick, black, lung-choking cloud of a line of one thousand Soviet tanks firing their engines to life all at once, ready to engage the enemy and defend the Mother Land. But for those brave enough to keep smelling, there, in the distance, beneath it all as the smoke starts to thin and dissipate in the cold air, a hint of a breath of a sweet finishing promise, almost as if a single delicate peach blossom has blown in from the countryside and become trapped inside one of the tank's steel treads. The thick, syrupy body coats your glass like a warm winter coat and the shiny-oily film on top is your first indication that you are in for a truly special treat! Your mouth will come alive with the initial burn of a searing top note of diesel, initially causing a moment of panic as you fear that we might actually have sold you a 750 ml bottle OF engine oil. Fear not, our master whisky maker promises us he knows what he's doing! And as your initial fear subsides, a freight train of flavor races unstoppable through your sinuses, clearing and destroying everything in its path. When the tears clear from your eyes, the initial blast of flavor slowly, blessedly mellows and smoothes even while it burns its way down your throat allowing you to enjoy its every slow and thick and occasionally painful journey through your digestive tract. A heavy mid-note of chunky peanut oils quells the initial automatic gag-reflex, and prepare you for the onslaught of a lingering, sweet apricot cobbler finish. Which is in turn followed by one final, palate cleansing, face-punching splash of diesel. The perfect way to start your engine! Savor in moderation or use in lamps during emergencies. Drink by yourself; drink to freedom!"
Categories: December 2010, Beer/Liquor/Wine
/