Shopping Cart
Your Cart is Empty
There was an error with PayPal
Click here to try again
Thank you for your business!
You should be receiving an order confirmation from Paypal shortly.
Exit Shopping Cart
Features, Reviews and a Blog by John Sciacca
| | |
| --- | --- |
| Posted on December 31, 2010 at 2:27 PM | |
Getting ready to head down to Florida and see my parents for the long weekend; with the month changeover, and the crazy way that we created the alternating month day off schedule long-long ago, I'm scoring both Saturday AND Monday off this weekend.  So prior to Rav-4'ing it up, I decided to add some fresh music to the John Pod for the 6 hour journey.
A while ago, we started doing some business with Best Buy's "For Business" division. At first I felt a bit like this was a dangerous, slippery shame spiral that would start with me putting money directly into a competitor's pocket that ultimately circled back around to putting me out of business. But I eventually got over it, and sometimes the pricing from Best Buy is actually better than from my regular distribution channel. Chalk it up to more of the insanity of modern-day TV pricing.
Also, sometimes it's just easier to head up the road and grab a TV or remote for a quick turnaround sale – yes, we CAN do that tomorrow – than it is to delay or lose a job or pay some exorbitant shipping or whatever. But part of the perk package of doing a fair amount of Best Buy for Business is that you get membership into their Silver Rewards (Silver...that's just SO not Gold...) program and part of being Silver is getting a free subscription to Napster. And part of that free Napster subscription is 15 free song downloads every 60 days.
Ergo, I had 15 credits burning a hole in my account, just waiting for me to cash them in. So last night was cashin' time.  So here's the most recent additions to my John Pod, bringing the song count total to 8811, leaving me .09 whole gigs of free space.

1)    Eminem featuring Rihanna, "Love the Way You Lie." I'm not a big Em fan, but I really like this song. Also, I didn't think I was a Rihanna fan, but between this and Shy Ronnie, maybe I'm coming around... When a volcano meets a tornado, something-something, angry-angry, just gonna stand there and watch me burn...

2)    Gwen Stefani, "The Sweet Escape." I have a couple of Gwen and No Doubt albums, but I always liked this song and, well, now I own it. I gotta get away...Woo-hoo...Yee-hoo...

3)   John Mayer, Live at the Nokia, "Free Fallin'" This is a great version of Petty's song, way more forlorn and depressey and dreamy which is probably why I like it. Gonna leave this, world for a while...

4,5)   Justin Bieber, "Baby" and "U Smile." Dude. I know. Dude! Yes, I KNOW! Even typing "Justin Bieber" makes you questionably gay. So, here's the thing. Lauryn really likes these songs. She does this great twirly, spin-ey, eyes closed-arms out dance when she listens to "U Smile." And she'll say, "Daddy can you play that song with that girl that I like?" So, yeah. I got these for her. When she smiles, I smile. I know. Still doesn't matter, had Bieber.
6,7)    Katy Perry, "California Gurls (feat. Snoop)" and "Teenage Dream." Katy can wear her Elmo t-shirt any time she wants as far as I'm concerned. And I just love Snoop's part in Gurls. "Bikinis, tankinis, martinis. No weenies. Just to get. In betweeny..."
8, 9, 10)  Meiko, "Reasons to Love You," "Walk By," "Under My Bed." I discovered Meiko a while ago on Pandora and I've been really digging her sound. I initially heard her song, "Boys With Girlfriends" and I was hooked.  Also great – and already on the Pod – are "Piano Song" and "How Lucky We Are." I'm sure I'm like 25 years older and one male-part different than her target demographic, but I can't help it. I've been slowly buying this whole album, so now I'm 3 songs closer...
11,12, 13, 14)  Michael Franti & Spearhead "The Sound of Sunshine," "I'll Be Waiting," "Hello Bonjour (live)", "Sweet Little Lies." I discovered Michael Franti when he opened for John Mayer back in Feb and then I saw him in concert back in August. I really dig his music and – bonus! – so does Dana AND Lauryn. I've already got a bunch of his songs, so this was just further rounding out the collection.
15)  The Lonely Island with Akon, "I Just Had Sex." I didn't think I was an Akon fan. Or a Rihanna fan. Or a T. Pain fan. Or an Adam Levine fan. (I pretty much already knew that I liked JT, but "D in a Box" and "Mother Lover" only cemented that further.) But The Lonely Island changed all that. Digital Shorts are what MAKES SNL now, and after I heard this song – even with Dana leaving the room, then leaning out of our room and saying, "You're *still* watching that?!" – I was hooked. "But I cried the whole time...doesn't matter, had sex. I think she might be a racist...doesn't matter, had sex!" Oh, SO funny. Even when it doesn't have the video, the tune is DAMN catchy. Still counts...
And lest you think your Pod is as cool as MY Pod, then I thought I'd share this little picture that captured the ultimate watershed, high-point moment in my iPod's life. Safe travels wherever the end of this year takes you!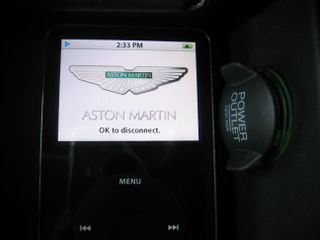 Categories: December 2010, Music
/