Shopping Cart
Your Cart is Empty
There was an error with PayPal
Click here to try again
Thank you for your business!
You should be receiving an order confirmation from Paypal shortly.
Exit Shopping Cart
Features, Reviews and a Blog by John Sciacca
| | |
| --- | --- |
| Posted on January 1, 2011 at 7:56 PM | |
Despite what young, idealistic, long-haired, non-sunglasses wearing, "Walk away, walk away, walk away, walk away" he will follow, 80's Bono would have you believe, sometimes *everything* changes on New Year's Day.
Last week I was nursing a head still slightly bruised and weary from much late-night Scotch drinking. While I am a novice Scotch drinker at best, I knew that I was amidst a group of people that took their drinking uber-seriously when prior to beginning the evening's festivities, activated charcoal tablets were passed around to aid in the digestion or alcohol absorption or something. Look, I don't know what they were for. Everyone was taking them, they said I should take some, so I took them. Also, you know that you are headed down point of no return path of elevating drinking to the next level when it is preceded by taking two medium-sized black pills from a plastic baggie pulled from someone's pocket before things even gets started. So I can't say whether the pills did nothing whatsoever or if they worked like champs, absorbing 50% of what would have been even more massive head trauma. Then, it was high-20s degree weather with snow flurries and our family hunkered down in the living room movie cave, watching movie after movie as quickly as the Kaleidescape could serve them up. Which, let's be honest, is pretty dang quick.
So, that was last year.
Now, this is this year
And right now I'm down in Florida with Dana and Lauryn visiting my parents and enjoying 70 degree weather, some fine wine, and watching Bambi on an ancient VHS tape/Emerson VCR on my parents 32-inch TV. And if you don't think a 40-plus degree temperature change, turning Scotch-into-wine and going from watching movies on a $20,000 movie server to a $49 VCR on a TV 70-inches smaller constitutes changes, well, brother, then I don't know what is.
One of my first duties as the tech-spert, firstborn son was to make sure that my dad's new TV was optimally connected. So when I saw that the DVD player was connected with composite video – so sad, so very, very colors-smushed-together and moiré inducing sad – I scoured through the piles of existing cables and found something I could cobble together for component video. Also, the player was set for 4x3 output on the 16x9 TV, and I turned the progressive video output on. So, DVD performance issues addressed.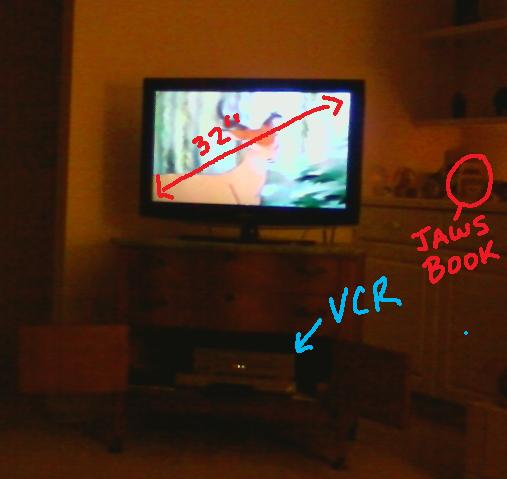 One of my serious OCD pet peeves is when people – OK, usually the "people" involved are limited to Dana and Lauryn – watch the non-HD/digital channel. Like watching regular, horrible analog ABC – all 480i and full of noise and 4x3 and stretched out to fill out 60-inch Elite Plasma – when they could be watching slightly less horrible, digital or HD-ABC by just selecting a different channel. I rectified this at our house by creating a favorites page on our URC MX remote that has all of Dana's most watched channels with labels like "HGTV-HD," "Food-HD," etc. So now, she doesn't have to remember the random 4-digit channel number that I want her to watch, but just press the appropriate icon. (Apparently, selecting the Guide and then jumping to the 1100's where the HD-channels start was too laborious.) So, since my dad would sooner buy a plot of land on Venus than invest in a smart remote control – even though my mom is actually unable to load a DVD and put the TV on the correct input to watch it – I thought that I could help him out by showing him how much better the digital channels from the QAM tuner looked and how I could add those network channels to a Favorites button so he didn't have to try and remember channel 78-19 was this and channel 108-4 was that. (Seriously, QAM tuner, what's up with that?) But my dad was opposed – like fiercely "No! Don't do that! Son, please! Do NOT do that!" – to me adding any channels to the favorites list. He is a man set in his ways, and adding digital favorites channels is not part of that way. I think that labeling the component video input to "DVD" might actually have raised his agita like 2 levels. Though, the next morning, my dad did thank me for showing him how much better the digital channels actually looked, but still declined a fourth offer to actually make it easier to find said better looking channels.
2011 started off at 12:01 as we enjoyed some pink, tastes-like-strawberries sparkling wine and walked outside and enjoyed a great firework show courtesy of the Ritz Carlton, which is across the street from my parent's house. Lauryn said she didn't like the pop and boom but did love the pretty colors. (Also, sidebar: I thought I remembered hearing that when you saw lighting, you counted the seconds until you heard the thunder and that was how many miles away the storm was. Well, I figured the same would work with the fireworks, you know, same Doppler effect and all. But at a 3 count between firework effect and arrival of pop sound, and the Ritz being like 1/2 mile away, the math wasn't adding up. So, I did some Googling and turns out that you count the seconds an divide by five for the accurate distance in miles. So there you go, your first science lesson of the new year.)
Woke up to zero cranial unpleasantness. Took a sweet shower with Dana. Went to Starbucks and got a Latte. Then we went to this grocery store where they had this awesome deal on Yellow Tail champagne, I mean, sparkling wine. Marked down from $11.99 to $6.99, then a 10% case discount AND a $15 mail in rebate bringing the per bottle price to under $4 per bottle. And, yes, this isn't going to best my beloved Schramsburg Cremant or Blanc de Blanc, but at $25 a bottle less, it'll drink just fine, thank you very much.
Then, I went to this amazing liquor store next door. I knew immediately that it was a liquor store because the store's name was, in fact, "Liquors." So this place had an amazing array of high-end hooch. Like a 40-year Glenfiddich for $2328. And a top-shelf – actually it was THE top-shelf – packed with $500+ bottles of Scotch rarity. So many bottles filled with 25-year old goodness, and I spotted an older edition of the Dewar's Signature Box that I hope to one day be interred in. They also had some sweet pricing. My old pal, Johnnie Blue was marked down $80 to $160 a bottle. They had The Peat Monster marked down from the $45 I paid to $22.96. (Sadly, even at $22.96, The Peat Monster is still too much of a Monster for my sensitive, oak-loving, Peat Monster fearing, lady palate. I tried The Monster again after the night of Scothery, thinking that know I would have been educated to appreciate its Peat Monster-ness. Unfortunately, it still reeks and has a lingering finish of smoldered electronics, and that's just something I can't cotton.) Unfortunately, the group was in an all-fire hurry to go and eat lunch, so I had to curtail my liquor browserey, but I do plan on returning.
We went out to this cool place for a picnic lunch called Aury Island. There they had this awesome tree that had fallen over and that was now perfect for Lauryn to practice her climbing skills. Here's a picture of Lauryn and I climbing Mt. Tree-imanjaro.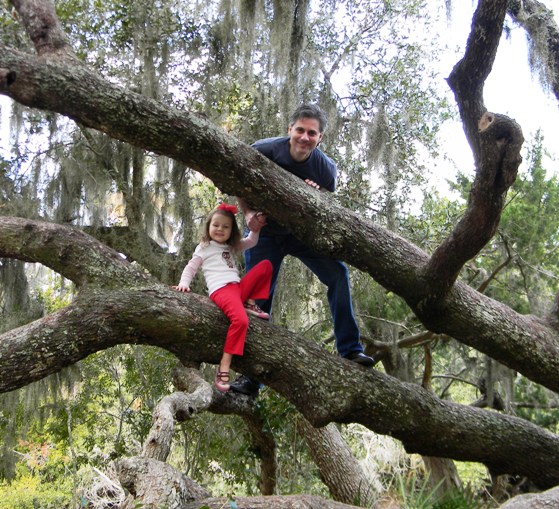 Then we went hiking along this trail until we somehow ended up on a golf course, finding ourselves o n this sweet 175 yard par 3 ocean hole. There was a perfect rail for setting up a self-timer group family photo.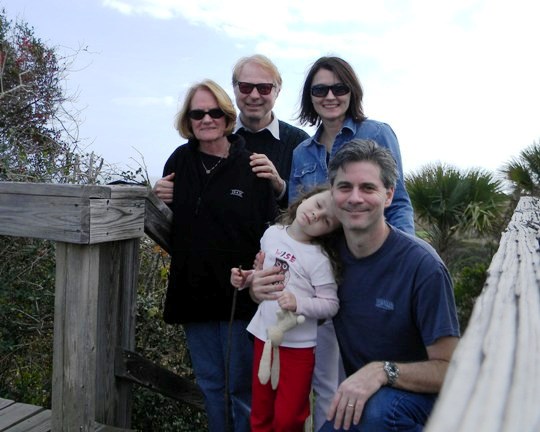 I must say, so far, 2011 is starting off pretty sweet. Pretty sweet indeed...
Categories: January 2011, Family
/