Shopping Cart
Your Cart is Empty
There was an error with PayPal
Click here to try again
Thank you for your business!
You should be receiving an order confirmation from Paypal shortly.
Exit Shopping Cart
Features, Reviews and a Blog by John Sciacca
| | |
| --- | --- |
| Posted on January 6, 2011 at 3:13 PM | |
Remember several months ago when I told you that 3D hated babies, old people and drunks? And how Samsung said cautioned warned was likely prodded at the urging of their entire legal department to issue the decree that "Viewing TV using the 3D function" could cause little side effects like epileptic seizures and strokes? Or that "Pregnant women, the elderly, sufferers of serious medical conditions, those who are sleep deprived...should avoid utilizing the unit's 3D functionality." And that watching 3D could cause other bouts of awesomeness like: "(1) altered vision; (2) lightheadedness; (3) dizziness; (4) involuntary movements such as eye or muscle twitching; (5) confusion; (6) nausea; (7) loss of awareness; (8 ) convulsions; (9) cramps; and/ or (10) disorientation."
"Sure, sure," you say. "We just don't care, John! We love our 3Ds! We've got to have our 3Ds. The entire Television industry is demanding and counting on us for 3Ds. [John note: You're pretty much NOT supporting this, by the way. Just ask Best Buy's recent stock plummet...] And what's a little eye muscle twitching to do our part in supporting the economy and taking our in home entertainment to the next D? In fact, that's probably just our eyes getting stronger, doing Rocky-style workouts as the orb retracts and refocuses, getting-strong-now, climbing stairs and downing raw eggs and bulking itself up for the marathon 3D viewing sessions we have ahead of us. And, heck, a vomit-break is kind of like a welcome little intermission. A throw-back to the Golden Days of Hollywood, if you will, where they would stop a film in the middle and invite all members of genteel society to gather in the lobby for a refreshing tonic and polite conversation. Except, instead of gathering in the lobby, we can huddle around a sink and take turns holding each other's hair back. Really, a 3D-vomit is kind of like your body telling you, 'Hey, guess we've had enough TV watching for now! After you clean-up this spew, let's go do something else like lie down in a quiet, dark room with a cool cloth over our face.' And when it comes to watching Owls of Ga'hoole, Step Up and Kenny Chesney in 3D with some friends, who wouldn't expect to have some confusion and loss of awareness? In fact, we'd be willing to jam red hot pokers into our eyes if that matched the on screen mayhem in Saw 3D! Such is our unquenchable thirst for wearing glasses and viewing objects that break the plane of our flat panel TV!"
Fine. You want to put on some glasses and convulse and cramp until you are left sitting in a warm pile of your own 3D induced filth, fine. But, what about your children? Have you no concern for them?

"Our children? What about them? They should love the 3D experience as much as we do, right?"
If you'll remember, Samsung recommended that children and teenagers "should be closely supervised when viewing these images." Who's to say WHY they should be closely monitored. Maybe it's because the 3D effect of The Revenge of Kitty Galore will be SO intense they'll try and cram a bowl of fresh cream through your new flat panel screen. Or maybe it's because the 3D will reprogram their brains Clockwork Orange style.
"Oh, but John. This is all about Samsung TVs. We don't own a Samsung TV. We'll be fine!"
You weak minded fools! He's using an old Jedi mind trick! Don't you know that all of these sets using active glasses technology are essentially the same? That oddly welcomed, warm, fuzzy urge to kill someone feeling you get when putting on those 3D glasses is the same no matter who's set you're watching. (Except for the Runco. Their dual stack, passive glasses projection system left me with no urges to kill anyone or anything. Well, it was late in the day at CEDIA. I could have killed three fingers of something brown and liquor-ey.)
"Fine! If you're going to ruin everything, we'll just let our kids play their Nintendos in the other room while the adults enjoy 3D TV. We'll toss the glasses into a bowl, and everyone can reach in and draw out a pair and whoever gets the matching pairs will..."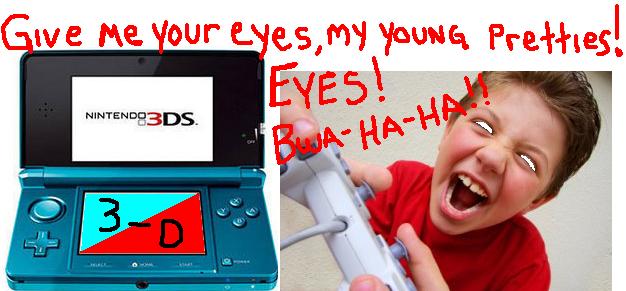 Turns out that might not be such a safe idea either. The Nintendo-ing. Well, and the 3D glasses key party too. Nintendo has just issued a warning that children under the age of six should not use the new 3D function of the upcoming Nintendo 3DS. Turns out that vision in children under six is still developing, and that watching these 3D images "has a potential impact on the growth of children's eyes," according to a statement issued by Nintendo. So, unless you want your kid's eyes to end up like Gollum, all white-eyed and hunting around in the dark, eating raw fish bellies and calling their 3DS "my precious-ess" that might not be the best plan.
Further, Nintendo recommends taking a 3D gaming break – or reinvigorating your will to live – every 30 minutes. Unless you feel sick. In which case you should realize that the 3D worm has already begun it rapid journey of burrowing its way into your brain, eating voraciously through your soft grey matter as it hunts and chews its way to the sweet-sweet meats of the optic nerve. So, if you feel *that* you should stop playing...immediately. Apparently the 3D software causes eye fatigue faster than regular old gaming. And by the generically labeled "eye fatigue" I'm sure it includes the whole 3D wonder meat-sauce of seizures and dizziness and uncontrolled 3D-fueled rage, nightsweats, colossal, inhuman BO, loss of bowel control, etc.
And while Nintendo is debuting the new system at Nintendo World 2011 in Japan starting on January 8, children under 6 won't be allowed to use the 3D at the event. You know. Cause of all them lawyers and whatsuch.  Don't believe me? Fine. Here's the link to the real story from Information Week. And with an all-encompassing, timely and up-to-date name like "Information Week" you know that it's gotta be legit.
Categories: January 2011, 3D TV, Electronics
/