Shopping Cart
Your Cart is Empty
There was an error with PayPal
Click here to try again
Thank you for your business!
You should be receiving an order confirmation from Paypal shortly.
Exit Shopping Cart
Features, Reviews and a Blog by John Sciacca
| | |
| --- | --- |
| Posted on January 11, 2011 at 12:09 AM | |
Normally when planning a road trip there is some pre-travel preparation involved. And I'm not talking about packing clothes and hair pomade and herbal curatives, calculating your underwear-per-day ratio or anything like that. I'm talking about road technology. Specifically things to keep Lauryn entertained during the long car ride. We have a little "go bag" for our tech-spoiled 4 year old that includes: iPod, pink headphones, car charger, home charger.
My typical routine is to a couple of weeks out and start recording TV programs onto our Windows Media Center PC. I find shows that she likes, I record them to the hard drive and then I convert them – in what feels like an agonizing, second-for-second, real-time process – from MS-DVR format to iPod video format. After converted, I add them to our iTunes library, I touch up the metadata, and then I transfer the showy-shows to her iPod . (And by "her" iPod there are some ownership issues at stake yet to be fully resolved. I won a 30-Gig iPod at a SpeakerCraft press conference years ago. And by "won" I mean I was one of the few press to pre-register and then actually show up and stay for the entire event. In reward, Jeremy Burkhart gave us dozen or so members of the Press Corps Elite iPods. Sweet. In fact, to date, this remains my personal best bit of swaggery. You can see all of my 2010 CEDIA bring-homes here..)
So, since I already had an 80-Gig Pod, I in turn gave it to Dana. And since Dana wasn't using it enough, Lauryn in turn decided that it was hers. So, now you know the full iPod chain of custody.) So, after the shows are added to Lauryn's iPod, she (hopefully) has enough programming to keep her entertained during the ride-in-car portion of our trip.
Problem is, she quickly tires of the Doras and Lazy Towns and Ni Hao Kai Lans and whatever elses I've managed to add, so she requires a constant turnover. Even the Wall-E, Up, and Bolt digital copies are starting to get, "Ohh! But I've already seen those. I want something new!" (Toy Story 3 is still holding its own, proof positive what an awesome movie it is.) And usually, I have time before a trip to do this.
But due to a sudden death in my wife's family we recently embarked on a *very* last minute car trip to Alabama. A 600+ mile journey that should have taken roughly 8.5 hours but actually took us 11 due to an inhuman ice and snow storm that newscasters were calling a "once every few decades event" that I, frankly, had absolutely no business whatsoever driving in. Our car is NOT 4-wheel drive because, you know, we live at the beach. And we saw many – MANY – wrecks and spinout and slide-off the roads and ultimately got stuck ourselves going up a hill about 2 miles from our destination. Fortunately an incredibly kind Samaritan in a jeep pulled over, whipped out a strap, tied it off under our bumper and pulled us out after only waiting about 2 minutes. (You can read more about a previous long and hateful road journey to Alabama here.)
So, anyhow, this trip was very last minute. As in, Dana woke me up at 8:30 with thoughts in my head of a nice leisurely day at home one second and us in the car and rollin'-rollin'-rollin' by 10 am the next. So, no time to add any new anything iPod material for what I knew was going to be a marathon-long day. (You'll be happy to know that myPod was still fresh off the recent playlist additions from the previous trip. So I'm fine. Don't worry about John. But thanks for the concern.)
So as we're driving down the road and Lauryn is asking what shows she has to watch on her iPod at hour 1 into the drive it got me to thinking: What could solve this problem? And then I had the lightbulb moment. You know where I already have a TON of movies already converted into digital format?
My Kaleidescape.
What if there was a way to get all of those movies from my Kaleidescape? To liberate them if you will, to free them from their hard disk bonds of servitude and set them loose onto my iPod. When we travel now, Lauryn will say, "Oh, daddy! We should bring my kid's remote so I can watch my collection!" But then I have to explain that it isn't the kid's remote that is doing the magic of showing her collection, but the Kaleidescape system. But what if there was a way to take her kid's collection with us wherever we went? You know, via the iPod.
And to facilitate matters, Kaleidescape already has a software program called Conductor. And what Conductor does is let you add all of your music to your Kaleidescape system, and then turn some or all of your music into MP3 files that are then transferred across the network straight into your iTunes library for use on your iPod. This is perfect. Rip once and then enjoy in perfect bit-for-bit accuracy on your main rig through the Kaleidescape and have a file for portable listening.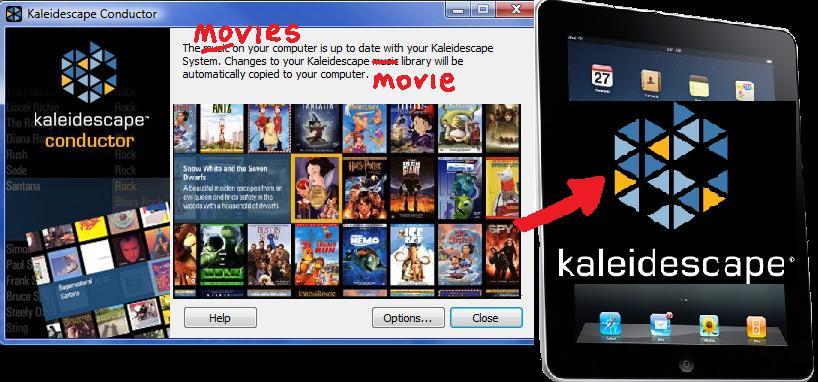 So why not do this with my movies too? What if the Conductor could all-aboard my movies as well? Now think about it. Kaleidescape already has all of my DVD movies turned into 0s and 1s. It has already decrypted them, imported them, and bookmarked just the film portion of the movies. That data is sitting there. Waiting. If I could rip my films into the Kaleidescape system and then have it convert them into MP4 files and transfer over certain titles – or say Lauryn's entire Kid's Collection – to my iTunes library, I would have a huge source of fresh content to draw from. And getting new videos to Lauryn's iPod would happen automatically; every time I added a new disc it would be there!
Now I'm sure that I could get some kind of decrypting software off the Internet. I could figure out how to copy all of my discs and then find the .VOB files and turn them into iPod format and transfer them over and rework the metadata. But, frankly, I don't want to. It is time consuming, I don't want to mess around with some quasi-legal software, I don't want to have to re-rip things, blah blah. Plus it still has the limitation of me actually remembering – or having the time – to do it. And believe me, in any equation where John remembering to do it is the hinging factor, just mark down X + John = Not happening.
And I don't see why this wouldn't fall under the fair and legal use of my Kaleidescape system and my movies. I mean, I already own all of the discs I've imported. I just want to make a digital copy of them to use in my – well, specifically Lauryn's – portable device. Especially when I make the step up to iPad 2 later this year. And I can't think of any system better for doing this than the Kaleidescape. Seriously, it would be SO awesome.
You know what else this feature would be great for? If it could take all of the DVDs in my "Concert" collection and just strip out the audio soundtrack and MP3-ify them for my iPod. This would let me enjoy my Dave Matthews and Tim Reynolds Live at Radio City, Duran Duran Live from London, Talking Heads Stop Making Sense, John Mayer Live in LA, Diana Krall Live in Paris... This music is all awesome, and I'd love to be able to enjoy these soundtracks on my iPod instead of only while at home while sitting in front of the TV.
Will this happen? I don't know. But one thing about my blog is that I know I can at least put ideas in front of the people that *could* make a difference. So, we'll see.
One of the things that makes the Kaleidescape system SO awesome is that it has so many great features that it inspires you to dream of additional things that it can do for you. Sure, this might seem like having Aladdin's lamp and trying to wish for more wishes, but when you live with Kaleidescape for awhile you just know how great things can be. To read my most recent review of the Kaleidescape system, check out my review of Kaleidescape's new Modular Disc Vault here.
Categories: None
/