Shopping Cart
Your Cart is Empty
There was an error with PayPal
Click here to try again
Thank you for your business!
You should be receiving an order confirmation from Paypal shortly.
Exit Shopping Cart
Features, Reviews and a Blog by John Sciacca
| | |
| --- | --- |
| Posted on February 3, 2011 at 4:25 PM | |
Gordon Biersch released a new brew the other night, which meant another Passport tasting event which meant we ended up going to GB for two nights in a row! (We were there on Monday following out Tangled outing and then our favorite waitress – also named Lauren – told us about the event the following night. It was a prom theme and she said all the servers would be in prom attire; including the men. Lauryn loved the sound of it, so the game was afoot!) But before I discuss the beer, first...a back story! To the way-back machine!
So, my first experience with Gordon Biersch was at the San Francisco location. It is right under the Bay Bridge and was always a super happening place. Totally crowded, tons of well-dressed Yuppie business guys and gals hanging out, great food, great drink. A solid place to go with friends. And one of the mythical icons of GB was this large glass boot that held an unknown and yet epic quantity of beer. Here, is the boot: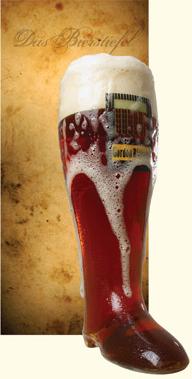 So, this became something of a quest between Craig and I (Pierre was there too, but I think he was largely disinterested and dismissal of our legendary mission) to one day manage to actually leave WITH a boot. (As in not paying for it. As in taking a boot, and walking out with it unnoticed and then, hey, look! Free boot! Awesome!) Our exploits to leave with glasses – much smaller, way more available and so much more easily hidden glasses – were often met by being stopped and searched at the door resulting in a "Give that back and don't let me catch you doing that again!" (Sir, it is my solemn promise to do my best to not let you catch me doing it ever again!) So, needless to say, we never managed to abscond with a boot. "Why so awesome?" you ask. "Giant glass boot that you drink beer out of! What's NOT to awesome?" I say!
From GB's website, under the heading "The Legend of the Boot":
"16th Century German Students enjoyed having a few drafts, then dueling it out. As midnight neared, revelers laid down their swords and filled their boots with their favorite lagers for a toast. Before long, health-minded craftsmen began producing boots made of glass. Now Gordon Biersch carries the glass boot tradition forward, but sharp wits preferred to swords. Part of the tradition involves the correct way to drink from the boot without wearing it home. If you are a good little guest and ask your server nicely, you might even learn the secret..."
So a beer-filled boot that actually had the power to save lives. And get you super toasty. Now, in San Fran, you used to be able to order the boot. (Not sure the current boot status in the city by the Bay.) I can't remember what it cost, but we never did it. (Probably a giant hindrance in our goal to actually, you know, get one in our possession.) But here at Myrtle, they keep the boot literally locked behind a glass case where it is only removed for the ceremonial tapping of a new keg. Well, on Tuesday, they tapped a German Porter which they describe thusly: "A German take on an English favorite! This full-bodied beer is made with roasted caramel and chocolate malts and spiced with German Noble hops for a smooth, rich finish." And every time they tap a keg, they remove the boot from its glass shrine, fill it to the brim with the new brew and then pass it around for all to savor and enjoy. Here, for the first time ever, I present, Sciacca und Boot!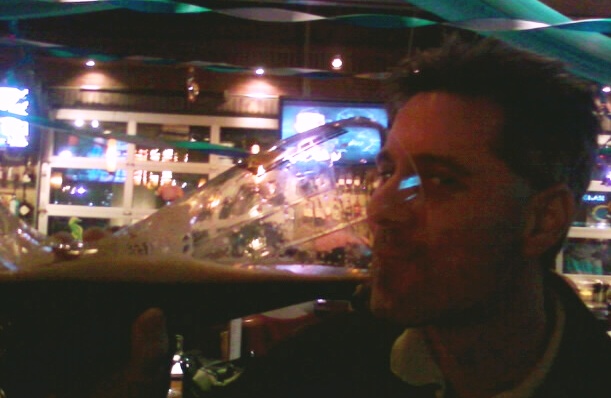 As promised, it was a prom-themed event and waitress-Lauren even managed to convince daughter-Lauryn to get up and dance with her. Lauryn then proceeded to hang in for the Cha Cha Slide ("One hop this time. Right foot let's stomp. Left foot let's stomp. Cha Cha now, yal!") and an Electric Slide with Dana. Giant glass of beer. Surrounded by girls in prom dresses. Music and an awesome dancing 4 year old. What's not to love? Prost!
Categories: February 2011, Beer/Liquor/Wine
/