Shopping Cart
Your Cart is Empty
There was an error with PayPal
Click here to try again
Thank you for your business!
You should be receiving an order confirmation from Paypal shortly.
Exit Shopping Cart
Features, Reviews and a Blog by John Sciacca
| | |
| --- | --- |
| Posted on February 7, 2011 at 11:00 AM | |
Occasionally I like to let you into my little world of analytics and share interesting digital breadcrumbs and tidbits that I uncover. Recently someone found my site from Wikipedia after I was added as a reference. (I'd like to add that I am also here for all of your term paper and doctoral thesis reference needs. Seriously, cite me for something. It'd be awesome!)  Then there are all of the people that find me from searching about silenced weapons or 3D being sucky or blinding kids or -- a recent favorite -- Ronald Jukebox Jackson.
Well, yesterday I saw that someone found me from this search: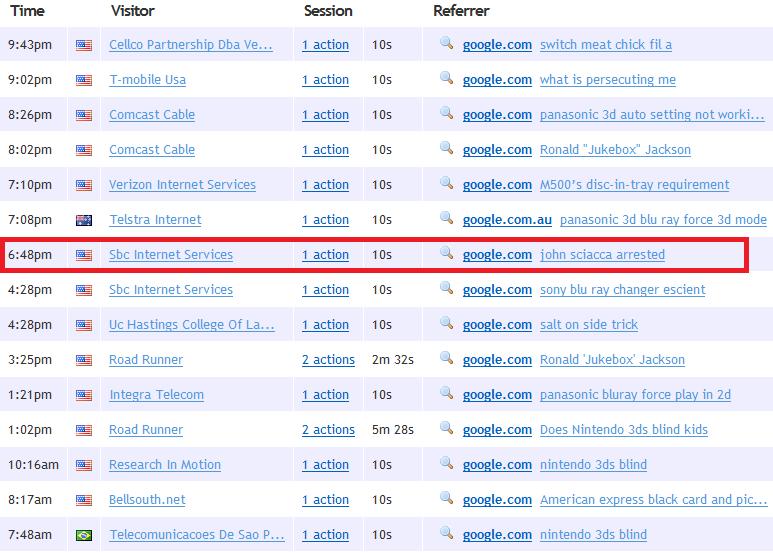 So, be honest, you've Googled your own name. It's like the 21st Century version of running out when the new phone book comes and checking to make sure that you're there. Except, way more involved. Cause the phone book doesn't have you tagged in long-forgotten photos of you pounding Meister Brau draft beers at some random party at Isla Vista or, you know something else totally unrelated to events that never happened in real life. And no matter how unique you think your name is – it isn't like you see the name Sciacca popping up every day, in fact outside of my family, I have never actually met another Sciacca in person – chances are that there are several other people out there with the same name. Leading their own lives and making their own way in the big-big world. And it is always possible that your other namesakes aren't entirely on the up and up. Surely there are several Osama Bin Ladens out there that are totally cool and that would like nothing better than to safely carry liquids and gels onto an airplane to ensure proper grooming and hygiene upon arrival. Or Adolf Hitlers that really love giving back to the community and working in outreach programs and soup kitchens. Or Charles Mansons that lead totally normal, non-swastika-tattoo-in-forehead-crazy lives. So, when people are searching for "John Sciacca arrested," chances are they know of a John Sciacca that doesn't, you know, blog and watch movies, and diss 3D and review A/V gear and exude me-ness.
Now, I couldn't imagine why someone would find my site by searching "John Sciacca arrested." Believe me; my arrest record is super clean. The closest I've been to being arrested is a couple of tours through Alcatraz. And maybe a speeding ticket about 5 years ago (seriously, 52 in a 45 seems like such a BS charge, especially at like almost 1 in the morning after the speed limit dropped from 55 like a quarter of a mile previously! Then the guy wrote down the wrong date on the ticket, which when I pointed out to the judge he said, "Oh, we can just change that." Which, in retrospect, I totally wish that I had fought. My defense would have been, "This is exactly the kind of shoddy, stupid, neglectful, half-ass police work that results in murderers and rapists getting off on lame technicalities! Granted, this time it is just a speeding ticket. But, jury, I ask you to send a message to the police department; tell them that they need to be more careful in their paperwork. Tell them that writing down the wrong date is NOT OK. Tell them that we hold them to a higher standard and that our very lives are at stake! A not guilty decision today will send the message that they need to make sure they always put the correct information down on a ticket, that there's no goes-back-and-changies! A vote for Sciacca is a vote for justice!" Then there would have been a lot of cheering and gavel banging and calls of, "I demand order! Order in my court! Bailiff!" and then some dramatic music would have started playing and then some inspirational "where are they now" text would have appeared on screen...), and a recent need to refile a tax return after a letter from the IRS because my accountant neglected to include some investment income from last year.
So, of course, I headed over to Google and I looked for myself. And, this is what I saw: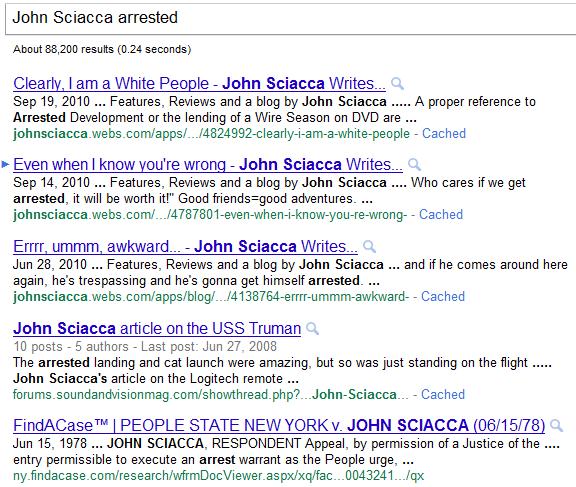 First, off: 88,200 results? Really? For John Sciacca arrested? That seems excessive. And when the top 4 Google results for "John Sciacca arrested" return to my site, I guess I shouldn't be too surprised. (Look, without even trying, I OWN the search term for "incinerated testicles" so you have to think that anything to do with my own name is gonna be on lock down.) Turns out one was for me mentioning the show "Arrested Development," another for a comment about hypothetically getting arrested for sneaking into Disney Land with my friend Travis and snorkeling through the submarine ride at night, another where I quoted a realtor on a jobsite about threatening nother contractor who did a crappy install, and another where I described my arrested landing aboard the aircraft carrier USS Harry Truman.
Amongst the other John Sciacca's out there (excluding my dad who is also a law-abiding John Sciacca), there's a geologist in California, a Dean of a university in California, a couple of attorney in New York and San Francisco, a PhD in Arizona, and a retirement consultant in Florida. Arguably, I'm not even the most famous OR successful John Sciacca, which is kind of sad when you consider that according to names.whitepages.com there are only 41 people with the name John Sciacca in the US. I can only hope that at some point they have Googled their name and been like, "Damn! Who is this writer guy and why is he stealing all my John Sciacca thunder?! And maybe I should hate 3D too!"
But, it turns out that not all John Sciaccas are on the up-and-up. Sadly there is a John Sciacca in Florida (NOT my father, I'd like to add) who was born a mere 8 days later than me that is a, oh Jesus, really? A registered sex offender. Not cool, John Sciacca. Not cool at all! That is not the way to treat our name, man! He also rocks a panther tattoo on his back and a skull on his left arm. For the record, I am tattoo free. (Though, if forced, neither panther nor skull would make the short list of options.) Another not me John Sciacca took over a Sicilian Mob family – the Bonanno Family – back in the 70s. Back when I was in 2nd or 3rd grade in 1978, another John Sciacca got busted in New York for illegally trafficking cigarettes.
So, to all you other John Sciacca's out there: Be on notice! I'm keeping tabs on you. My analytics stretch far and wide, and don't be doing anything that's gonna bring our good name down!
Categories: February 2011, Bizarre
/