Shopping Cart
Your Cart is Empty
There was an error with PayPal
Click here to try again
Thank you for your business!
You should be receiving an order confirmation from Paypal shortly.
Exit Shopping Cart
Features, Reviews and a Blog by John Sciacca
| | |
| --- | --- |
| Posted on February 8, 2011 at 3:54 PM | |
Lauryn had it into her stubborn-stubborn head brain that we needed to go and buy something called a Zsu-Zsu Pet Baby. (It's so ridiculous that I won't even try and describe it to you, save to say that they are smaller than an egg, feel kind of fuzzy like a peach and cost $10.) So, this become something of a mission for her, and at some point in the week she decided that Saturday would be the Zsu-Zsu Pet Baby buying day. We were reminded of this promptly at 7:30 when her eyes sprang open and she confirmed that A) I wasn't going to work this day and B) were we ready to go soon?
So, the hunt for Zsu-Zsu Pet Babies (apparently at some point this escalated to us needing two of them) was on, and let me tell you, these stupid things are NOT easy to find. We tried Toys 'R Us and Target and finally found them at Wal-Mart. But, this is the point in our tale, where you part ways with the Zsu Zsu Pet Babies (sadly, I must remain forever intertwined with them; well, at least until Lauryn loses them, then I too can venture on from this tale...) and we move on to my post.
So, while we're at Target I'm browsing through the new Blu-rays and I come across the latest epic, mega-disc release-to-end-all-releases – at least until the even mega-er 3D version comes out – of Avatar. So, I'm looking through the specs, original cut, special edition re-release cut, collector's edition cut, etc. And then I see this: "Optional Family Audio Track (All Objectionable Language Removed)".
At first I thought, "Wow! That is pretty cool." And if I recall correctly – and I do, because, well, I went and checked – this was originally designed to be one of the features of DVD. It was called something like "multirating" where you could – in THEORY – pop in any movie and then select the rating you wanted to watch. Like you're Pulp Fiction a little less pulpy? Prefer a more TV-edit version of Tropic Thunder (where USA network inexplicably left in every use of GD and virtually every frame of the ultra-gory opening and yet changed "retard" – as in "You never go full retard" – to "simple." And, I must tell you, that change took what was a HI-larious scene and changed it into "Ha. I guess that's kinda funny.")? Whatever. But this would have actually been perfect for those "soft-R" movies like Matrix and Rain Man, etc. where there are a couple of easily changed/deleted scenes that would open the movie up to a much broader viewing audience who chose to watch an altered version of the film.
This is a passage from the book "DVD Demystified," by Jim Taylor, Mark Johnson, Charles Crawford:
 "A disc can also be designed so that it plays a different version of the movie depending on the parental level that has been set in the player. By taking advantage of the branching feature of DVD, scenes can be skipped over automatically or substituted during playback, usually without a visible pause or break. For example, a PG-rated scene can be substituted for an R-rated scene, along with the appropriate dialog containing less profanity. This requires that the disc be carefully authored with alternate scenes and branch points that do not cause interruptions or discontinuities in the soundtrack. Unfortunately, fewer than 1 percent of DVDs use the multirating feature...The few discs that have multirated content do not have standard package labeling or other ways to be easily identified."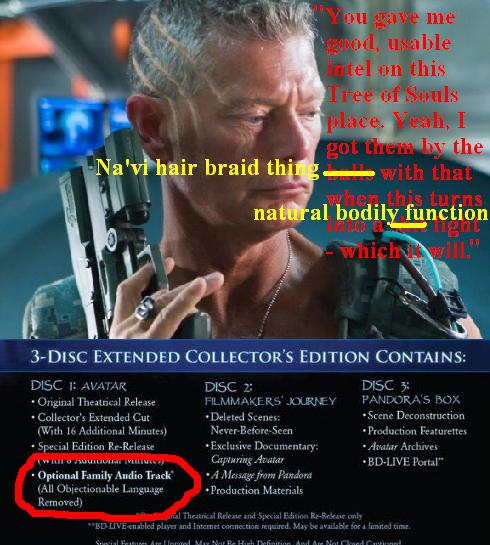 With it's much higher storage capacity -- and BD-Live interactive downloadable content -- Blu-ray disc presents itself for offering these kind of features as well. And when asked about making a kid-friendly version of Avatar, James Cameron commented, "We actually created a family friendly audio version of the film you can watch as well. That's just because I was getting in trouble from my wife when our seven year old was watching Avatar, which he loved to watch, and then for the next two weeks he would go around saying sh*t and God dammit. Then I'd yell at him and he'd say, 'Dad, it's in Avatar!' [The family audio track is] all the cast voices. Normally for network versions later downstream, at the time you're making the film when you're doing the ADR (Automated Dialog Replacement), you always have all the actors cover all their unacceptable language that wouldn't pass standards and practices. So we thought, 'Wait a minute, why not use the fact that you can select different audio tracks and different languages and just select an audio track so that people can sit and watch the film as a family viewing experience?' I know there are parents of kids maybe eight, seven, six years old that would probably feel comfortable having their kids watch the movie but don't want to have to deal with the language issue, which I don't. Maybe I just did it for me, but hopefully other people can benefit from this as well."
Which is all well and cool, but honestly, when I think Avatar, I'm not immediately thinking, "Hmm. Yeah. Tons of swearing. That Neytiri! She has a *filthy* mouth! If I could understand Na'vi, I KNOW I'd be like totally, super offended!" It's not like this is a Tarantino or a Jay and Silent Bob film. And I seriously don't think that Avatar is rated PG-13 for a couple of sh**s and some GDs. And when I think back to watching Avatar (I have three viewings under my belt), I can't really recall any swearing except for maybe a couple of lines from the colonel. But, from the IMDB Parent's Guide, here is the complete Avatar swearing scorecard: "4 or 5 uses of bitch, 11 uses of sh**, 5 uses of ass, 11 mild obscenities, 7 GDs."
Now, as a parent of a 4 year old – who would NEVER think of letting her watch Avatar, even if it was a silent film that had the swearing excised from the closed captions – I would think that Cameron, with his seven year old, and others with their kids might have objections to letting their kids watch a movie rated for 13-years and up for reasons other than the occasional swear. Like maybe the scene where the colonel guts that giant puma-looking thing with that huge knife. Or where the colonel takes a bunch of arrows to the chest and then suffocates. Or the massive battle at the end where people are getting machine-gunned down like a sci-fi version of Gallipoli. Or where all of the indigenous animals are being hurt/killed (which kids often seem to react more strongly to than a person getting killed, which is probably a psych study for another day). Or where they are basically trying to wipe out an entire species while drinking coffee and joking. Or the wailing and moaning as their Tree Mother home is burned to the ground. Or that this "family audio track" is also included on the same disc that includes the lengthened, hair-braid-connecting sex scene.
But I guess as long as your kid doesn't go around the house saying "Sh**" and "GD!" 'cause they no longer heard it in Avatar, maybe it will be OK if they turn up with a giant butcher knife and bloodied carcass and say, "By the way, I gutted the cat. Hey, it's in Avatar! And, uh, don't ask about how I tried 'connecting' with the dog. It didn't go anything like in the movie..."

I'm all for a kid/family friendly version of the film – especially when it is cut by the director himself – but this seems to say it's OK to glorify sex and violence for kids, as long as it isn't accompanied by any offensive language.
A further interesting quote from Mr. Avatar-3D himself on why they didn't run the full, 16-minute longer cut theatrically: "Maybe a 16 minute longer version wouldn't have played in the movie theater. We don't know. We still don't know the answer to that. We don't know what the upper boundary is for sitting with 3D glasses on before your eyes start to bleed. We don't have that data yet."
Amen, James. Leave the 3D eye bleeding data gathering to someone else, please.
Categories: February 2011, Movies
/