| | |
| --- | --- |
| Posted on February 10, 2011 at 10:58 AM | |
I've talked at length about my love for the Kaleidescape Movie Server system, and really, what's NOT to love. It has taken ALL of my movies – Blu-ray and DVD – and transformed them into digital space and then presents them in a beautiful GUI for easily selection and instant playback. Every time I turn it on, I discover some new cool aspect of the system or just reconnect with a movie in my collection that I had forgotten about. ("Oh, The Italian Job! I loved that movie! We need to watch that again!")
In this post, you can read how Kaleidescape took the horribly unruly stack of Blu-ray movies that was barely used and just gathering dust under my pool table and turned them back into entertainment.
But, I figured, enough about ME talking about Kaleidescape. I thought I'd let my 4-year old daughter, Lauryn, show and tell you what SHE loves about the Kaleidescape system and her Kid's remote. If you don't already know, to first understand WHAT the kid's remote is, read this post.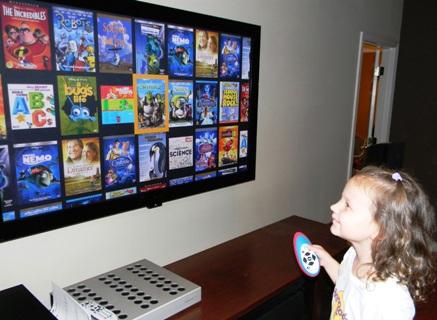 In the past I've described how much she liked the system when we first installed it.
Then Lauryn drew a picture of herself with the kid's remote. (And another with her and an obscenely-awesome large glass of red wine.)
But last night it was just the two of us at home while Dana was out and Lauryn grabbed her remote and said, "Hey! Let's watch a movie!" And I grabbed my camera and said, "Hey! Let's MAKE a movie. Why don't you tell me what you love about your kid's remote and show people how to use it?"
And now, here is Lauryn demonstrating and describing the Kaleidescape kid's remote and user experience in her own words:
Categories: February 2011, Family, Guest Blog