Shopping Cart
Your Cart is Empty
There was an error with PayPal
Click here to try again
Thank you for your business!
You should be receiving an order confirmation from Paypal shortly.
Exit Shopping Cart
Features, Reviews and a Blog by John Sciacca
| | |
| --- | --- |
| Posted on February 16, 2011 at 10:26 AM | |
The particular part of the country that I live in is often referred to as "The Bible Belt." And living in the Bible Belt, there are no shortage of churches. I haven't kept an exact count – plus new ones are being added all the time – but I pass literally *dozens* on my to and from work. In fact, I pretty much pass dozens on my way to and from anywhere. While we have couple of large ones – though none of them are the mega-opolis types where you have basketball courts and weight rooms and golf courses and baseball diamonds and Starbucks and rock concert arenas and, well, you know, pretty much everything BUT the church part – most of them are much smaller and of modest size and look like they started up when some member of the congregation decided they could church it better, faster, and even more churchier than before. And to gather in new members, they all like to advertise with some catchy, Bible-based slogan on their signs out front. Catchy things like, "Know God, Know Peace. No God, No Peace" and "Honk if you love Jesus; Text while driving if you want to meet him," and "Staying in bed and shouting 'Oh, God!' does not constitute going to church." Seriously, some of them are pretty hilarious and awesome. I imagine there is a book full of them somewhere, a veritable Jack Handey's Deep Thoughts for church signs that they can all cull from. For a small fee, of course.
One church put up this GIANT billboard that forced you to look. It was so horrifyingly awesome that I would sometimes go out of my way to just drive by it and marvel. It was a picture of Jesus being crucified, but this Jesus looked more like Stallone circa Rambo and Rocky. I mean, this Jesus was *totally* ripped and cut up and looked like his preaching was going around beating unbelievers within an inch of their lives and then asking if they had their tickets to the gun show. His last supper would have been like 15 skinless chicken breasts washed down with a super dose of X-Treme Creatine Fuel, Muscle Milk shake and followed by a dessert of a multiple reps of pec and lat shredding. Then in huge, blood-red print was the tagline, "You drew First Blood! But I'll be back!"
So driving this weekend I saw a church sign that was just SO awesome, I literally pulled over and hazard-lighted it in the turning lane, whipped out my camera and took this picture: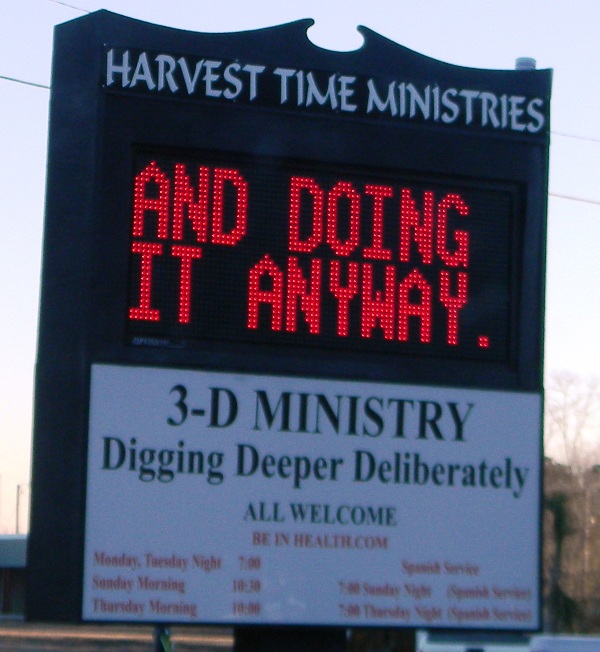 I knew that 3D was a crazy, tech trend sweeping the TV world, but I wasn't aware that it had actually gotten to the point where 3D had actually spawned its own religion! And I seriously would have figured that any 3D based worship would have been more Eastern in its teachings and philosophies and would have been founded in Korea near Temple Samsung or Japan near Shrine Sony.
I can only wonder if part of the miraculous cures and hands-laying-on of any new converts restores the inability to view stereoscopic images and finally, once and for all see the light in true, glorious 3D. Or if revivals are like special, extended-pastor's-cut sessions with specials on the large popcorn, Coke and candy combo? Or if heretics and unbelievers are laid bare before the congregation in mind-wrenching, 3D induced nausea, headaches and tongue-biting seizures? Or if there is a special, kid's only section with very limited doses to keep the younglings from premature, eyes-yet-to-be-fully-developed 3D induced blindness? Or if when someone is fully received of the total bounty of 3D spirit if they can actually see full 3D...without wearing any glasses!
Surely, there is bound to eventually be conflict and splintering. Over time there will be three separate, but equally vocal sections of the congregation; those that are aggressively pro-passive, others that are fervently pro-active and then a group of old, hardcore fundamentalist, conservatives who are strict adherents to Anaglyph.
Doubtless, when that old collection plate isn't bringing in what it used to, they will likely convert potentially sketchy and boring sermons – or older sermons that were especially popular years ago – to 3D. And if after a particularly fiery proclamation, "Verily! I do seeyeth objects coming out towards me! Lo, breaking that Devil's grasp on that most petulant plane of depth and dimension!" does the pastor – who is known as The Cameron – say, "Can I get an Avatar?!"
Also bolstered by this: Boy George who is looking for possible locations for the first Church of the Poisoned Mind.
Categories: February 2011, 3D TV, Bizarre
/