Shopping Cart
Your Cart is Empty
There was an error with PayPal
Click here to try again
Thank you for your business!
You should be receiving an order confirmation from Paypal shortly.
Exit Shopping Cart
Features, Reviews and a Blog by John Sciacca
| | |
| --- | --- |
| Posted on February 23, 2011 at 8:50 PM | |
I mentioned yesterday that I have a *crazy* amount of travel in my future. And this night begins a 24-hour period which probably has more travel in it than at any other point in my life. Well, maybe not as much as my crazy, mad-dash to go from Silver to Gold, but still...a LOT. And that trip was all pretty much self-inflicted and made for – what I think is – a great story. Relive the journey, shall we?
Tonight I fly from Washington DC to Charlotte, then Charlotte to Myrtle arriving home a little before midnight. Tomorrow morning I leave from Myrtle back to Charlotte on to Phoenix and finally up to Portland, Oregon for some Runco projector training which I am quite excited about.
Prior to boarding the plane, I was working on another story – which is good, and which you shall have and which I know you shall enjoy – but I thought I'd take a pause and share with you all that right now, literally as I write this, I am sitting in cozy seat number 2F flying from DC to CLT en route to MYR. I have a rather untalkative and surly older business man next to me who seemed entirely put out that I had to get past him to make it to my seat – look you can't afford to charter a NetJet then don't get all pissy with me when I need to get to my seat; just get up for me to get by, that's the rules! – who is now furiously working away on the airline mag crossword. I'm betting against him on completing before we land. He doesn't have that confident pen stroke of a man intent on completing the crossword but rather the tentative, "Well, this seems like it'll fit" scrawl of one destined to abandon or fail the X-word. I have a nice double mini-bottle pour of 12 year old The Glenlivet loosening up over some "light rocks" sitting at my left arm, and the remnant memories of a bag of French Onion Sun Chips in the seat back ahead of me. Thus, the life of your Sciacca...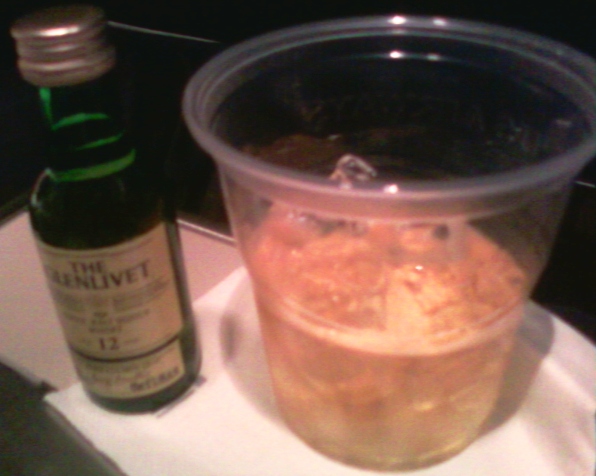 Moments after I wrote that, Grumpy threw in the towel on the crossword as I knew he would. So, point: Me! Then moments after that I got a bloody nose. I felt like my nose was running, so I reached up to wipe it away and my hand came back...unclean.
After bleeding through the single napkin that had accompanied my The Glenlivet, I flagged down the flight attendant who graciously brought me a handful of napkins to staunch the flow. Whereas a coach attendant would have probably just smiled and suggested that I use my coatsleeve, my garcon in First Class was overly accommodating, returning with a handful of napkins. The entire time, Grouchy did his best to ignore. The dry air is brutal on my sinuses, and I used to get nosebleeds all the time when we lived in California, where I was assured that it was just the dry air and not a massive aneurysm letting go. So even though the bleeding was entirely localized to the right nostril, it's unlikely that I leaked out any of my precious right-brain imagination and creativity. Though, let me let me know if you notice slip-ups.
So, after getting the bleeding under control and finishing my drink and some bags of my favorite Sea Salt and Cracked Black Pepper chips, and Grumps picking the crossword back-up and giving it another futile crack, we landed. So, while I'm getting off (OK, I'm off the plane now and in the lounge in CLT eating some baked Tostitos and salsa; time has moved on...) if notice that a handkerchief has fallen out of Crabby's pocket. While I maybe should have picked it up and jammed it into my nose's crust-blood and then handed it to him, I instead say, "Excuse me. I think you dropped your handkerchief."
Now, I'm not sure how you animals people back in coach handle things. Once that curtain closes, you could be back there performing pagan sacrifices, inter-marrying, playing games of chicken with the emergency exit doors and fighting to the death for all I know. Sure, I hear the wails and moans of discontent, but I just assume that is the usual plaintive cries of the poor and huddled Lord of the Flies masses. Look, that's your world. But up in the First Class cabin -- the Golden Sciacca world -- things are different. There's an expected bit of decorum and etiquette that is required when interacting with fellow members of the classus elitus. We say things like, "Please my good sir!" and "Single malt, single cube, that's how I hear it told," and "May I get the name of your haberdasher?" and "Madam, could I trouble you to kindly pass another of those grougere and top off my bubbly while your at it?"
So, even though this Crank-bot was acting extremely Silver Elite, proper decorum required that I mention the dropped item. So, when I point it out, his response is, "Oh. Hmmm. Yes," and he picks it up and pockets it. Dude! No "Thank you"? No "May I offer you a proper reward?" No "I have a small vineyard in Tuscany and I've been looking for just the right honest citizen to succeed me. Welcome!" No nothing. Bad karma, old-top, bad karma!
So, I'm about 3 hours from home and bed before turning around and doing it all again tomorrow. Safe travels wherever your days and nights take you!
Categories: February 2011
/