Shopping Cart
Your Cart is Empty
There was an error with PayPal
Click here to try again
Thank you for your business!
You should be receiving an order confirmation from Paypal shortly.
Exit Shopping Cart
Features, Reviews and a Blog by John Sciacca
| | |
| --- | --- |
| Posted on February 28, 2011 at 9:55 PM | |
Since I've been Gold-i-fied on US Air late last year, my upgrade percentagestatus has been significantly improved. Like I'm *always* getting at least one bumpity-bump per travel trip segment. On my recent trip to Washington DC, I was rockin' 100% upgrades; 2 up and 2 back. And, there's no question that the front of the plane beats the back of the plane. In fact, it pulls down its pants and spanks its bottom in front of the whole class and then makes it sit in the corner facing the wall while taking its lunch away and dispersing it to the First kids.
However, for those times when you CAN'T be in First – say when you are Platinum and Chairman out-statused, as in the middle, CLT to PHX leg of my journey, then the NEXT best thing is to use seatguru.com to cherry-pick the VERY best seat on the plane. Unfortunately, if you're not an Elite status member – and I'm strictly speaking about US Air here; I'm not sure how it works with other airlines – you don't get to pick all the best seats. So, when you book your ticket, you seatguru.com it, look up the plane type your on, check the seat map and then find the absolute best seat available And on my leg from CLT to PHX that seat was 10C. Take a look at this: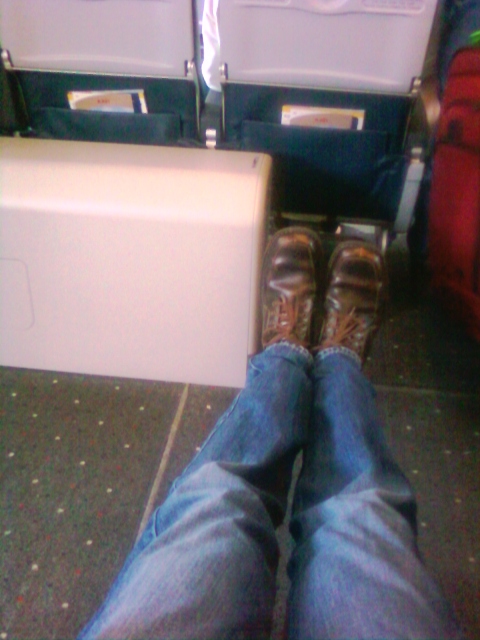 I'm 6-foot 3-inches and this is a picture of my legs and feet stretched out to MAXIMUM extension. And I still had feet – FEET! – of room in front of me. That kills the legroom in the front of the plane. And you don't have to worry about someone reclining back into your lap. Another bonus is that you can actually stand like a man when using the chattle, I mean "coach", facilities in the back of the plane. Due to the lav location in the front most part of the fuselage, I have to kind of manage this skulking, slouching lean against the side wall hoping there are no mishaps.
So, what Seat 10C doesn't get you is any of the free liquor service – no The Glenlivet, no The Jack D, no The Finlandia, no The Becks in a can, etc. – or any of the glorious snack basket. Millions of US Air fliers go about their pitiful existences, wandering this planet blissfully ignorant and unaware of the insane goodness which is taking three bags of Cracked Pepper and Sea Salt chips. They can only dream of a day when they'll stumble across a forgotten bag of Cranberry Snack Mix. It also doesn't get you away from that, "What is that *smell*? Seriously! Is someone actually cooking back here, making a sauce of curry and BO? And where did all of those crying babies come from?!"
But you know the cruelest thing about being in the Second Class compartment? It's that you are forced to sit there gazing across the Promised Land through the thinnest and sheerest of curtains.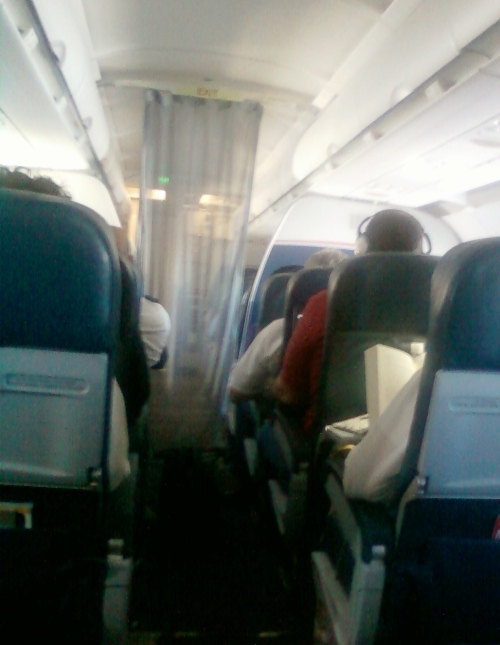 Knowing that just on the other side of that sheer, gauzy, billowy, see-through fabric l is culture and civility and a whole new level of Class is surely the cruelest blow. Now, there is definitely a time for a sheer fabric. Say on a wedding veil that hides your arranged bride's chin beard and weird shape-of-California face mole. Or surrounding your bed in a third world country keeping out the poisonous flying insect and biting Ebola monkey population. Or lingerie that barely shrouds the sexy-mystery of your lover's body, revealing hints of curves and shadowy promises of… Well, you know. Sheer. Good for some things. But NOT good between the classes. Where you can so easily look through the "curtain" to see the tray of Cracked Pepper and Sea Salt chips being passed around. MY tray. And the endless circulating supply of free drinks. MY drinks.
PS: This post might have been inspired by the e-mail I just received from US Air saying that my upgrade for my middle travel leg home – you know, the 4 plus hour one – was "UNAVAILABLE." Sad face...
Categories: February 2011, Rants
/