Shopping Cart
Your Cart is Empty
There was an error with PayPal
Click here to try again
Thank you for your business!
You should be receiving an order confirmation from Paypal shortly.
Exit Shopping Cart
Features, Reviews and a Blog by John Sciacca
| | |
| --- | --- |
| Posted on March 2, 2011 at 1:05 AM | |
...when the weather outside is typical Portland in February March weather.
So, I told you what a great night I had the other night cruising the streets of Portland and wandering through the largest bookstore in the world followed by an unexpectedly nice evening chatting with strangers over exquisitely concocted libations at Clyde Common.
So today is a different story. It is grey, and rainy and windy and pretty much miserable outside. They received over 3-feet of snow today on Mount Hood which I can see out the window of my room. So, what do you do in the Marriott Waterfront in Portland when you're alone and the weather is a mess?
Well, first off, you can go to the Champion's sports bar on the second floor and watch a 60-inch Runco Plasma TV: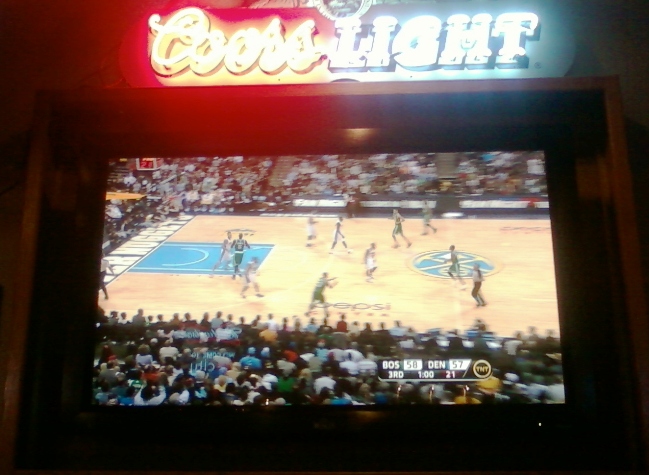 Seriously, how many bars to you go into that have a 5-figure Plasma TV? I'm guessing none. There was another TV off in the distance – cough, LG, cough – that looked so soft and fuzzy and defocused that at first I thought it was on a non-HD channel. Then I just realized that it was the, uh, UN-Runco-ness of the set. Plus they've got several good local brews on tap and a surprisingly interesting menu. (I had dinner there my first night and had a really good strip steak and salad.)
Of course there is an exercise room where you can go to pretend like you are really outside and running or biking down the streets and it's sunny and nice and you're really on your way to Powell's to check out some more books or really anything to keep the gnawing seasonal affected disorder at bay.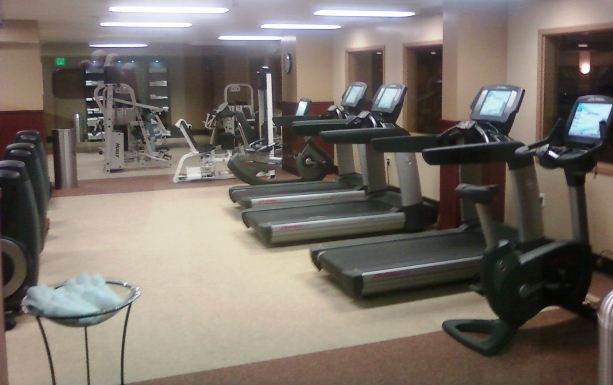 There's the requisite indoor pool and spa and judging by the smell of people getting onto the elevator wearing towels that had just come out of the pool/spa, the water is *highly* chlorinated. Like contact-high eye-burn chlorine levels.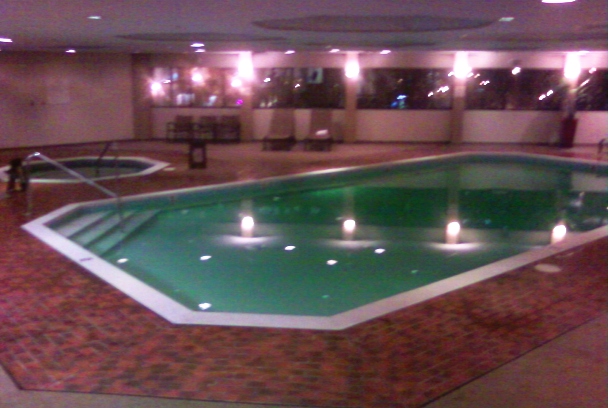 Then, if you were lucky enough to get "concierge level privileges" on your room when you checked in – thank you, Runco! Awesome touch! – you can cruise up to the 15th floor and get into the "Concierge Room." When in this sanctum-sanctorum you'll be treated like royalty (or at least like a guest at a far cheaper hotel) and receive free Wi-Fi access. The Marriott Waterfront fully lives up to my hypothesis that the more expensive the hotel, the less free the Internets. So, save yourself the ibahn $12.95 for 24-hour access fee and scoot up to the 15th where you can Web surf to your heart's delight. While there you will also find...ANOTHER 60-inch Runco Plasma TV!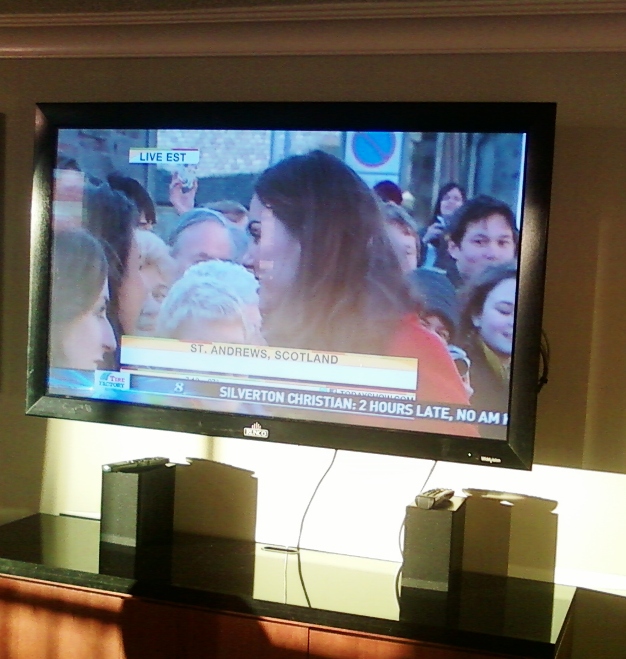 Plus you can caffeinate yourself to your heart's delight with the personal-serving, single-serving-grinding Starbucks Coffee machine!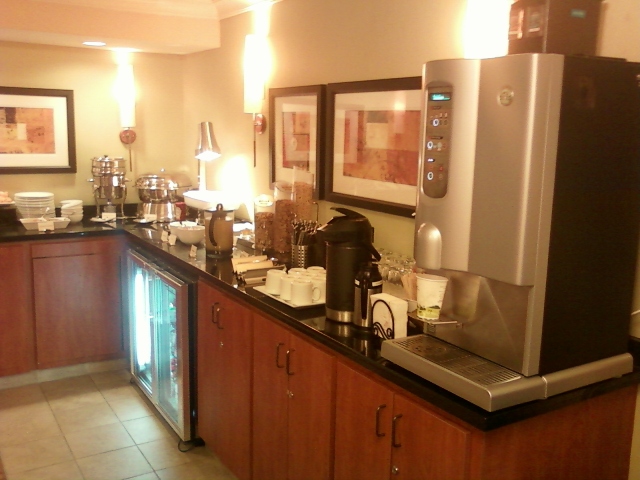 There is also a refrigerator packed with sodas, juices, yogurts, and sparkling and still waters which you will need because the freezing, dry weather will be doing its level best to chap the lips right off your face! But by far the most popular attraction on the 15th floor lounge is the hostess, Jordan. If you come back in the evening – starting at 5:30, because at 5:20 you'll be dead to her – and you might be lucky enough to run into Jordan: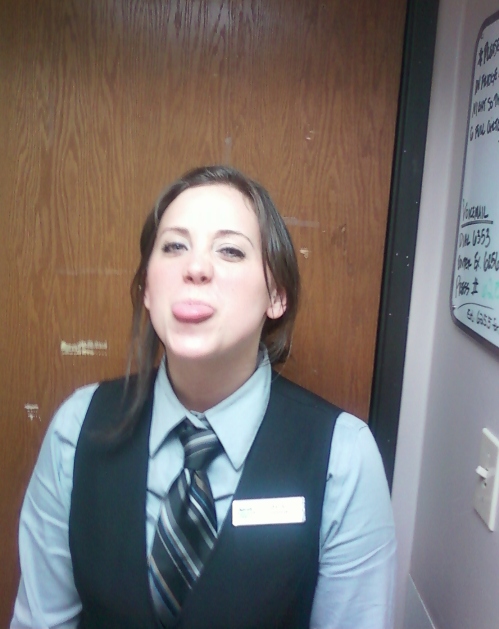 Jordan seems to know *everyone* that comes into the lounge; and I'm not talking only their names. I'm talking about where they come from, what their schedules are, when they are going to be back at the hotel and where they like to go around town for dinner and entertainment. She also discusses local restaurants, local brews and – if gently pressed – the crazy mania of certain hotel guests. At 6, Jordan puts out some amuse bouche sized portions of Caesar salad, brie and other hard cheeses, meatballs, fruit, nuts and random vegetables. She has an attitude that I has inspired me to coin the term "snarcasm" or "snarcastic" as she expertly puts difficult and unreasonable guests – including one total Tool Bag that I've encountered twice that seems to think he's the only person in their entire hotel and seems to think that he is God's gift to the Marriott chain. He came up earlier complaining that the appetizer plates were too small and when Jordan told him that it was meant for appetizers not for making a dinner out of and that he should just be happy because it was all FREE, Tool Bag launched into this diatribe about, "Free? Free?! I stay at the Marriott 180 days a year. I've earned my Platinum status. You call that free?!" Douche! Apparently Tool Bag is known amongst other guests that frequent the Marriott, and some other guys in the lounge call him "Asparaguy" since he came in and grabbed the entire plate of asparagus. Like this entire SERVING PLATTER of asparagus meant for an entire room of people. Da-hooosh! – in their place. Come back after 7:30 and Jordan will put out some little snack-sized – Appetizers, Asparaguy! They aren't supposed to be your meal for the entire day! – portions of cheesecakes and parfaits and cookies. And maybe, just maybe, especially if she somehow mysteriously wronged you in the past, a promised yet never materializing sundae for this one guy. (Sadly for him, she actually DID bring him a full pint of Haagen Dazs ice cream and little ramekins filled with nuts and fudge. But it just sat there melting while he didn't come back...) Seriously, it is obvious that a good percentage of the regulars that visit the Marriott come to hang with Jordan in the evenings.
So, when the weather is bad, Portland still offers a variety of entertainments. Especially if you happen to find yourself at the Marriott...
Categories: March 2011
/