Shopping Cart
Your Cart is Empty
There was an error with PayPal
Click here to try again
Thank you for your business!
You should be receiving an order confirmation from Paypal shortly.
Exit Shopping Cart
Features, Reviews and a Blog by John Sciacca
| | |
| --- | --- |
| Posted on March 3, 2011 at 3:58 PM | |
OK, so a BIG part of my trip out to Oregon to visit Runcoland was to get my 3D on. Runco was out to convince me that their new D73 projector was the shizzle of 3D and that there ain't no 3D party like a Runco 3D party. So, to that end, I spent all day – as in ALL DAY, as in from 9 AM to 6 PM – Tuesday reviewing and assessing and assimilating myself into Runco's new 3D video projector.
This was time spent in a totally windowless, walls painted black, carpet a dark grey, all lights off, actually feeling your retina trying to expand beyond the surface area of your eyeball kind of room. In other words, a perfect movie watching environment. And during that time I was watching their new 3D projector non-stop. Of course you can all see right through me and my paper thin complaints and trying to make it sound like a burden and know that I was actually living the awesome with this and enjoying almost every minute of it. (There was one moment of disappointment when Pippa, Runco's PR person, (who you can read about here, from our dinner in Florida) volunteered to go out and buy us lunch. And even though Jeremy, my Runco tech-specialist/baby-sitter and I had been talking about Qdoba on our ride in and he said, "Qdoba? How about Qdoba?" a couple of times, I thickly missed his subtle "Seriously! Dude. Let's get Qdoba!" hints and instead said, "Sandwich? Sound good to everybody?" So, Pippa duly recorded my sandwich order of "Salami sandwich on sourdough with some deli mustard and everything else," and yet the deli worker somehow translated this into me wanting a TOTALLY plain turkey sandwich – as in turkey and bread; no cheese, no mayo, no mustard, no lettuce, no tomato. Pa-LAIN. You gets your turkey and you gets your bread. Like in prison. This was so soul-crushing to Jeremy, who clearly had his heart set on nothing less than Qdoba, who also received a soulless sandwich, that he threw his sandwich in the trash and then drove out and bought us both Qdoba wraps. I, of course, stayed behind in my movie cave playing Call of Duty 4 in 3D and sipping a Coke. Yeah, my life is brutal, I know.)
So, I'm not going to tell you much about the 3D projector here. Look, if you freeloaders want to pool your money and pay Sciacca for his time and reviewing energies then OK. Fine. You'll get those kind of exclusives. I can even throw in a personalized shout-out at the end. But until then, I must save the biggest golden nugget chunks for my paying masters. What I will say is that me-likey the new Runco projector. I like it; I like it a lot. It totally changed some of my, shall we say, violently-hostile views on 3D and especially the benefits and market potential for 3D gaming. I know, I know…your appetite is now duly moist and whet with anticipation. Trust me that I'll let you all know when the review is up... Suffice to say, if you're in the market for a high-end 3D projection system, hold onto your Black Card a little longer until my review comes out next week-ish...
OK, so on to more 3Ds. So I spend-spend like 9 hours on Tuesday watching all manner of additional D-programming and then come back to the hotel and pack up and go out for a few beers and dinner at Henry's tavern, the place I planned on going the other night before being convinced to try Clyde Common. (And, I'll fess up; Clyde Common was far more hip and cool and I had a better time there. So, full point, Kirsten.) (Oh...I must tell another quick story here as well. So, on the way back to my hotel from Runco, we stop off to get gas. And I'm chatting with Adam Schmidt, Runco GM and VP who kindly offered to return me to my hotel, about this and that and he explains that in Oregon you aren't allowed to pump your own gas. Apparently Oregonians are either too fancy and hoity-toity to be bothered with the mundane chores of gas pumping, or the state doesn't feel that its citizens are high-functioning enough to be trusted with a potential liquid combustible. Maybe they fear sudden outbreaks of Zoolander-style gas fights and dancing with the people all hopped on the heady gas fumes. I don't know. So Adam is explaining this to me and that how *maybe* it is cheaper for gas stations insurance when their own employees handle the pumping chores, etc. when all of a sudden there is a crash and a commotion right next to us. Some guy drove off with the pump still in his tank! I'm sure this happens every day, but it was the first time that I had ever personally witnessed the phenomena. Like ten feet of the hose ripped free of the pump and just lay on the ground. I guess there is a shut off or something because there wasn't a giant gas geyser going on. The driver jumped out of his car with a total, "W...!T..!.F...?!" expression on his face. Sadly we didn't get to see the whole scene play itself out. But, so much for the "it's safer" argument...)
So the next morning – yesterday – I get to the Portland airport and since there is no US Air Lounge I figure I'll strut my Star Alliance Gold wings and see what that gets me at the United Red Carpet Room. Apparently, it gets you asked to leave. Because the SAG is only good on International flights. Lame. So while I'm leaving I spot this exhibit:
3D! You're my destiny! A brief history of 3D in film and explanations of what it is and how it works! Portland Airport, you sly bastard! You set this up just for me, didn't you?!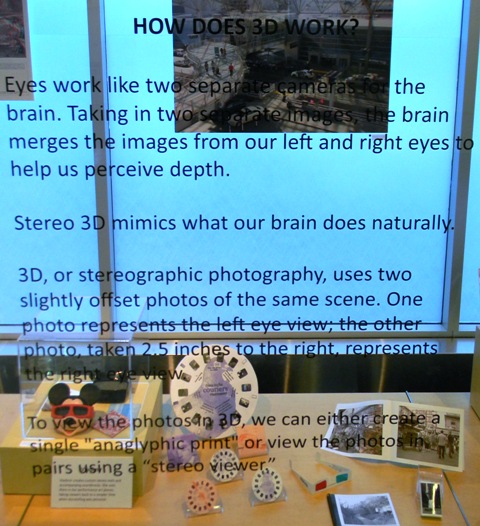 Perhaps acting as a general gauge of public reaction towards 3D adoption, the exhibit was totally dead and the only thing garnering any attention was the fact that I was standing in front of it taking pictures and being asked to get out of people's way.
So then I check in to my flight, and make it to my seat and whaddya know...
(It's smudgied from spending like 12 hours in my pocket; like an end of Ferris Bueller gummy bear.) Seat 3D! I'm living the life, people! Living the life!
Categories: March 2011, 3D TV
/