Shopping Cart
Your Cart is Empty
There was an error with PayPal
Click here to try again
Thank you for your business!
You should be receiving an order confirmation from Paypal shortly.
Exit Shopping Cart
Features, Reviews and a Blog by John Sciacca
| | |
| --- | --- |
| Posted on March 8, 2011 at 12:09 PM | |
Outside of control companies like Crestron, Control4 and even Lutron where dealers are required to attend training to be certified before they can sell and install systems, not many companies even offer any formal factory training. And this is especially true in the video segment, where generally a pulse and hot PO is all that is required to sell the latest flat panel set.
One company that stands apart from this is Runco. They have been conducting factory training for years; training dealers around the world in the best ways to sell, install and optimize their projectors and displays. I recently attended a training class at Runco's factory headquarter in Beaverton, OR, and will share my experience.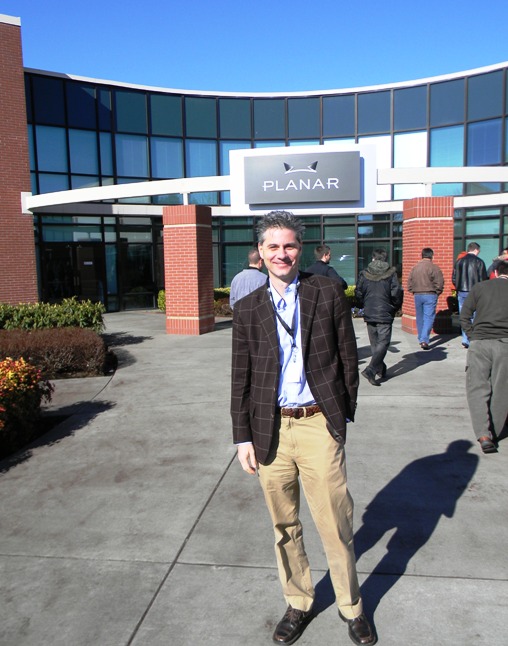 (Why, who's that handsome devil? I bet he's a hell of a writer! Sidenote: I know that the sky looks all blue and pretty and nice, but it is freezing. See how everyone in the background is wearing heavy coats with their arms all stuffed into their pockets and all hunched over like they are bearing a Siberian winter workcamp? That's not because it is warm. That sky is a liar and only wants to trick you into thinking that it is a warm and sunny day. And while cashmere might help mountain goats to stay warm, that jacket really doesn't do too much to stave off 30 degree temps and windy-wind. Just sayin'...)
First, to encourage dealers to attend, the class is offered at no charge; attendees are responsible only for their travel and hotel charges. The class is called "Runco Academy" with the slogan, "Mastering the Art of Home Cinema." Academy has a fairly rigorous pace spread over four days, starting at 8:00 each morning – except for a merciful 9:30 start on Sunday – and running until at least 5:00 each day.
As an added bonus, there are two group dinners where Runco picks up the tab. Adam Pelz from Bespoke Cinemas out of Atlanta, GA, commented, "The largest wealth of knowledge at these events is the experiences learned from other dealers." And to that end, these informal events give attendees a chance to get to know one another and swap shop-talk.
Day one began with a history of Runco – which was founded in 1986 – and Planar – which acquired Runco in 2007. Sales training was the first day's main focus, where the importance of having a passion about the products that you sell was stressed. High-end components, like Runco products, should be positioned as luxury items and dealers that sell them as luxury suppliers.
Also stressed was the benefit of personalization and customization. Amongst luxury purchasers, many aren't looking for a "me too" experience; they want something that will be seen as unique to them. And the terms "customization" and "personalization" are now firmly ensconced in the luxury lexicon. And just as the leather interior on a Bentley can be ordered in any color, Runco is unique in offering a product line that can be customized to fit each homeowner's needs and wants.
The point was made that dealers should stop thinking of luxury as a noun, but more of a verb; turning, "We sell home theater equipment" into, "We provide the best cinematic experiences in your home!"
Jim Anthony, president, Simply Automation located in Eau Claire, WI, brought up the valuable mental difference between having clients versus customers. "It is a total mind shift to how you recommend things. With a client, you're now on the same team, like an attorney relationship. You are now on their team, looking out for their interests."
Dealers were encouraged to communicate with prospective customers, err, clients primarily through questions. The key to questioning, we were told, lies in your ability to differentiate yourself from your competition. And by asking smart questions, customers will think you are smart. (Conversely, ask dumb questions, and...) Runco claims that more sales are lost through poor questions and poor salesmanship rather than to lowest price, and that the person who asks the questions has the control. Ultimately, clients buy the salesperson first, not products.
A short van ride led us to the facilities where all Runco components are assembled, tested, repaired, and shipped out. Techs could be seen bench-testing items returned from dealers or calibrating new units about to be sent out. The shipping facility had a large crane arm used for hoisting the mammoth 103-inch plasma sets onto trucks, one of which was boxed up and ready to go.
Sales training concluded with a walk-through the Runco product line, which features the largest home cinema product portfolio in the market. Runco stressed that models are available to address any installation need or requirement with projectors starting at under $5,000 and running to more than $250,000, including Digital Cinema Concierge (DCC) systems.)
Our sales training concluded with "The Art of the Demo," where Runco described and demonstrated best practices for preparing potential clients for demonstration and tips for ensuring a "Wow!" experience every time and how to replicate the famous "pitch black" Q-demo from CEDIA.
The remainder of the Academy focused on technical training, where attendees were taught how the human eye works and how we see, and how that translates to producing good – or bad – video images. They covered a history of film and commercial cinema technologies and aspect ratios, with a good segue into how Runco eliminates black bars to produce a more cinematic experience with their CineWide process.
With its current market awareness, a good portion of time was spent discussing 3D, including its development, history in the commercial space up, its rise-fall-rise in popularity, and a comparison of the competing, modern digital 3D formats such as IMAX 3D, RealD, Dolby 3D, and XpanD.  
Home technologies such as DLP — single- and three-chip — LCD, LCoS, and plasma were explained and compared as well as the importance of proper positioning and installing a projector to account for throw distance, lens offset, and thermal management.
Other installation factors were explained, such as choosing screen materials and screen gain and the affect on screen size has on light output (ie: doubling the screen size diagonally results in one-quarter the brightness!). Also discussed was optimizing the system for the viewing environment such as seating distance, room treatment colors, furniture. They discussed the trifecta of home theater install screw-ups: light (too much ambient light present or not enough projector horsepower); system resolution (either sitting too close, or having too large a screen); and source resolution (clients watching SD material).
To read more about my training, click here to the full post at Residential Systems...
To see more photos from my trip, click here for a slide show over at Residential Systems... (Note: While you are looking at these pictures continue reminding yourself that I am a writer NOT a photographer and then realize that the batteries in my nice camera died about 4 shots into the day and I had to rely on Lady Phone for the rest...)

Categories: March 2011, Movies, 3D TV
/