Shopping Cart
Your Cart is Empty
There was an error with PayPal
Click here to try again
Thank you for your business!
You should be receiving an order confirmation from Paypal shortly.
Exit Shopping Cart
Features, Reviews and a Blog by John Sciacca
| | |
| --- | --- |
| Posted on March 16, 2011 at 4:49 PM | |
Now, I'm not a vegetarian or any special animal rights activist. I like to eat meat. You want to take me to a Ruth's Chris, I'm gonna order a medium-rare steak. And I'm gonna love it. But that doesn't mean I want to know how the meat gets to my sizzling 500-degree plate. I don't want to visit a slaughterhouse or a rendering factory. I don't want to watch some horrible Food, Inc. video where they show animals being sledgehammered in the heads and then pulverized. And I definitely don't want to be the one that lies in wait in a hide all day for the ultimate opportunity of blasting an unsuspecting animal as it grazes peacefully with its family.
(Funny story... So, I'm at a restaurant in Berkeley called Raleigh's with my friend Dan one day having lunch. And they have a delicious sounding sandwich on the menu. Lettuce, tomato, avocado, sprouts, all manner of stuff. The sandwich is called "The Vegetarian." And it is only missing one thing. Meat. So the waitress comes around and I say, "I'd like to order the Vegetarian...but add bacon." An expression of horror. "WHAT?!" "Yeah. The Vegetarian, just the way it is, but add bacon." "YOU WANT TO ADD...FLESH? TO THE VEGETARIAN?!" Yeah, good times.)
Now, I know that many people hunt for food. And, I can respect that. My cousin Chris lives off the land; hunting, skinning, dressing, curing his own meats. (That is when he's not in Afghanistan hunting the ultimate prey...) So, I can appreciate that. I don't want to be involved in it, but I can respect it.
But today I was confronted with an image so horrifying, so shockingly unexpected that...well, that I just HAD to share it with you all. One of those images that scars your mind. That just nestles in there and says, "Hey. How you doin'? I'm gonna set up camp here in your brain for a while. I'll be quiet and just pop in and say, 'Hello!' every once in a while when you totally aren't expecting it. You know, like when things are going good or you see a beautiful flower or a baby laughing. Stuff like that. OK?" Like, you'll see it and be all, "Ugh! That is SO disturbing!" and then continue on with your day, trying to get happy again and then slowly forget about it over the course of hours and then all of a sudden, POW! Something will remind you of it – like having it in an open window on your desktop – and just when you thought you'd moved on past it, there it is again.
So, my partner, Al is BIG into fishing. It is his life it is his love. His dream is to own a bait and tackle store. A job where your biggest worry is, "What's that? Bait worms're dead, huh? Yeah, they'll do that…" I know; exactly what you'd expect of any audio/video installer. So he gets like 3 Cabella's and Bass Pro Shops catalogues in the mail EVERY SINGLE day and I dutifully throw them into his in-box. So this morning, he is flipping through an old one and he hands me an ad for this…this…thing! This thing of nightmares and dreamscapes. It's called "Butt Out!" Exclamation point indeed!

So, for the low-low sale price of $10.88, you get not one but TWO Butt Out! Tools. And thank your lucky stars that the NEW Butt Out! is a full TWO INCHES longer, making it easier to maintain a firmer grip. Because, haven't you always been looking for a faster, easier way "to disconnect the anal alimentary canal from deer or similar-sized game"? No! No I haven't! I promise you I NEVER have! In fact I don't know what an anal alimentary canal is, I don't want to know what an anal alimentary canal is and I don't ever, never, never-ever want to even fathom what is involved in disconnecting it! Whatever it is, it sounds like a bad-bad, horrible-bad idea that should be discouraged at every turn, and that there definitely should NOT be a tool that looks like a summer lawn toy dedicated to the process. In fact, being connected is proabably a perfectly fine and as-nature-intended idea!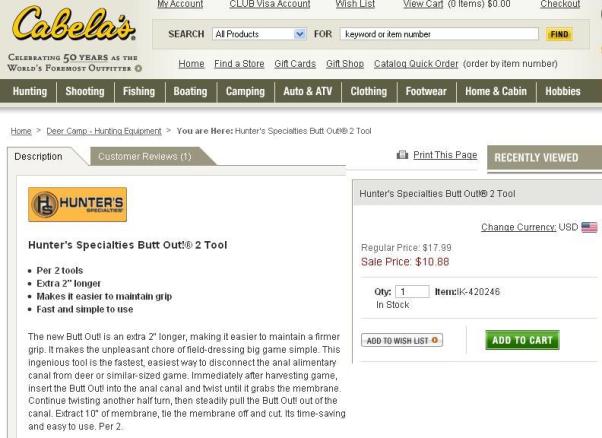 But, fortunately -- or rather more likely, in a flash of sadistic brilliance inspired by the darkest pit of Lucifer himself -- the good folks at Cabelas have provided a handy three-step illustration demonstrating *exactly* how the Butt Out! is used. Sadly, Step 1 does not involve cutting a hole in a box, and there is no happy Step 3 making her look in the box ending...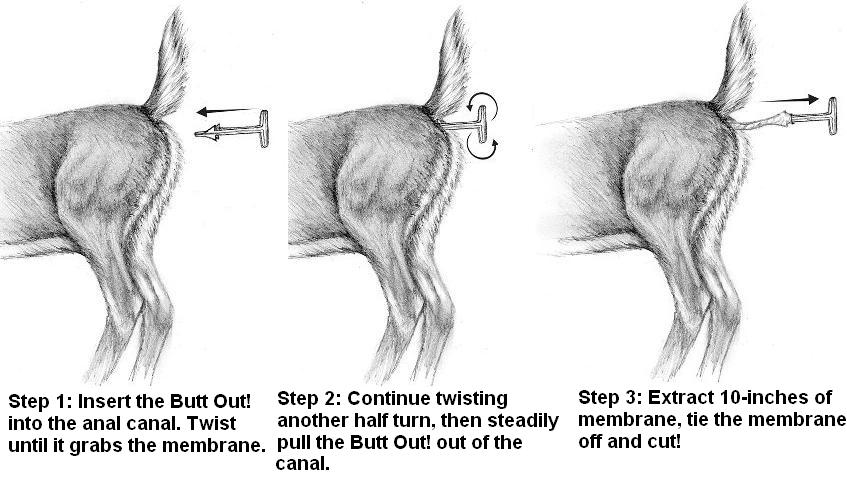 Why? Oh, dear lord, why-hy-hy-hyyyyyyyy??!!?! The humanity! Oh, the humanity! I don't care how time-saving and easy it is to use! I don't care how much of a firmer grip I can maintain! I don't care how camouflage orange or ingenious it is. I just want to go back to a kinder and gentler time when I lived in a world where people didn't buy giant plastic lawn jarts -- in TWO-PACKS! -- to use as rectal rooters! I want to go back to thinking this was some kind of camping, tent peg tool or perhaps a portable chair for when you get tired. I want to go back to thinking this was ANYTHING but what it actually is!
And how would you ever go about explaining what this is to a child? I think I'd rather have Lauryn come walking in when I'm watching Aliens or T2 or Kill-Kill Death Face or something and I can just say, "Oh, honey! That's just pretend. Those people aren't really getting hurt." Or if they happened to stumble across it out in the garage. Like when you see a kid about to start playing with a plunger or something and you're all, "No! Wait! Stop...Right...THERE! Don't touch that!"
"Why not, daddy?"
"That's daddy's, uh, special tool."
"What's it do?"
"It's for, um, animals, when I, uh, go, you know, hunting."
"Oh! I love animals! Can I use it on Fido?"
"NO! Absolutely not! You are NEVER to use that tool! EVER!"
"Daddy, you're scaring me..."
And then, there's this...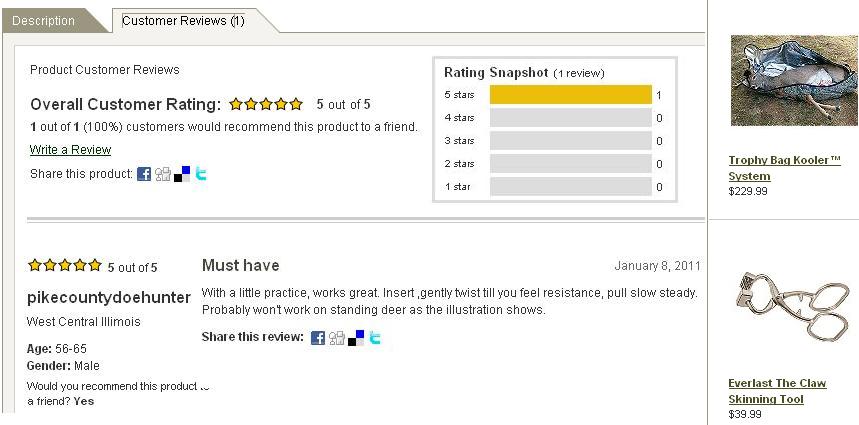 The pikecountydoehunter has clearly used -- and enjoyed -- the Butt Out! He gives it a full 5 by 5 rating. In fact, read just a *little* bit into his "with a little practice" phrase and you'll know that he has had opportunity to Butt Out! more than once. Can't you just imagine him talking in a totally creepy, sweaty Deliverance-voice as he describes in slow detail exactly how to use this? His hot, meat-breath on your ear and his blood and grime matted chest hair occasionally brushing up against your back. "That's it; just lay her down first. The pitcher shows the buck standin' but I've tried 'er that way and she don't work. So, lay her down nice and gentle. OK. Take yer Butt Out! It works great...just go on and insert it...real gently...that's right, right there in the alimentary poopshoot...OK, go on and put it in. Don't be afraid. Now...slowly...twist it till you feel that resistance. Oh, that's right. Now, pull it back out. But mind me! Be real slow, and steady... There you go. Now you got yerself a tasty little sausage casing!"
Categories: March 2011, Bizarre
/