Shopping Cart
Your Cart is Empty
There was an error with PayPal
Click here to try again
Thank you for your business!
You should be receiving an order confirmation from Paypal shortly.
Exit Shopping Cart
Features, Reviews and a Blog by John Sciacca
| | |
| --- | --- |
| Posted on March 19, 2011 at 11:46 PM | |
OK. So unless you have been enjoying my blog on a 1980s Green blinking cursor Apple IIc or via a slightly more modern 1990s era black-and-white-and-50-billion-shades-of-gray Macintosh computer – in which case I say, "Welcome to the future! We have color now! At first it was scary and expensive, but now pretty much everyone has embraced it! Even Apple! And I think you're REALLY gonna love the new iPad!" – or you are literally completely blind and using some text-to-speech program to enjoy this – and, seriously, if you are, that is SO awesome! I can only imagine how you think my last name is pronounced since you only here it from computer – so unless those two things then you have noticed a MASSIVE look change to the Website.
Before I go any further here, I just want to assure you that YES, you are at the right place. This is still the John Sciacca Writes that you have hopefully come to know and love over the past year. It has all the same fresh, original, funny-hurty content. And, hopefully, all the old blogs and comments are still here. So, the only thing that has changed here is the look and layout.
I've endured my share of "your site hurts my eyes!" criticism over this past year. Co-Resi-er, Dennis Burger said "if you can deal with Sciacca's lime-sherbet-on-grey blog layout...it's worth the eyestrain." (He also described me as "systems integrator, writer, and all-around sexy beast" so I'll allow it.) Perhaps the most vocal complainer is Head Caster-er, Kim Lancaster, who repeatedly says that my site is too hard to read. Kim says that she just can't read my blog because A)  the electric teal green on black background is too tough on her eyes and B) the font is too small and that the result is an instant headache. I even wrote a blog about it called "Battle: Text Color!" where I offered alternative, easier to read color choices and ultimately meant with a larger text size. (Quick note: One of my other personal issues with the previous look was that I never felt like the default style for links was easy enough (ie: obvious) to see. So I manually recolored all links in yellow to make them more obvious. Which was an extra bit of work, and yellow-on-black was not a whole lot easier to read for that matter. So, that previous sentence "I even wrote a blog..." THAT is what a link looks like now. You click on that -- anywhere on that underlined part -- it will take you to another story. You know, like the way a link works pretty much everywhere since the invention of the Interwebs. I'd like to think that was obvious, but I know my mom is out there, so I am offering that up as a bit of help to all mom-related readers.)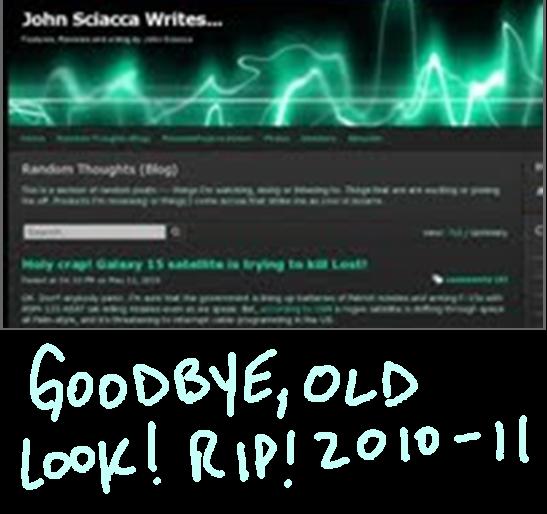 But after a year of writing, editing, reading and re-reading, even I am agreeing that teal-on-black is just not the great high-contrast, easy-on-the-eyes-read that you might think it is. After staring at the text for awhile – what I would hope you might do, say, when reading a 1500 word post on something – I've found that it can become a tad blurry and cause you to see trails and cause sudden violent outbursts. As I've said before – well, I've texted it at least – "all I have are my words," and if my words are difficult and uncomfortable to read, then what do I have? Besides my wonderful family, careers, home, awesome home theater, 9000 song library, wit, charm, health and good lucks. Exactly. I have nothing.
So, I've decided it's time for a facelift. A makeover. A what not to wear. A say yes to this dress. (Dana is working through her list of shows.) When I started the site, I really had no idea A) what I was doing B) how much effort I would put into it and C) what it would look like. The original template I selected – called "Waveform" in Webs.com parlance – looked kind of techie to me. I thought that kind of electrical, Force-lightning, Tesla-coil green look was edgy and techie and something-something. I didn't realize that it would then kind of lock me into a teal-on-black text style, not did I realize that would be difficult to read going forward.
So, after a year of this, I've decided that I wanted something cleaner, more basic, simpler, and more streamlined. But most of all easier to read; easier for you and easier for me. Isn't that just so, "Go team!"? I hope you like the new look. And I welcome any feedback. Even if you feel like you want to post a lengthy lyrical ode using -- or not -- iambic pentameter extolling the loss and regret and miasma you feel over the sudden disappearance of teal-on-black. And, Kim, I'm expecting to see your IP address dutifully logging in EVERY DAY now that you don't have any reason not to! 
Categories: March 2011
/