Shopping Cart
Your Cart is Empty
There was an error with PayPal
Click here to try again
Thank you for your business!
You should be receiving an order confirmation from Paypal shortly.
Exit Shopping Cart
Features, Reviews and a Blog by John Sciacca
| | |
| --- | --- |
| Posted on March 20, 2011 at 6:01 PM | |
...it's Supermoon!
If you weren't too busy watching the news of nuclear meltdowns (and, seriously, with absolutely NO disrespect or insensitivity intended -- though I realize that whenever you have to preface a comment with that disclaimar, that you are likely walking the razor's edge of both disrespect AND insensitivity -- I have to ask...we're talking about Japan here. The very home of robots. I mean, this is like the birthplace of robotics and technology and electronica in general. It isn't happenting somewhere in a Tibetan mountain top or thousands of miles into a rain forest. Is there not some robotic device or Asimo or QRIO or something that could cruise in there and do something to stop the meltdowns? I would figure there would be dozens of robotech and cyborg and rescuebot companies lined up ready to show how their tech was the most developed and bad-ass radioactive repair bot ever. Also, you just know that there are like 327 Japanese screenwriters that are furiously banging away at their laptops right this instant and intently starting at their clocks waiting for the "still too soon?" clock to go bing! so they can roll-out their new Godzilla, MeccaGodzilla, and 21st Century Mothra screenplays. Again, horrible-horrible, awful-awful tragedy, but the Japan radioactive monster cinema genre is about to have a renaissance!) or Tomahawk missile launches yesterday evening, then you probably stumbled across some article or news cast mentioning that last night was a rare and spectacular lunar event. In science circles, this is called a perigee moon. To the less formal science types, it is called a Supermoon. To those who just walked outside, inspired by all of the hoopla and getting their daughters up out of bed to take a look, expecting to practically reach up and grab a handful of moon dust, it was called, "Really? That's the big deal?" moon.
The moon travels in an elliptical orbit around the earth, and when it is furthest away it is at the apogee end of its orbit. When its orbital path is at its closet point to the earth, it is at its perigee. (Less you think I just pulled this bit of Trivial Pursuit lore off the top of my head, I'll fess up that I've borrowed *heavily* from an article by Dr. Tony Phillips at NASA Science News. And I'm guessing he actually IS a rocket scientist.)
According to Dr. Phillips, perigee moons "are about 14% bigger and 30% brighter" than moons at the apogee end of its orbit. And due to gravitational forces and other variations in the solar system, the distances of the apogee and perigee points vary. Last night's moon was a scant 221,566 miles from the earth. Not to mention that the moon is only 100% full once a month, and the chances of that moment lining up with the exact instance of perigee is less likely.
Well, the stars literally aligned last night – OK, technically it was the moon aligning but that didn't have the same ring – and we hit the lunar jackpot of perigee moon, unusually nearness of the perigee AND a full moon. Apparently this was the largest moon since March of 1993. And if you get off on giant, full moons, you've been waiting 18 long years for this! And here in Myrtle Beach at least, it was a totally clear night. The moon was firing on all cylinders and all signs pointed towards...Supermoon!
I took this picture from our driveway, while keeping one eye out for any sudden werewolf appearances. (Special thanks to the Crape Myrtle tree that served as a makeshift camera brace.)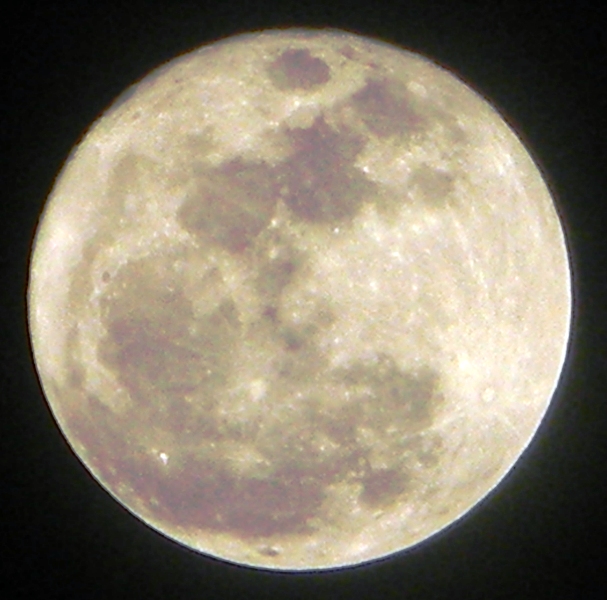 Categories: March 2011
/