Shopping Cart
Your Cart is Empty
There was an error with PayPal
Click here to try again
Thank you for your business!
You should be receiving an order confirmation from Paypal shortly.
Exit Shopping Cart
Features, Reviews and a Blog by John Sciacca
| | |
| --- | --- |
| Posted on May 6, 2011 at 3:30 PM | |
I've shared some of Lauryn's amazing artwork with you in the past. Who can forget "Giant glass of Red wine" or the horrific visage which is "Daddy that's you. I'm drawing you."?
Last night Lauryn was experiencing a creative maelstrom, where she produced not one, not two but THREE original works. One was unknowingly commissioned by a little girl sitting behind us at Bible Study. The girl was probably 18 months or so and Lauryn saw her walking around and said, "I'm going to make a picture for her." And, she was off!
She chooses to work in mixed medium, preferring to start with ink (I believe a rounded Bic, black ink) where she sketches furiously for a bit and then switches to a colored pencil. It is the kind where all of the "leads" fit inside of the body, and you pull out one at a time, and then replace it into the butt of the pencil when you're ready for a new color.
After finishing her work, I had the rare opportunity to sit down with Lauryn and discuss each masterpiece individually. She was reluctant at first, initially shouting, "I'm thirsty! Bring me some juice!" but after her temperamental artistic cravings had been momentarily quenched, she ultimately acquiesced and – with the promise of a story before bed – opened up and discussed her work.
First, she was very insistent -- very -- on one point. She wants everyone to know that these paintings are all "By Lauryn. The artist. Make sure you tell them that."
The first piece is called "The Colorful Rainbow Robot."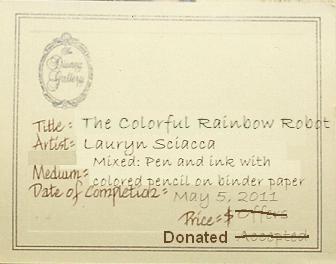 This piece, sadly, is no longer available for purchase as it has been graciously donated by the artist to a young, blonde-haired girl. In addition to the notes on the work itself, it is important to note that the titular Rainbow Robot "Can do some jumping trick called 'jungle joops' and he can also swing like a monkey and he's the most hero of them all. That's all."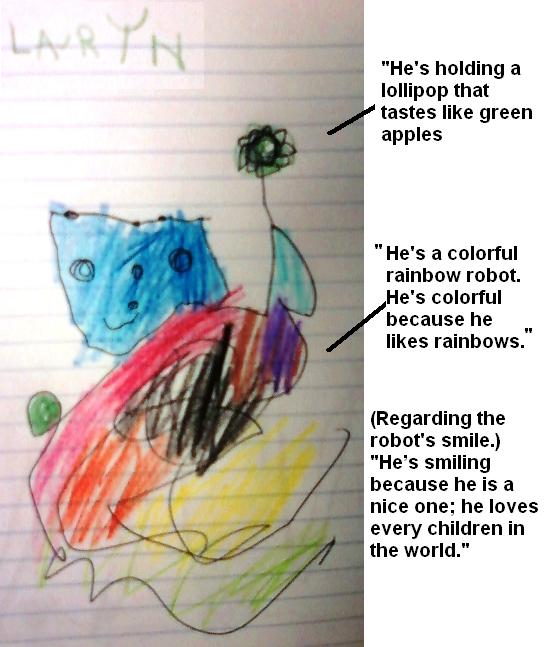 Also, while Lauryn is sticking by her story that it is a "green apple lollipop," I believe that this might be a subtle, hidden nod to Hemmingway's "Death in the afternoon," a cocktail invented by the artist consisting of absinthe mixed with champagne.  According to Hemmingway's original 1935 recipe, ""Pour one jigger absinthe into a Champagne glass. Add iced Champagne until it attains the proper opalescent milkiness. Drink three to five of these slowly." (Thanks to Darryl Wilkinson for providing information on all things pertaining to absinthe.)

Our next work is titled "Lori's House."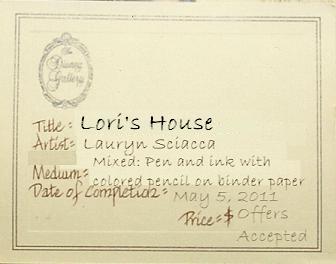 More of an expressionistic style, this work features bold, slashing lines and strong use of shadow and color. Giving a glimpse into her creative, artistic process, Lauryn said, "I didn't want to color it all in. It takes too long." The large object in back is Lori's house and "the pink part is her upstairs. She has stairs." The bold purple door clearly stands out; is it a symbol for always being able to find your way home, and the assurance of never getting lost? Or perhaps a statment on the juxtoposition between the wealthy class -- those playing freely on the lawn -- and the working, servant class -- those trapped behind the doors of repression? Or perhaps purple was just the next color in the pencil tube. Lauryn was aloof when approached instead choosing to sum up this work succinctly by saying, "It's beautiful and I love it."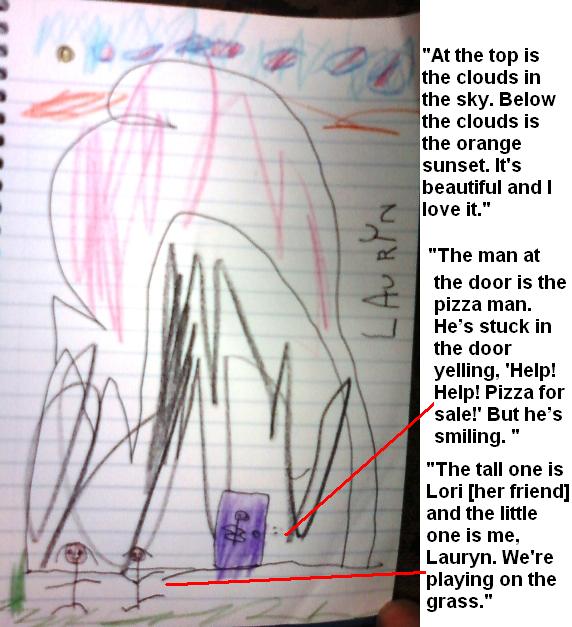 I've saved my favorite for last. I was fortunate enough to be sitting next to Lauryn while she created this -- well, this and all of them actually -- which was actually her first work of the evening; her pen racing over the canvass tracing out what was bound to be her masterpiece! Upon completion of the initial inking, this work reminded me of something. Then it hit me! It reminded me of an illustration from my favorite children's book, "No Dessert Until You've Finished Your Mashed Potatoes." When we arrived home, I removed the book, and sure enough, the images bear an uncanny similarity. (Lauryn hasn't read the book yet, and is flummoxed and angered by the concept of "you're not old enough yet" so she was clearly just channeling Picasso all on her own.)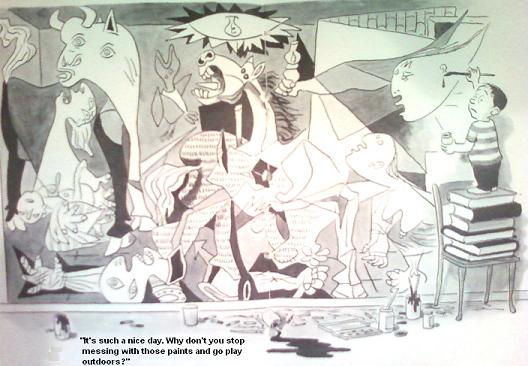 Lauryn's version is entitled "The Rainbow Catcher" and there are so many Dali-esque images and metaphors and symbols buried within this work, we might never know the true depth of its meaning.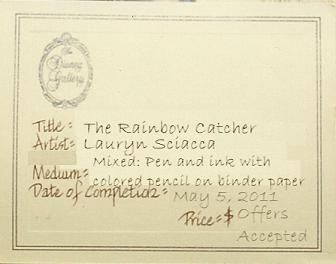 Lauryn, finishing her juice and demanding a sugar cookie, allowed a peek into the mind of the artist. First, she admitted that she got distracted while writing her name, and that the whole work was nearly lost in a moment of blind rage. (I was able to grab the pen and stop an angry-angry scribbling that would have surely destroyed it!)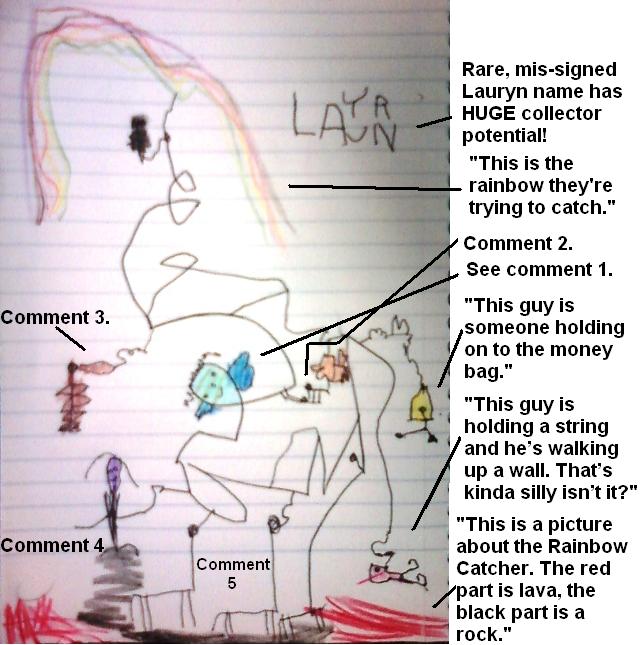 Comment 1: "The blue guy is a giant buzzard bee. The orange guy is another giant buzzard bee. And the black guy at the top is another buzzard bee. I just made them up. They're just bees, what's wrong with that?"
Comment 2: "That thing that's all over them is a rope. That's how they are catching the rainbow. And that is an ant lifting up a bug."
Comment 3: "That brown guy is a pelican."
Comment 4: "The purple guy is an umbrella guy; she has an umbrella wrapped around her and if it rains she can just open up her umbrella."
Comment 5: "The tall guys at the bottom are giraffes."
Bravo, Lauryn. Bravissimo! Feel free to submit offers in the comments section below. Lauryn prefers Littlest Pet Shop guys but will also accept gummi cherries or Zsu Zsu Pets and consider other reasonable offers.

/