Shopping Cart
Your Cart is Empty
There was an error with PayPal
Click here to try again
Thank you for your business!
You should be receiving an order confirmation from Paypal shortly.
Exit Shopping Cart
Features, Reviews and a Blog by John Sciacca
| | |
| --- | --- |
| Posted on May 12, 2011 at 2:20 PM | |
I've been away for a bit, so I'm rewarding you all with a long, two-day-in-one travelogue post, filled with comedy, drinking and tragedy. (The part of "Tragedy" shall be played by Darryl Wilkinson this evening...)  
Just returned from an up-and-back to New York where I visited the URC factory to check out their exciting plans for Total Home Domination, I mean, Control. When I told my CTA partner, Al, that I was going to see their new line up of "get of out of the living room, get into the whole house" control gear, his comment was, "Well they pretty much had to or risk dying." And, while I don't TOTALLY agree with that sentiment – their four-pronged – man, I *really* want to say "Trident" here, but I know that doesn't fit in with four-pronged, and Quadent just sounds awkard… -- business strategy doesn't entirely rely on custom installed smart remotes to survive – I do agree that if they want to continue growing and being viable in the custom channel, they needed to branch out.
But, I'm planning on doing a blog on the whole press, product announcement stuff over at Sound + Vision's Website, so I'll not bore you all with the details here. Suffice to say, some very cool stuff coming from URC that – if it's as easy to program as their current remote – and it appears to be – will likely be a big hit in the custom channel.
So, I flew up Tuesday, leaving Myrtle at 12:50 and arriving in Charlotte where I joined up with Dennis Burger. (Dennis, you'll recall, is the journalist who swooped me on the Ruth's Chris Caster prize. Want to know the real ass-kicker of the deal? I discovered that Dennis doesn't eat "mammals"! Blarg! He went to Ruth's Chris and probably got something fish or chicken! Double blarg! And a "Khaaaaan!" thrown in for good measure!)
But amazingly, we ended up seating together in the Exit Row, seats 8A and 8C, and got a chance to chat up on our flight to White Plains, NY. As we're nearing the airport, I'm looking out the window and there are these giant CASTLES that we are flying over. I mean, they look like hotels, but they are clearly houses and gigantosaurus houses at that. Like British royalty should be living in these things. Like if this is where William took Catherine she'd be all, "Oh, Will! You DO love me!" I saw some golf holes and seriously think some of those people had like their own private back 9s or whatever. Or maybe it was just to give the lawn crew something else to do. Something. Dennis then informs me that we're probably flying over Westchester County, home to the fictional Dr. Xavier and his X-Mansion, aka the Xavier Institute for Higher Learning, formerly Xavier's School for Gifted Youngsters. Dennis is clearly a Marvel man, and knows his backstories. I don't bother telling him that DC is the best as I try NOT to alienate all of my friends. (Wikipedia then told me that Westchester County ranks number two  -- number one being Manhattan -- for wealthiest counties in New York State and the seventh wealthiest county nationally.) This then lead into an entirely too geeky conversation wondering where Dr. X got all of his money, and is it "stealing" if you use your mind control powers to convince someone to give you their money, etc.
So we land at about 5:15 and who else is at the airport? Darryl Wilkinson. (When I write "Darryl" I'd like you to all imagine me saying it like "Newman!" from Seinfeld. OK? Thanks.)
He was clearly put out that the White Plains airport – throw a dart at a piece of paper; take that dart hole, blow it up to 100 times magnification and then throw another dart at THAT; repeat two more times then reduce the dot to actual scale and you have an idea the size of the White Plains airport. When we left, our departing gate was "****" Seriously. What the hell is "Gate ****"? Apparently it is SO small, that they just herd all passengers into a holding pen and then tell them to walk out of either Door A or Door B when it is time to leave. – didn't have a suitable absinthe bar, but he managed to rally his spirits under the guise that the Marriott Courtyard would feature a suitable selection of absinthe inspired cocktails. (Spoiler: they didn't.)
So we jump into our PR minder's – Joe Paone – car and head to the hotel, but when we get to the automated parking checkout kiosk, I see this sign: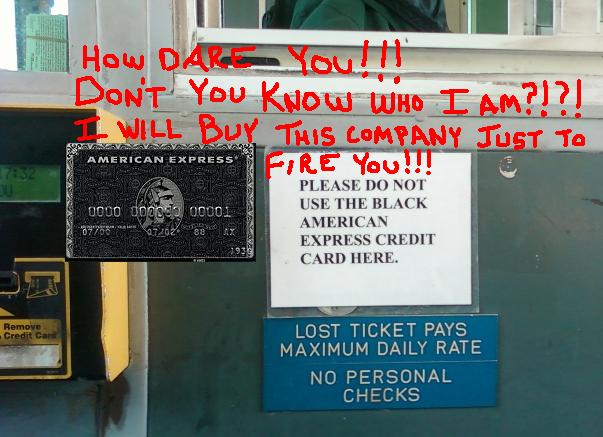 This is baffling! First, this is the first public mention that I have EVER seen about the Black Card, AND it is telling people NOT to use it! Clearly, there are SO many Black Cards floating around Rich Country, USA that they had to post a sign about it. The only thing that I can think of is that the Black Card is made out of Titanium (seriously, it is) and that I've heard it is slightly thicker than other cards and that maybe it was jamming the machines. Even so. Black Card. Instead of demonizing these princes amongst men, the airport parking commission should have a tuxedo'd attendant standing by solely to accommodate any Black Card paying needs!
So we get to the hotel around 5:50 and are told to meet in the lobby at 6:15 to head out to dinner. Of course, this means that I spend FAR too long trying to figure out how to get my new iPad2 – oh, that's right! I got it! And, AWESOME! More to come... -- connected to the hotel's WiFi. And, as much as it pains and humbles me to admit it, I broke down and called Darryl for help. Yes. There. It's out. Kind of like pulling off a band-aid or removing an oversized pee-pee catheter; you've just got to do it fast and get it over with and deal with the pain and humiliation later. I can only be thankful that Darryl has given up on his short-lived blog because I can only imagine how he would spin my call for help into complete and utter technological incompetence. And I'm not sure that Darryl actually told me anything I didn't know, but rather just shamed my iPad into finally just connecting. It's really his most effective motivational technique. Also, sitting on my bedside night table was this little blast from the past: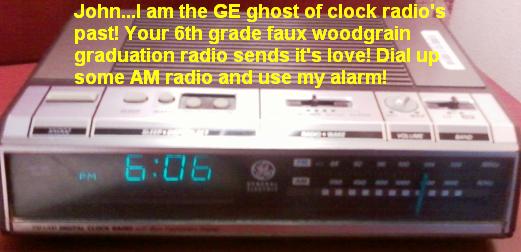 So, I arrive in the lobby like 10 minutes late and the whole gang is there. We head off to this steak house where we have a really good dinner – though, to be honest, I think I am preferring my new steak preparation. Seriously, I have totally got the broil-in-butter thing DOWN. Also, this is a fancy restaurant. When someone – OK, that someone is me – asks for bleu cheese stuffed olives in their martini, try not to react like I've just asked you to bring me the head of Alfredo Garcia. It's not THAT unusual a request. I'm starting to question this town what with its Black Card hating and whatsuch.
At dinner, I'm sitting next to Jason Knott, editor in chief of like EVERY publication that competes with Jeremy G, so as much as he's a sworn enemy (kidding) I find that we actually have a lot in common. Turns out he loves bleu cheese stuffed olives as well! Well, no. Not that. But he DOES love the Twilight Zone and he is like one of the ONLY other people that I've ever met who has EVER seen this old Japanese TV show called "Johnny Sokko and his Giant Flying Robot"! (The other is Dani from Runco, who must have been like -10 when I was watching it.) I know this means nothing to you, but that is like one of those memories from your past that NO ONE else remembers to the point where you start to wonder if you just invented it and are actually living in a quiet, safe place, sitting in a corner rocking back-and-forth and staring at your Thorazine drip. Remember how I said that Donald Duck in Mathmagic Land was a California school thing? Well, Johnny Sokko must have also been a California TV thing. PLEASE---if you have ever seen this show, comment it out for me! "This is Johnny Sokko calling Giant Robot! Come in, Giant Robot!" Sigh...
So we head out to the parking lot, and this older Asian gentleman walks up to me. "Are you John Sciacca?"
Now, in my experience, that sort of a question is generally followed by the phrases, "I am placing you under arrest" or "You've just been served." (Sidebar: I actually HAVE been served. It was when I worked at the Country Club. Some lady was browsing through the Pro Shop and I walked up to her and asked if I could help. "Do you work here?" "Yes I do." "Are you a manager?" "Well, I'm one of the golf pros, so I guess so." "Here. You've just been served." Pow!) So, since there weren't really any women sitting near me at the table and I managed to keep most of the in-poor-taste comments directed to Darryl, I'm guessing that it can't be TOO bad, so I admit that, yes, I am John Sciacca. Plus, there's only like 12 of us there, so it's totally gonna come out sooner or later.
Turns out the gentleman is Mr. Chang K. Park, Founder and CEO of URC! He says that he has really enjoyed the blogging that I've done on URC and thanks me and says he appreciates the things I've written. (Swoon! Rainbows!) So, the modest side of my brain says, "Oh, John, he has gone up to every journalist here and said that." BUT, then the other 96% of my brain shouts, "He only came up to you! He singled you out! You're his favorite!" Somewhere an alternate universe Sciacca tweeted #Winning and Foursquared that he unlocked "The Mayor of Awesomeness!" badge.
Got back to the hotel and had a beer with Rob Sabin and Darryl before heading off to bed and then started playing with the iPad and ended up watching like 45 minutes of this 9/11 conspiracy documentary before finally saying, "It's almost 1 AM! What in God's name are you doing?!"
Next day we get an early breakfast at the hotel, where I apparently had a $10 credit for breakfast. So I go up to the bar/counter to order my items and the guy says, "Your total is $11.11" and I mention my credit and he says, "OK. So your total will be $2.66." It's early and I've already admitted that math isn't my best thing AND I'm still waiting on my latte, but, I am able to slowly resolve that $11.11 minus $10 should NOT be $2.66. Apparently, there is an added convenience/gratuity charge that my man was holding out on me.
So we get to the class and get all trained up on the new gear and then by about 2:15 it's time to leave. So, I ask the remaining people if they wouldn't mind standing for a picture, so I could show you the Boys Club of AV. (Sorry, Julie. I lied; there IS a boy's club after all!)
I know I've mentioned a lot of these guys before – when talking about how incestuous this A/V writer world is and when a fellow journalist passed away recently – so I thought you might want to put a face to the names. Plus, some of you have questioned if a character as truly insidious and cruel as I've described Darryl could in fact actually be real and not just some amalgam of evil and snarkasm that I've created as a literary foil. (And yes, that is an absinthe fairy on Darryl's shoulder. Apparently she travels along with him now wherever he goes, whispering whimsical and dreamy things into his ear.)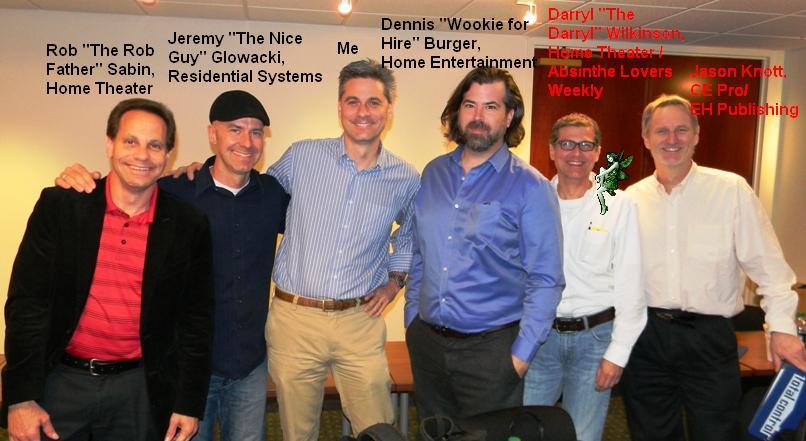 Apparently everyone else in the class had really early and easy flights back home. Everyone except for Dennis and I that is. We started this journey together, and apparently we were going to end it that way. And when you live in giant metropolis cities like Myrtle Beach and Montgomery, Alabama and you are flying out of an airport which literally doesn't even have a numbered gate, your flight options home are sparce. But, that was OK because Joe took us to this cool brew pub downtown called Lazy Boy Saloon, where they had a beer menu that was seriously like 5 times the size of the food menu. Though, the joke was, literally EVERY bottle that we picked was out of stock. I think they just printed up a list of every beer in the world, threw it in the menu, and then whenever anyone didn't order something like a Bud or Sam Adams, they'd just walk back in like they were checking, grab a smoke, maybe throw some darts and then return and say, "Sorry. We seem to be out of that one. Why don't you try something from the draft menu?" But, even so, tried several really good beers and learned that Dennis is a master frickin' brew-knowlogist. (Apparently Alabama laws prevent him from actually brewing his own beer. Which, having seen how worked up Alabamians get over things like Auburn vs UNA football games, not allowing them to make their own alcohol *might* be in the state's best interest.) But he has an Encyclopedic knowledge of different beers and he worked the beer list like a conductor. Well, a conductor that is apparently missing the majority of his orchestra and just needs to stick to the draft menu.
So, made it home safe and sound last night at just this side of midnight, and am back at CTA today ready to continue pushing the giant stone wheel back up the hill.  
Categories: May 2011, CTA, Electronics
/