Shopping Cart
Your Cart is Empty
There was an error with PayPal
Click here to try again
Thank you for your business!
You should be receiving an order confirmation from Paypal shortly.
Exit Shopping Cart
Features, Reviews and a Blog by John Sciacca
| | |
| --- | --- |
| Posted on May 14, 2011 at 2:06 PM | |
OK, so the other day I traveled to New York for that event at URC. (You read about it, right? It's here if not...)
So, I'm going to be honest, I don't really turn my phone off on the plane. I know, I know, but I just *seriously* doubt that Lady Phone has enough anything power to actually affect the in-flight communications systems – it can barely connect to my laptop from 2 feet away – and it is just a hassle to turn it off and then remember to turn it back on again and whatever. Plus, you don't get ANY reception during the flight except for maybe the first and last 2-3 minutes when you are taking off or landing.
So, as we are landing, I get the little pocket buzz-buzz-vibrate of a received text message. So I look and I've received TWO messages. The first is from Darryl Wilkinson informing me that he has arrived at the airport and instructing me to look for him at the nearest absinthe bar. The second doesn't have a name and is from a +1305 number. Now, I get a good deal of spam, and it isn't totally out of the question for me to get weird texts on my phone.
This is what the message says: "Can you provide 75,000 HDMI 2 meter cables for $2.00 each probably 500,000 per year. Let me know. I'll introduce you."
500,000 per year at $2 each – mathy-math, carry the one – holy crap! That's a million dollars! Not exactly the kind of unsolicited offer I normally get. OK. Not the kind of offer I get any kind of way, even when I'm posting up on eBay and Craig's List, "Have $1MM worth of HDMI cables for sale! Serious inquiries only! Check my feedback! 99.9999% positives! No Western Union!"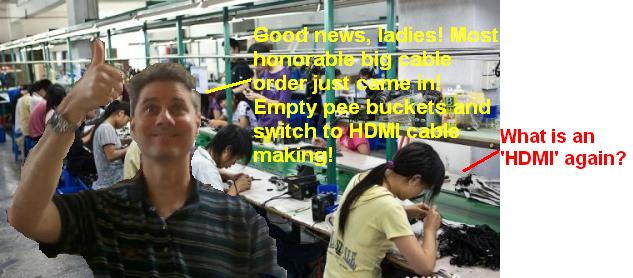 But after the initial rush of what I'm going to do with my million dollars worth of cable monies – buying Polo ponies! Fractional ownership in a jet! Quit work and follow They Might Be Giants around! -- I start thinking. And what I'm thinking is "Hmmmm... That seems kinda weird." And I'm thinking the number is an international call or something, like maybe the +1 is some kind of country code and there is a concern in China that is looking to outsource their cable production needs.
Or like maybe they think I'm some kind of giga retailer that is going to be able to flood the market with low-end cabling. Like my boys over at Golden Bada Projection Screen. Or maybe the guy Vip at met at the Ingram-Micro Expo who sells TONS of stuff on Amazon.com for like pennies over cost. Either way, I wasn't really sure what the message was all about, but was *pretty* sure that I couldn't procure 2meter cables for $2 or that I want to be on the hook for a half-million of them.
So a couple of days go by, and then yesterday my cell phone rings. With the +1305 number. OK... So I answer it and the person just says his last name. It turns out that I DO know who this is and immediately recognize him. I figure he is calling to rib me about something I recently wrote about his company. So I say hi and then he launches into this immediate, "I sent you a text and you never responded. Do you want to sell 500,000 HDMI cables for $2 each or not?"
"Oh. Wow. Yeah. I got that text but didn't know who it was from. I'm gonna, uh, have to do some, uh, checking to see if I can, uh, do research into, uh, getting those kinds quantities for that, uh, price."
Then he says, "Wait. You sound familiar. You sound like Sciacca."
"Well, this IS Sciacca."
(Long pause.) "Oh, boy! I dialed the wrong number. I must have sent that text to the wrong person too."
"Yeah. I got it and didn't know who it was from. You know, I don't really sell cabling like that."
"No, see, I have a friend that has an HDMI manufacturing facility in China and his name is right before yours in my phonebook. I was trying to steer some business to him. OK. Well, sorry. Bye."
And just like that, one million bucks gone! It is just like they say; easy come, easier go. Since my writer pal, Geoff Morrison, says that all HDMI cables are the same, be on the lookout for a market flooded with sub $5 2meter models coming soon...
/