Shopping Cart
Your Cart is Empty
There was an error with PayPal
Click here to try again
Thank you for your business!
You should be receiving an order confirmation from Paypal shortly.
Exit Shopping Cart
Features, Reviews and a Blog by John Sciacca
| | |
| --- | --- |
| Posted on May 29, 2011 at 7:55 PM | |
As I write this, I am some 35,000 feet up, sitting in the cozy bulkhead row seat 10A on US Air flight 1482 from SFO to CLT, drinking a Seagram's Ginger Ale, passing over what looks like the snow-filled Rockies and keeping the last of my California vibe going by listening to "California" by Phantom Planet on my iPod ("We've been on the run, driving in the sun, looking out for number one, California here we come, right back where we started from. Hustlers grab your guns, your shadow weighs a ton, driving down the 101, California here we come...")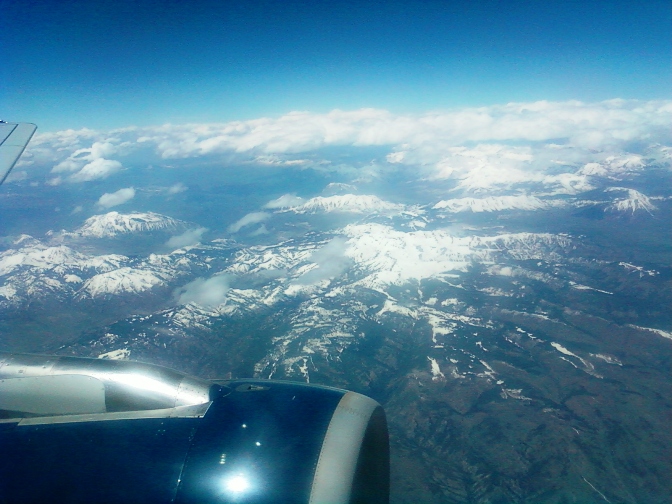 In keeping with my "will travel for food" (or, probably more accurately, "Will travel and then write for fare and board") I was out in California the past few days covering Control4's THE Tour event for Jeremy at Resi. And, for future reference, when booking a plane flight into an event that says it is being held in "San Francisco/Fremont" take that to mean that it is *actually* not going to be in SF at all but rather entirely in Fremont which is like 1.5 hours from San Fran, and book your plane travel into Oakland which will make it significantly more convenient for your friend/brother to deliver you from/to the airport.
I figure it's been almost 3 years since I was last in the Bay Area. My last trip was to cover the pre-launch of the last Star Wars video game, "The Force Unleashed". So it was definitely nice to be back on home turf for awhile, and it doesn't take very long for all of those old, "I love you, California! Why'd we ever break up? Let's try to make this work!" feelings to come flooding back. Though as the plane broke through the last bit of cloud cover right before touching down, it was clear that it had been raining for some time. What?! California! You don't get rain! For the 20+ years I lived there it was eternally in drought conditions. Either too little rain, the wrong kind of rain, too much rain too quickly or the rain in the wrong place; didn't matter, drought. Cali, don't pick today to try and fix years worth of water conservation!
So, my friend, Dan, picked me up from the airport, and I will say, even though I do a good bit of travel and am well used to arriving in strange cities alone and unescorted, there is something just *so* welcoming to walk out of the flight area and see a familiar face there waiting for you. Ahh, welcome home indeed! Big hugs!

So Dan drives us to lunch at this restaurant in what I assume is the Little Italy part of San Fran, and when the bill comes, I valiantly grab it and say, "Dan, thanks for picking me up. So great to see you! My treat!" slapping down my AmEx card. Unfortunately, the joke was on Dan because the waitress came over and informed us that this was a cash only restaurant, and, 1) unfortunately I neglected to travel with even a single paper money and 2) Dan ended up having to pay for the whole thing. Uh, sorry... Thought that counts? Maybe? A little? After lunch we headed for a cappuccino and it was clear from the look of the barista's tattoos that he wasn't going to be in any credit card taking mood either. So, thanks for the caps also, Dan!  
After lunch we headed back into the East Bay and to Dan's house near my old stomping grounds, passing what is oddly one of my favorite stores, "Elite Tile." No, I have never shopped at or even been into Elite Tile. No, I have no special affinity for tiling retailers. I just love it because they have a fair-sized sign off the freeway and I love that their name is a palindrome. Hung out with Dan and family for the afternoon, shot Dan's airsoft rifle – WAY fun – and Dan's wife, Colleen, whipped up a characteristically fast, impromptu great dinner of artichoke and sweet and sour chicken (not like artichoke AND sweet and sour chicken, but we had both an artichoke and...you get the point) that included inviting over some other friends that I hadn't seen for years. (A guy name Jim and his wife, Donna. Jim works for Chevron where it sounds like he is some kind of responsible for the final steps of adding the top secret droplets of Techron to the finished gas right before it is tankered away, transforming regular, every day gay into Chevron with Technron. For future reference, Jim definitely seems to have a very limited number to the amount of Techron-related jokes that he will remain amicable and good natured for.)
After dinner we once again jumped into Dan's truck and he ferried me out to my hotel in not-anywhere-near-San Francisco, Fremont. Checked in and hit the bed just shy of 2 AM East Coast time, ready to start my Control4 training the next day...
Categories: May 2011
/