Shopping Cart
Your Cart is Empty
There was an error with PayPal
Click here to try again
Thank you for your business!
You should be receiving an order confirmation from Paypal shortly.
Exit Shopping Cart
Features, Reviews and a Blog by John Sciacca
| | |
| --- | --- |
| Posted on May 31, 2011 at 4:40 PM | |
Like all good things, my Cali adventure was bound to come to an end. And like most things John-related, this trip could not, of course, go quietly and/or softly into the night.
My brother graciously volunteered to drive me to the airport to make my morning flight. This was extra special nice because BART apparently doesn't start running until 9 on Sundays meaning that I wouldn't have been able to make it anyhow. Plus, you know, what with neither of us having any cash and all... 
I've mentioned before that I roll AmEx Platinum card style and how there ain't no perks like Platinum Card perks. (OK. The Black Card perks are better. Well, at least from what I hear...) One of the new AmEx Platinum perks is this complimentary membership into something called Priority Pass that gives you access to pass through the velvet lined curtains of many airport lounges. (OK, it's usually just a regular door. Sometimes it's a glass slider.) (And seriously, if you fly more than like 4-5 times a year, you owe it to yourself to get a Platinum AmEx. The travel perks are totally worth it. Yes, even if it ends up costing you like $23.50 for each amortized airport lounge glass of cheap red wine. STILL worth it.)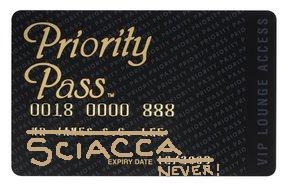 Normally I'm limited in my lounging visits to the US Air and outside of Charlotte – where they have like 10 of them – they are hit and miss. I think US Air got all excited on CLT lounge building and then realized there were like a million other airports that they should have budgeted for. So, the sum total number of US Lounges in SFO, San Francisco International? Zero. But this Priority Pass thing has an iPad app, so prior to heading out I borrowed my brother's iPad and checked the SFO lounge room situation. Turns out there is an Alaska Airlines Board Room near my gate and that according to one Yelp! reviewer, they have some kind of witchcraft known as an automated pancake making machine! I don't know what kind of devilry this is, but it definitely demands looking into further!
So we're driving the airport and my brother is mentioning how he can't find his iTouch, where is his iTouch, have I seen his iTouch, and lastly, I hope my wife doesn't accidentally run my iTouch through the wash. (Foreshadowing...) So this gave us plenty of time to listen to the heavily Latin, Asian terrestrial radio programming available in the East Bay. You might think that being near Berkeley and San Fran would get you some good decent programming, but it takes a better man than I to discover it on Sunday morning.
We make it to the airport in good time, say our goodbyes and I get to the line for security which is absolutely brutal. It is winding around and around – like a record baby, round, round, right round! – and up and back like something out of summertime at Disneyland. I am in line for Space Mountain and there is no Fast Pass. So I start walking towards the end of the line but it is seriously growing faster than I can walk towards it. Imagine what infinity feels like. I finally get to the end and stand there as I watch my precious pancake time tick-tocking away. Forty-five minutes. That's my time in line. Oh, and I get up near the very front and there is this branch off for Elite members vs regular airline chattle. So I figure, "Hey. I'm Elite. I'll take that!" The line looks WAY shorter. Ha! Hit 'em, Shy Ronnie! But the joke is once again on me. Turns out the Elite lane has a single ID checker and a single X-ray scanner, versus 4 in the other. So, once again, I choose poorly. (Though, if you are averse to having your man bits revealed during a backscattering, the Elite line APPEARS to completely bypass that. So, takes your pick...)
I finally get through the line and have like 10 minutes left until I'm going to be called for boarding. Pa-lenty of time for whatever the Board Room has to offer. So I breeze in and lo and behold, there it is: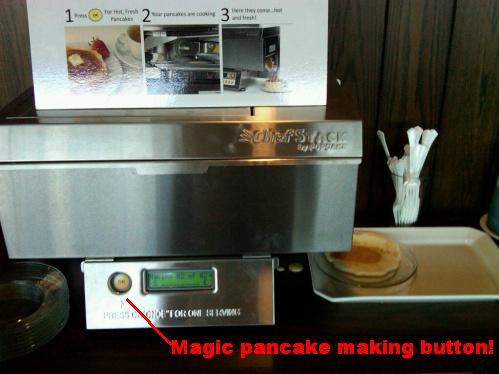 A frickin' pancake making machine! This thing might just free up one or two wishes if I ever find that genie in a bottle! Ya push the button, ya gets ya cakes. Just like that. I scarfed down two of them and made myself a latte – a sad, sad substitute for the luxo latte I had enjoyed the day before, with nary an artistic swirl to be had and the flatulent fizzle of automated milk foaming a poor substitute to Dan's latte commentary – then I see a little sign indicating the free beverage selection. What's that?! Gordon Biersch Pilsner?! Holy awesome!!! Normally the beer selection is Bud or Bud Light. (Delta Crown Room's usually offer a nice local option on draft. US Air however sticks with the cheapest macro brew it can find.) So I ask the lady if they bring the kegs out at lunch and she says that they are in bottles behind that counter. And they are available any time. And that if someone wanted to have a beer in -- she paused to dramatically check her watch -- the morning, they could. (Though her tone was saying that that someone might also want to check into Al-Anon when they were finished if they were so inclined.) I asked if I might take a couple of Gordon travelers, but unfortunately they were for in club consumption only. Damn! Till we meet again, Alaska Board Room...
So I work my way to my non-upgraded-to-First-Class seat and work on my laptop until the battery dies and then as we're starting to arrive and taxi I notice that it's gonna be a close one to make my next flight. And despite the PA announcement of, "We have several passengers who have very close layovers, so if you are able to wait while others pass, that would be appreciated" it was exit as usual, which is a crippling, novice passenger take down luggage as slow as possible and rearrange all carry-on items, death march. Didn't get off the plane until 7:25, and my next flight started boarding at 7:19. Oh, and added bonus…I'm in Gate A and have to gerrymander myself over to E. So hustle-hustle, I make it to find that…plane is delayed by an hour. So I call Dana. "Good news and bad news. Good news, I made it to my next flight on time. Bad news, the plane is delayed at least an hour."
So I work my way back to Concourse C where the nearest US Air Lounge is located and grab this, or what is what I like to refer to as "dinner." (Oh, and they were out of regular Bud, so I had to settle for the Light. Sigh...)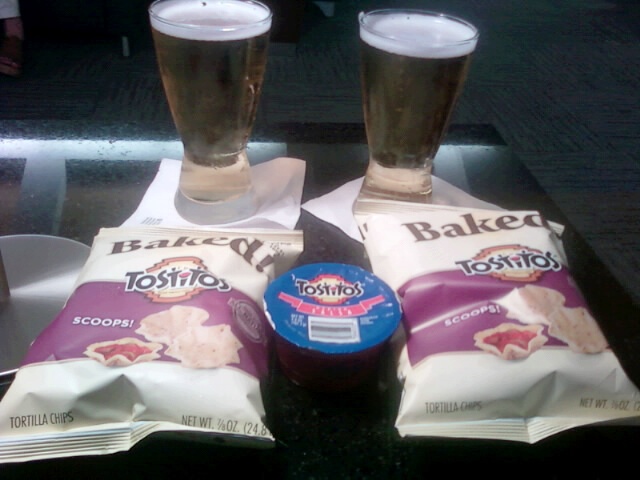 I'm sitting there, eating, drinking and minding my own when there is an announcement. "If there are any passengers on the flight to Myrtle Beach, that flight has just been cancelled. Please see an attendant for rebooking." Lame! So I head up to the front desk and am rebooked on the new flight…which is two-and-a-half hours later. Call Dana. "More good news and bad news. Good news…I'll definitely, probably, very likely still be home tonight. Bad news, it won't be until 11:15." However, this is another case where the lounge is indispensible. Think about it. Cancelled flight. That was holding some number of people. Already scheduled flight, that is already filled with some number of people. Are the enough seats to accommodate everyone? Who knows. You want to be the one that finds out last? Not me. I want to get home tonight and not try and battle it out over whether the nature of the delay was mechanical or weather or act of God or crew time out or warm off-shore breezes. The lounge has like zero line and priority rebooking and has saved me from strandedness like three times. So, get that AmEx card, right?
Left California at 11:15 Pacific, arrived home in Myrtle at 11:15 Eastern. Long, loooong, day. Nice to visit, but nicer still to be back home. Then got a text from my brother. How can you resurrect an iTouch that has been through the wash? Sounds like a crisis for Genius Bar. 
/