Shopping Cart
Your Cart is Empty
There was an error with PayPal
Click here to try again
Thank you for your business!
You should be receiving an order confirmation from Paypal shortly.
Exit Shopping Cart
Features, Reviews and a Blog by John Sciacca
| | |
| --- | --- |
| Posted on June 2, 2011 at 5:48 PM | |
OK, so... The last 24 hours has been some kind of Internet maelstrom here at the blog. And, well, I'm not exactly sure just *what* happened.
Take a look at this graphic to see what I'm talking about...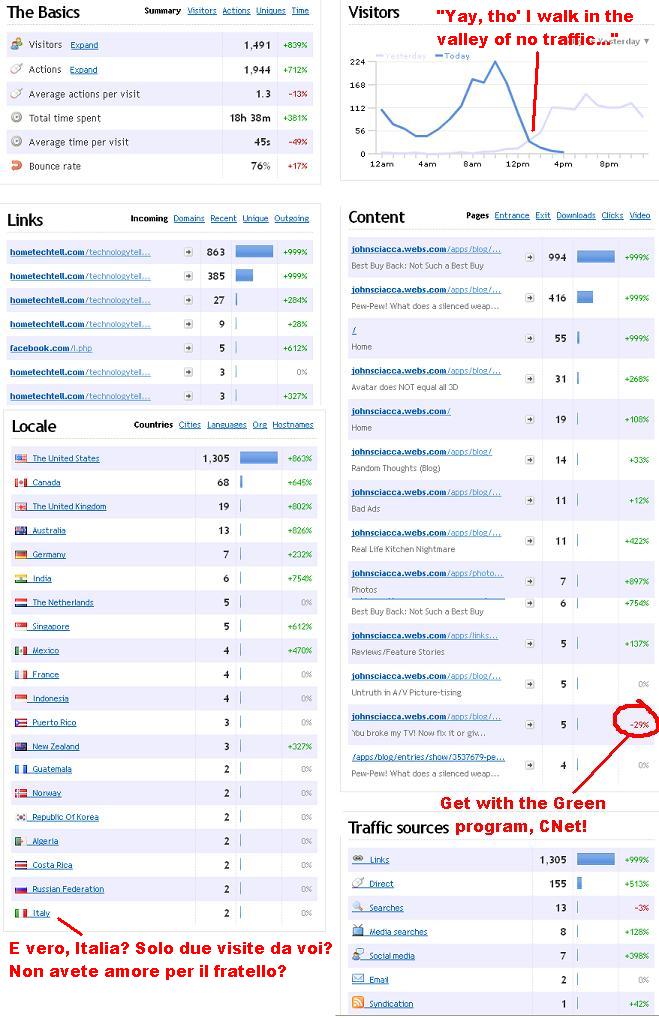 That Mt. Kilimanjaro meets Mont Blanc mountain peak creating a cold, sad and lonely visitorless valley pretty much tells the whole tale. Things were fairly normal around noon yesterday where I had a pretty bloggie-typical 12 visits during the hour. Then started picking up at 1:00 when it jumped to 30 visits; busy but nothing too outrageous. Then 52 at 2:00 and then it just jammed on the gas and went steady numbers of 100-plus visits from 3:00 until midnight, then picked up again 7:00 this morning and maxing out at 224 visits at 10:00 AM today. It was as if my blog were out standing on a street corner in Manhattan; wearing a sandwich board and using a megaphone to shout, "LOOK AT ME, WORLD! I'M A SOMEBODY! READ ME! NOW!!!" Then, as quickly as the flood gates were opened, they were cut off. People grew tired of my shouting, sandwich board wearing blog and started hurtling glassware at him as they drove by in their cars speeding off to some other newer, hipper destination almost exactly 24 hours after whatever it is that started, started. It's like Keyser Soze; come 12…poof! It just vanished.
I ended yesterday with a total of 1179 visitors. As I write this today, I've had just under 1500 visitors. Sure, that is probably like ten minutes or so worth of MSN, and like 15 seconds at Google, but for me that is SICK traffic. Organs liquefying and blood pouring out of all orifices sick. To put it into perspective, I generally average around 100 visitors daily. My biggest previous day EVER was just shy of 300. And that was on a day where I was *actively* trying to promote traffic, asking all my friends and PR pals to tweet a particular story about more reasons why I hated 3D. Quadrupling and then quintupling traffic is no small increase, so you would assume that all of this came from...something. But, no. And despite what Darryl Wilkinson postulated, it wasn't all traffic from people coming to read about him. (Though few in number – VERY few – the Darryl fans are fiercely loyal. And equally mentally unstable. The Darryl haters, on the other hand, drive up traffic in steady, predictable numbers.)
Since I can see where everyone comes from, it was clear that almost all of the traffic was being referred by HomeTechTell where I've started reposting some selected blogs for Head Wookiee for Hire, Dennis Burger. (The pay is pretty sweet though; if I reach 10,000 impressions, I get $10; $15 at 15,000 and a whopping twenty whole dollars at 20,000. Oh, spoiler: No one has EVER reached the 10k number...) And most of the traffic – 994 visits for a story bashing Best Buy and 416 from a story where my SEAL cousin explains silenced weapons – was coming for two stories that I posted for Dennis several weeks ago. These things barely registered a blip when I first put them up, so why blog flash mob read now?

As much as I loved the attention, I kinda couldn't believe it. This was my first month working for HomeTechTell...maybe as the month rolls over their server freaks out and regenerates ALL of the traffic from the past month. So I checked in with Dennis with a little late night texty.
"Is it possible that your server is having a 1st of month reset freak out and just regenerating all the traffic from last month? I just CAN'T believe that at noon I had 12 visitors and from 1 on have had a STEADY stream of people from hometech..."
"Wow! I'll check the analytics on my end and see what's up." Minutes later. "Umm...Google says it's so. Nearly 3000 uniques today alone. 600 of them are your article. Looks like they're coming in from paid.outbrain.com. ?!"
Who are you, paid.outbrain.com? Where do I send the thank you gift basket? And how can I get back on your sweet-sweet radar?
Categories: June 2011
/