Shopping Cart
Your Cart is Empty
There was an error with PayPal
Click here to try again
Thank you for your business!
You should be receiving an order confirmation from Paypal shortly.
Exit Shopping Cart
Features, Reviews and a Blog by John Sciacca
| | |
| --- | --- |
| Posted on June 9, 2011 at 4:29 PM | |
A while ago an installer whom I respect called me up and asked if I would be willing to come in and help him out on a job he'd inherited. Apparently he had taken over some large project because the original install firm either couldn't, wouldn't or shouldn't come back and finish, I'm not really sure. Look, I have enough drama and pool leakage issues going on in my own life to get all swept up in those of others. The Army really nailed it with that whole don't ask, don't tell thing. Anyhow, this guy, whom I shall call The Dude because, well, he used to totally remind me of The Dude, with his crazy hair and beard, is used to dealing with high-end, big, BIG ticket sales. Sales with many zeroes and commas. Customers that dispatch private jets to fly him to their estates for quick service and repair. And he was more used to dealing with systems that began with "Cres" and ended with "tron" that could be remotely accessed and logged-into rather than the Elan system that was residing in the home. But since we had actually met many years back at an Elan training, he knew that I was up to speed on it and could at least come in and make heads and tails of the system and make it work for his client, thus making him look like a winner. Plus, the system required some special programming hardware only available to dealers – ie: me -- so, here we are...
Plus he hit me with the kinds of infos that I likes to hear. "This guy will pay you whatever it costs. Travel, labor, parts, however many hours of programming, lodging, whatever. He just wants to get it fixed and he's not worried about the cost and he's coming back into the country and I've got to get someone in there to get it up and running."
So I gather up a couple of laptops and some programming hardware and jump into a van with one of my techs and we head off the three hours to Kiawah Island. Now it has been awhile since I've been at Kiawah. In fact, the last time I was there was in 1991 to watch the Ryder Cup tournament with my old golf pro boss, Bud Grant.
(Quick tangent. OK, maybe not so quick... So it's like a Saturday at the golf shop and it's clear that it's gonna be a close one on Sunday's final play day and Bud calls up and says, "John-boy, how 'bout you get your cousin to close up the shop and we'll drive down to Kiawah tonight and be there first thing in the morning to watch the Ryder Cup?" Of course I say, "Sure thing, Bud! Let's go!" So we drive for hours and get to the tourney and it is one of the most intense events I've personally witnessed. We were standing immediately behind Mark Calcavecchia – to be known as Choke-avecchia that day – and were on TV when he straight, cold topped his 1-iron into the water on the brutal Ocean Course's inhumane par 3, 17th. This from Wikipedia: "[Calcavecchia's] performance in 1991 is most remembered, as he lost a four-stroke lead to Colin Montgomerie in the last four holes of his round. Thinking he had cost his team victory, he famously broke down in tears." And we were right there! Intense! And when Langer set up over that 6-footer to win or lose on the 18th, you have never been amongst such a silent crowd. Man! It was intense! Oh, and I stumbled across this video from the YouTubes where you can watch the 4 hole meltdown and catch a glimpse of Rugby Shirt wearing John around three minutes in. Here's a grainy screen cap... I'm not sure whether to be proud or embarassed that I *still* own that Rugby shirt. Sadly, the blue Revos have long since perished. And who would have thought that someone had a 20 year old VCR tape lying around that they'd upload to YouTube?! Just goes to show that *nothing* you do every really goes away. Let that be a lesson to all you sexters out there, Congressman Weiner!)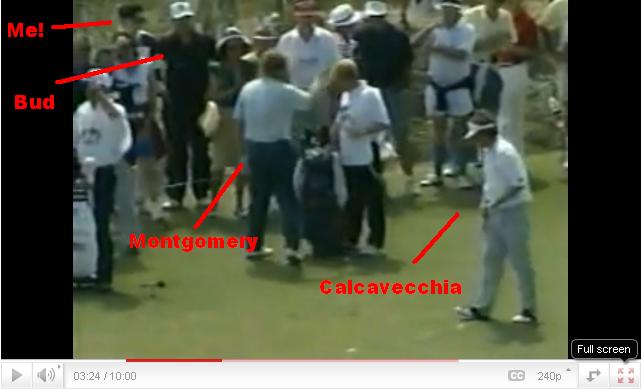 So we pull into the gates of Kiawah and it's obvious that this is not only how the other half live this is WHERE they are living. These houses are gigantic. Like everyone is trying to buy multiple oceanfront lots to one-up the other guys big. So we make it into the house and from the pictures on the guy's mantle, it is clear he is some kind of powerful big wheel. There are signed photos of him standing with Tiger and Mickelson. And not the typical, generic, "Hit it straight--Tiger" type platitudes. But arms around shoulders, "Really looking forward to working together! Thanks for everything! Phil" type stuff. But right from the get go, it's obvious that just because our man has "CEO" after his name, it doesn't mean he got his house all properly tech'd up. Here's what is at the front door:

Massive wall clutter! And not even cool looking new decora switches, but old school flip switches with labels! That's so not multi-million dollar housing! That's not even sub half-million dollar, Sciacca housing! (You all know how I do!) Man needs to get on the Lutron trolley! Replace all that with one hot, sexy, mama keypad. Seriously, wouldn't that look just imminently cooler if it all just...went away...and was replaced by this sexy beast?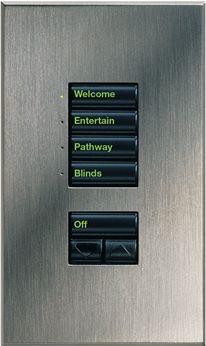 No more flip-flip-flip switching. Press one button, all lights come on to the right level every time. Now that's what living in Kiawah is all about!
So, we walk around the house and get a lay of the land and a tally on the keypads and touchpanels and speakers and they all seem to power up but just don't do anything. Hmm. OK. Maybe something has just locked up or has come unplugged. No big. So we head off into the electronic's room and at first things look pretty ship-shape. All the gear is nicely racked in; the rack is a model that pulls out and then rotates for us to get behind and access all the gear and wiring. The wiring all looks nicely dressed and is terminated to length and bundled and there are some rudimentary labels on it. Good, good.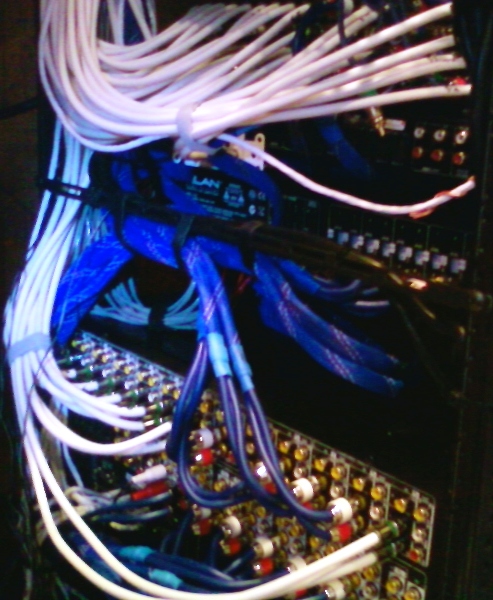 So I start looking and find the back of the control processor; the SS-1 in Elan speak. The component that handles all of the communications to and fro and tells everything what to do. And what the...?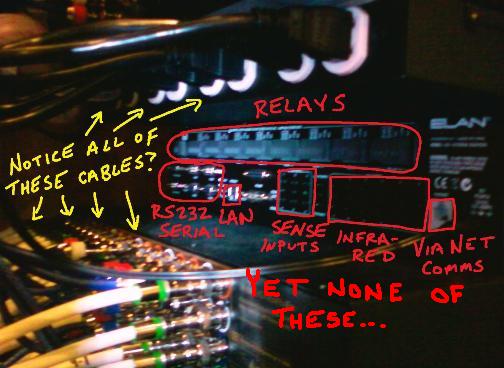 There's nothing connected to it! No-THING! It's just in the rack as an apparent space holder or something. That's weird. Like really weird. Then I look down and I see this total jumbalaya, rat's nest of mini-jack cables just all clustered up at the bottom of the rack. And what have we here? Oh, just ALL of the emitters that make everything work via Infra-red, that's all! Nothing important. Don't need to plug any of them in. Well, not unless you want anything to work, of course.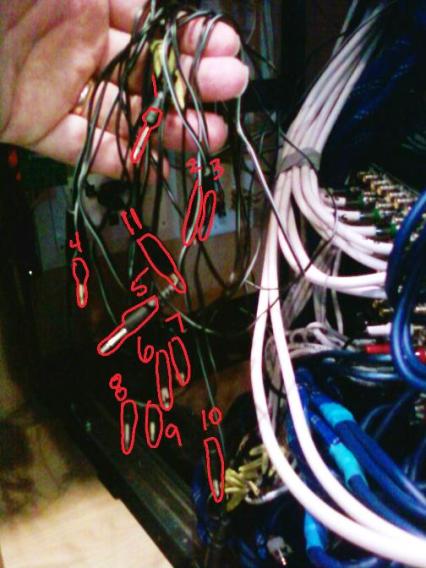 It's bizarre. It's like these other installers got 95% of the way there with the finish line right in sight, and then just decided to never come back. Or got pissed at the guy and ripped out all of the control wires so it wouldn't work. Or maybe they got to the end and realized they didn't know how to program. Who knows. (Remember, I'm not asking OR telling!) So we spend like 5 hours getting everything reconnected to the rack, identifying all of the speaker pairs and amp channels and touchpad controllers and re-working our program and taking notes of all the items that we're going to need to bring back on our next trip now that we know what we're dealing with. So we come back and spend another full day programming and testing and troubleshooting and determine that the amp has some channels out, the iPod dock isn't working and some of the touchpanel communication is off. 
So I tell The Dude that we're gonna need to get some stuff repaired and replaced and he says, "Don't worry about it. Just send me a bill for everything that you've done so far. He decided he wants to be able to use his iPad to control everything, so we're gonna just rip out all that Elan stuff and replace it with an entirely new Crestron system."
"Uh, OK..." Total hours billed including travel: 23.75. Total amount of satisfaction derived from getting the client's check: 0.0. Percent of time wasted on this endeavor: 100.

Categories: June 2011, CTA, Electronics
/