Shopping Cart
Your Cart is Empty
There was an error with PayPal
Click here to try again
Thank you for your business!
You should be receiving an order confirmation from Paypal shortly.
Exit Shopping Cart
Features, Reviews and a Blog by John Sciacca
| | |
| --- | --- |
| Posted on June 15, 2011 at 12:35 PM | |
Without a question, my favorite tradeshow is CEDIA. Though, to be fair, I've only really attended a few other tradeshows with any regularity, so my sample pool is probably highly skewed. And I'm sure that if I ever get an invite to "Lamborghini Expo" or "Drink! The Napa Valley Wine-stravaganza!" or ever went to "Star Wars Celebration" or the comic book geekfest which is "ComiCon" or the Cannes film festival or even the videogame super-summit "E3" – OK, apparently CEDIA is actually quite low-low down on my list of favorite actual and imagined tradeshows -- I might have to change my tune, but, for now, of the tradeshows that I have routinely attended, CEDIA is my favorite.
And while I am not entirely a passive participant at CEDIA – I am writing about it for heaven's sake, almost in real-time as I worked for Jeremy G last year on the Daily, which, as I've said before, feels more like the Hourly. It is a grinding, endless slog of rush off to press event, write while at press event, make edits while running back to Daily room, immediately hand over copy, make some comment about how brilliant what you just turned in is, and run of to next press event to start process over. I think if they could fully trust that I wouldn't go all Sciacca-off-the-reservation in my writing and throw in something *totally* inappropriate -- and if you know Jeremy, then I can assure you they never will, and...can you blame him? --  they would probably find a way to just let me live-link directly into the printer so the words would just go straight onto the Daily even as I type them. And even THEN there would be calls of "Deadline! Where's my copy!" and Kirsten clamoring for the cup of coffee that will not come... -- I have never really been a "part" of the Expo.
(OK, minor digression... One year, believe it was 2007, Sound + Vision decided to host this thing called the Tech Den. And when I get to CEDIA and I'm all mapping out my week's events and what I'll see and cover, they're all, "Oh, we have this thing we're doing called the Tech Den. And we're going to host some discussions there. And you're going to lead them. So, make sure you clear that time on your schedule. OK? Thanks." Except for maybe without the thanks part at the end. So I hosted a couple of panel discussions on becoming a media savvy installer where I led a group that had been successful in interacting with the media. You can read my column on the event here. Unfortunately, it wasn't very successful. I think there were like 8-10 people in attendance. And that included 3 of my own installers! Even with the promise of a free lunch and beers, I couldn't get people to come! Free frickin' beer, people! That's the holy grail mantra of CEDIA! And this is a crowd of mainly 21-35 year old guys that live for the promise of a free beer! Sheesh!)
But usually my Expo time is spent the way I likes it; and that is wandering aimlessly around and around the show floor exploring and looking for new and cool stuffs and attending demo after demo by day and then out eating fabulous meals, drinking delicious drinks, and spreading vicious rumors about Darryl Wilkinson amongst the press corps all night. (You can read my bloggies from last year's Expo here. Here's my Day 1 post where I'm taunted in the press room by Wilkinson, my Day 2 post where I try and walk the soles off my shoes, my Day 3 post where I trip and tear my pants running to catch a bus, my post where I'm accosted on the street by a LARGE black man, and my tsotchke wrap-up of my CEDIA swag.)
But this year, I'll have to step up my game a bit. This year I've been asked to – drumroll – be a panelist on a moderated discussion! Likely there will be some other press-ey out there having to write down what I say for a change! To that I say, "Suck it, other reporter!" and an equal amount of, "Yay for me!"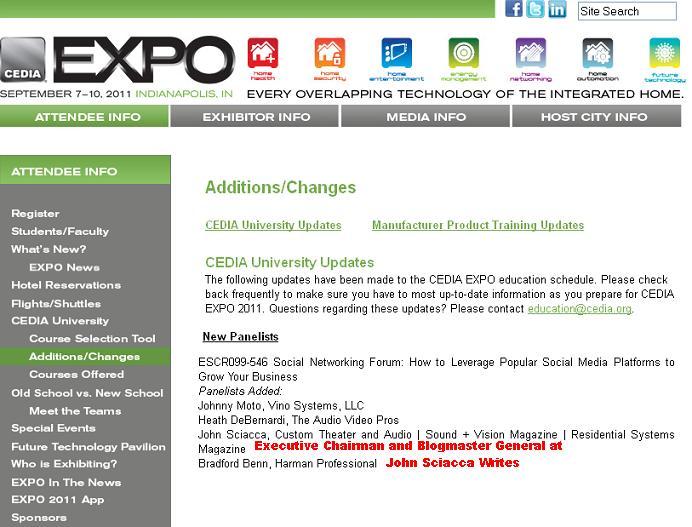 The course is entitled, "Social Networking Forum: How to Leverage Popular Social Media Platforms to Grow Your Business."  Impressive, right? Jam packed full of power words like "Networking" and "Forum" and "Leverage" and "Grow" and then lovingly tempered with the gentle, calming balm of of "Social" and "Media." Here is a description of the lightning round topics:
Social media is officially considered mainstream! How can leveraging these popular social networking platforms such as Facebook, LinkedIn, and Twitter benefit your business? This course not only shows you successful examples, but also explains how social networking can increase brand awareness, discusses the different functionalities of the most popular social media platforms, and shares helpful hints on creating a social presence for your business to keep your community engaged.
At the conclusion of this course, participants should be able to:
• Understand the benefits of maintaining a social presence for their business
• Select social networking platforms that best complement their business model and marketing goals
• Build a social networking profile for their company on Facebook, LinkedIn, Twitter, and YouTube
• Discover methods for sustaining and growing their presence with social networking
Kim Fabiano is one of the moderators of this event, and beyond having scored me some extra parts for some OmniMount speaker wall mounts when she was their PR gal, she now co-runs runs social4media.com and on top of sounding like a really nice girl on the phone and via e-mail, she is also an occasional blog reader, which, as you know, is the direct friend 2.1 path into my good graces. So, she asked me if I would be interested in being one of the panelists to discuss the ways that installers can use and leverage social networking. 
Now, I'll be honest, I'm not sure that I know a whole lot about social networking or leveraging its power. I don't do the Facebooks or the Twitters. I have some kind of presence on Linked In, but that is usually limited to me posting links to blogs I've written or making a snarky comment on someone else's update. You know, exactly the kind of business that Linked In was founded for.

But what I do know about is this blog and how it has helped me to gain a bunch of exposure. (Some of which is actually positive.) And I probably CAN talk semi-intelligently about things that make a blog successful-ish and things that you might want to avoid. And if I can just resist the urge to stand up and shout out things like, "What in the Sam Hill is a Twitter?!" or "Facebook is the tool of the devil! The Winklevoss twins were robbed! Robbed I tells ya!" I should be OK. And, when in doubt, I'll just nod slowly while rubbing my chin and adopting a seriously pensive expression while starring up at a particularly interesting ceiling tile and I should be OK.
Clearly I am going to have my work cut out for me amongst the other panelists. Seriously, have you heard a name more anime-cool and total kick ass than Johnny Moto? That is about the most Hollywood, action star name I've heard in a while. I hope they make him into a Mortal Kombat playable. "Johnny Moto wins...Flawless Victory!" Also Heath DeBernardi? Sounds like the member of some kind of Italian royal family or something. He'll clearly be going after the female demo what with his accent and tight-fitting clothing. (Unfortunately for him, the female demo will probably be exclusively Kim. This is CEDIA after all.) And Bradford Benn sounds kind of professorey, like he could teach history at Cambridge or something and call people "Chap" and "Old Bean." Yes, Sciacca is going to be up against it here to be sure.

If you're interested in hearing what I have to say, or suckling from the knowledge fountain of my social networking teat, or just want to come hoping to catch some kind of horrible Nascar, final turn crash-and-burn, the panel is on Saturday and the course code is ESCR099. I think I'll wear something tweed. Maybe with some elbow patches and an ascot. And a pipe. Yes, definitely a pipe...
Categories: June 2011
/