Shopping Cart
Your Cart is Empty
There was an error with PayPal
Click here to try again
Thank you for your business!
You should be receiving an order confirmation from Paypal shortly.
Exit Shopping Cart
Features, Reviews and a Blog by John Sciacca
| | |
| --- | --- |
| Posted on June 16, 2011 at 4:41 PM | |
You know what really irks me? Besides all of the things that I've previously said that irk me, that is. It's having to tell someone the same thing over-and-over-and-over again. (Now I'm starting to see why Dana gets so upset about the leaving the shoes randomly about the house. It's not the shoes...no, not at all. Who could get mad at shoes? It's the, "Are you ever going to get it through your thick head?!"-ness of it all.)
Now it's perfectly OK to forget something occasionally or to make a mistake; once, maybe even twice but, by God, man, learn from it and stop repeating it, will ya? When I'm telling you something, please do try and be a dear and listen, because when my mouth is all talky-talk it isn't because I like to hear the sound of my own voice, need to work on strengthening my larynx or just need some willing soul on whom to practice my elocution. It's because, well, I'm trying to convey some big bit of importantness that I feel will help us get along better in our future dealings with one another.
And right now, I'm talking to you, UPS! And you just haven't been listening. Even though I've told all of our drivers and called and called and called your 800-PICK-UPS number--  and NO I DON'T WANT TO OPRIMA EL NUMERO NUEVE PARA HABLAR EN ESPANOL! – and told your service people again and again, somehow I can't seem to get my message through. This is me shouting: DON'T COME TO MY STORE BEFORE 10 AM; NO ONE WILL BE HERE!!! Oprima? I mean, comprende?
Our store hours have been 10 – 6, Mon - Sat since we opened Custom Theater back in 1995. (The "or by appointment" is really just to sound all fancy. Chances are that unless there are some *really* extenuating circumstances -- like, you know, you're one of the Kennedys, you desperately need a part to finish some Lucas/Spielberg/Cameron/Eastwood film, you're about to leave town for months on your private jet/yacht combo, or you've had your Black Card Concierge call to arrange a private, after hours viewing -- you'll be directed back to our regular hours.) And, for every one of those roughly 5,840 days, those hours have been CLEARLY emblazoned on our front door. (Admittedly, there were a few days in there where the glass in our front door had been completely broken out during a robbery. Guy cut his hand on the glass coming in and left blood – DNA evidence – on our carpet. He ran in and snatched a Bose Lifestyle head unit and a Sharp 37-inch TV. I told the cops, "Well you can be sure that it wasn't one of our employees." "Oh, yeah? How's that? Because they broke the glass instead of just using a key?" "No, because the Kaleidescape system and flagship speakers are still here and because NONE of my guys would break in a take a Bose!" Months later they DNA matched the guy after he got picked up for something else and now he's doing time. How's that Bose sound now, buddy? Your cell mates, Bubba and Thrust, enjoy listening too? Do they prefer loving you to Marvin Gaye or Barry White, just curious… So, during that day that our glass door was plywood, and then the week when the glass had yet to be tinted and re-lettered, I would accept the "I didn't know your hours!" excuse.)
But for some reason, UPS can't seem to get that straight. So a few times a month, I'll come in to open the store in the morning and I'll see this: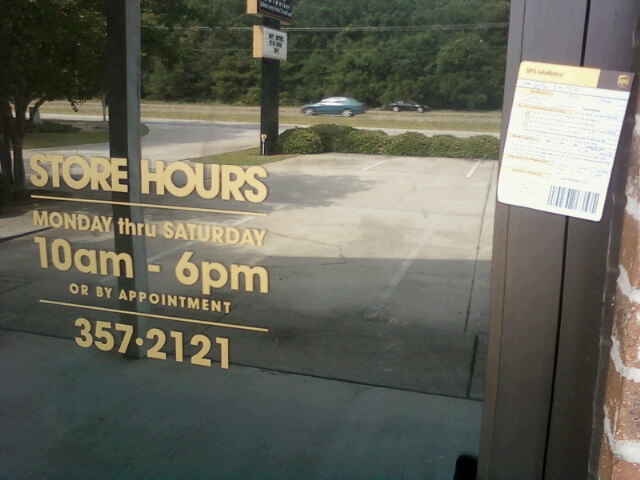 A UPS InfoNotice saying that they attempted to deliver a package and that, oh, sorry, but you weren't open and they'll try again the next day. And many times, they'll "try again the next day" AGAIN before we open. And the real ball-puncher here is that they stick this notice like 12-INCHES from the clearly indicated hours of operation. And in case there was any question, that isn't 10:00 GMT or 10:00 Pacific Standard or any of that mess; we're running on 10:00 LOCAL. So then I have to go and call PICK-UPS and the lady always asks, "Sir, are your hours of operation clearly indicated?" I'm not sure why they even ask, because it clearly doesn't matter. I'm sure just it's just a check box on the form she has to tick-off while going down the list so that she can say she successfully completed another customer interaction per protocol.




Now, UPS, I'm sure you've heard that nifty little financial disclaimer mantra, "Past performance does not guarantee of future results," and you might be thinking that just because no one was here all the other mornings that your route brought you past my store at 9:52 that today, TODAY! will be different. But in this case, I can tell you, virtually every future result is going to end up exactly the same! You come before 10:00, there is almost never anyone here. Sure, a Bud-ism is, "If you're not 5 minutes early you're 5 minutes late," but I'm telling you, UPS, if you are 5 minutes early, we probably aren't here yet. And, granted, there might be that random fluky day where you actually DO catch an installer that had to return to the store to get a part, or that someone was in the back cleaning out a work van, or I might have finished with an appointment early and pulled in around 9:54 or something, but believe me when I tell you, this is the statistical outlier that should not be trusted!




And what's going to happen next is I'm going to purse my lips into a tight, thin, angry white line, I'm going to rip that stupid sticker off the door frame as I stare at the giant 10:00 in our hours of operation, then I'm going to march inside, call the number, bitch to the station lady about how this is constantly happen, that yes, our hours are clearly posted and that no matter how trivial or insignificant or meaningless the package may actually be, that I do, absotively, posilutely need a delivery re-attempt today as soon as is Brown-ly possible. OK? We clear? So, just come at 10:01 or later next time. Thanks.

Categories: June 2011, Rants, CTA

0

/