Shopping Cart
Your Cart is Empty
There was an error with PayPal
Click here to try again
Thank you for your business!
You should be receiving an order confirmation from Paypal shortly.
Exit Shopping Cart
Features, Reviews and a Blog by John Sciacca
| | |
| --- | --- |
| Posted on June 21, 2011 at 11:00 AM | |
I don't often feel like I succumb to the powers and pressures of the marketing juggernaut. I mean, sure, *sometimes* they'll slip one by me, but usually that's when I'm kind of already a willing participant. Like, I already kinda-sorta want it anyhow and they just give me that extra little reassuring nudge that says, "Go on! You know you're worth it! Enjoy!"
There was that time when I was younger and I thought I would just die – die I tells ya, DIE! – if I didn't get a Steve Austin, Six Million Dollar Man back-pack AM/FM radio accessory. Then there were all of those Rolex ads with their inspirational propaganda messages like "Champion, Legend, Endurance, Inspiration..." with these people just standing there chillin' arms-crossed with their Rolex blingin' away. "Yo, what's up? Want to hang with a champ? There's a crown for every achievement, you know." (Though you can just tell that they would all rather be struck dead than to actually utter the word "yo.") Then there's pretty much any time that Apple rolls out a new product. Jobs has tapped into the zeitgeist of my frontal lobe, and he plays it like a gelatinous pink Stradivarius. Of course I wanted a Mac Air; I mean, who didn't want to be a New Soul coming to this strange world, hoping to learn a bit 'bout how to give and take? And, did a manila folder ever look as cool and sexy as when it was holding a Mac Air? I think not.
Anyhow, I usually let ads wash harmlessly over me, avoiding their greasy residue; flipping past them in magazine, closing them by tapping the little red X or fast forwarding via DVR. But on Sunday, I stumbled across an ad, and, well, they had me at wood.
I was watching the US Open and had the iPad next to me aimlessly browsing the Web. (OK, I was monitoring my analytics, all right! What can I say; the Paid Outbrain traffic continues to steadily trickle in. Them Outbrain's love them some stories on how a silencer really sounds!) So I stumble across this link which talks about unique liquor gifts for dad on Father's Day. Being a dad and enjoying unique liquor drinks – and eager for anything to break the steady stream of absinthe inspired recipes that routinely pour in from Wilkinson – I figure this might be worth a read. So I click over and start reading and I stumble across...The Devil's Cut.
According to the marketing text, "As bourbon ages, a portion of the liquid is lost from the barrel due to evaporation—that's the 'Angel's Share.' After aging, when the bourbon is dumped out of the barrel, a certain amount of whiskey is left trapped within the wood of every barrel. We call that the 'devil's cut.'"
Reading on, it says, "To create Jim Beam Devil's Cut, an extraordinary new bourbon experience, we developed a proprietary process that actually pulls the rich whiskey trapped inside the barrels' wood after they're emptied. We hold this barrel-treated extract until it develops the proper balance of bourbon notes, then blend it with 6 year old bourbon and bottle at 90 proof. The result: a robust, premium bourbon with deep color, aroma and character."
Bourbon sucked out of the very heart and soul of the wood you say?! With a higher alcohol content?! Why that sounds intoxicatingly delicious! Heavy-heavy wood is the flavor characteristic John loves most! In fact, if they could just send me a chunk or a stave from the barrel and let me suck the sweet-sweet liquor juice out directly, I'd be all in!
Of course, I expected such a rare and exotic and painfully extracted bourbon to come with a rare and exotic and painfully extracted from my wallet price. And probably include some sweet velvety-velour presentation pouch. But then I saw the real beauty...this thing was priced at only $24! Rock ON!
So, after work yesterday, I stopped off at the o'le ABC store and strode down the bourbon aisle and there she was; the sweet Devil herself. Picked up a bottle and brought it home to make her my own.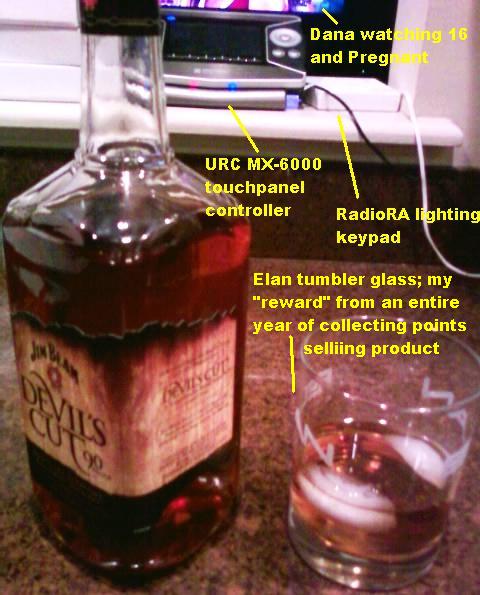 The bourbon has a wonderful honey, caramel, oaky nose and just smells terrifically inviting in the glass. What's that? You want me to drink you? Oh, bourbon, you brownest of the browns... Even Dana thought it smelled great. The flavor isn't as intense as maybe you'd expect from the description – like I nearly expected/hoped for splinters on my tongue and wood shavings in the glass. It is definitely a stronger bourbon than regular Beam, with a rich flavor full of wonderful caramel, wood and trace vanilla notes. Enjoyed one glass. Then went back and enjoyed another. You could say the Devil made me do it...
Categories: June 2011, Beer/Liquor/Wine
/