Shopping Cart
Your Cart is Empty
There was an error with PayPal
Click here to try again
Thank you for your business!
You should be receiving an order confirmation from Paypal shortly.
Exit Shopping Cart
Features, Reviews and a Blog by John Sciacca
| | |
| --- | --- |
| Posted on June 28, 2011 at 5:16 PM | |
Remember how I talked about my little friends the other day? And how those four filing cabinets – standing like tall, grim-faced, grey-beige sentinels – next to my desk house YEARS worth of client files and contact info and potential future job potential?
Well, seems like other people in my town just aren't getting it, and that's totally fine with me. Because every time one of them drops a client ball, I'm there to scoop it up. I grab it, I run down court, I go all Air Jordan and dunk it up in their face, and then I break into some elaborate, choreographed celebration dance that ultimately results in a Technical Foul. But it is still totally worth it. (I would have said "when they drop the ball I pick it up and then pull down their pants and spank them with it." But aggravated, uninvited bare-bottom man spanking is highly frowned upon in the South. Or so Darryl Wilkinson has told me...) It's worth it because I've taken another BB out of their jar – a BB that they probably worked hard to earn – and then put it into MY jar. A BB that I'm gonna polish up, and treat real nice and then, hopefully, chuck a ton more BBs in on top of.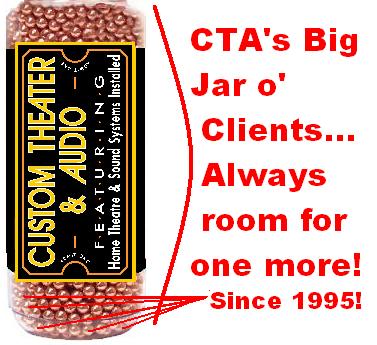 On Friday I had several client meets planned. The first resulted in my Apple iTV blog. (It discusses one possible future where the world is ruled by shiny, gloss white beings with amazing UI. Oh, we'll still be slaves, of course, but we'll be so happy and at peace with the ease of technology that we'll hardly mind at all. Until the inevitable human uprising begins, of course... And, also, I totally wasn't kidding about that copyright on iTV. And iLight. And iTemp. Them names is gonna be goldmines!)




So my second meet is at a new dental office. (Seriously; remember when I told you that dentists love technology? It's like their med of choice!) So this dentist is one that we have done a lot of work for over the years, but mostly at his homes. (PS: This is also the same guy that had the dead-gerbil sub which has become part of CTA and Def Tech lore. I previously covered it in this blog post, but essentially, here's the story: This guy said that his subwoofer was broken. It wouldn't power on, and no more go boom-boom. So, he brings it in and HOLY CRAP! This thing reeks like the tomb of the undead. Except it was more like the tomb of the recently dead and still highly rotten and putrefying and totally pissed off about the whole thing. It smells SO bad, I make him leave the sub outside. Then the customer mentions that his daughter's gerbil also happened to go missing around the time the sub stopped working. So, I call Chet – my tech support ninja at Definitive Technology – and I explain that I think the family gerbil done went and crawled inside the sub and then died and fried something. And that there is NO way this is Def Tech's fault, and that he should TOTALLY charge the customer for whatever needed to be done, but that there is no way in hell I am taking the speaker apart and working on it. So I wrapped it in a Hefty bag all CSI style and shipped it to Chet. Chet took it all apart, removed the fried and rotting rodent corpse from between the high and low level amp boards, rebuilt the sub with new springy-and-minty fresh and 100% rotten-corpse-smell free parts. And returned it. For free. Chet is awesome and a big love reason why we like working with Def Tech so much. And, you  know, cause their speakers are so great and all.)




So we have a scheduled meeting to walk through his new office to lay out audio and to meet with the computer guy to make sure we're all simpatico and what needs to be done. And it is a BIG office. The audio system is going to have like 40 speakers, multiple subwoofers, 30 volume controls; around $9500 for the whole thing. Sure it's not a full blown touchpanel controlled, automated lighting and distributed Kaleidescape Blu-ray system, but that's a nice little "background" audio system for a dental office. And again cements a relationship between us and a long-term client.




So we're all there – me, the builder, the architect, the office manager and the dentist/client – and the A/C is out of off in the office and it's like 95 in the building and we're all just standing there…waiting…and waiting…and waiting. For the computer guy that never shows. Never calls. And meanwhile I'm standing there and I decide to throw in my two cents. "You know, we do TV, telephone and Data wiring. You just tell me what you want and where you want it to go, and we'll take care of it."




And the building manager is resistant. He found this guy or something, this guy knows about dental office computer systems or something and he is not jumping on board the SS Sciacca to job completionville. It's clear to me that time is somewhat of the essence. The building is being BUILT. They either start getting on the wires-plan, or they better start investing heavily in wireless TV distribution start-ups. So I say, "OK. But, I'm here. When I say I come, I come. And we can totally do that work for you."




Then the dentist pipes up. "Yeah. Why are you brining someone else in to do this? I work with John. He's my man. I got a problem, I call John. And I know he's gonna come. This other guy...? Tell John what to do and he'll get it done. I don't want this other guy."




Bam! Just like that, cut out, sucka! He misses a meeting I get TEN THOUSAND DOLLARS in additional wiring and labor. Boom-shacka-lacka! Thanks, buddy! Hope that whatever you were busy doing was worth ten big. Because I know how much profit is in computer hardware, and I'm guessing that the sweet-sweet wire and labor money would have been too rich for your blood anyhow!




So, I head up to this other job and it is a house having some minor additions done to it; know out a wall, embiggen the living room, a new porch area, some pool clean up, a master bed sitting room cupola thing. The builder is one that we've done several jobs on and he usually brings me in to prepare the delicate A/V Bechamel finishing sauce. He says that it is just a small addition and that the homeowner wants to add a couple of new TV locations and maybe some speakers; not a big job, but can I help him out? Of course, I tells him. A jobs a job and, you know, another BB in the jar.




So I'm walking through the house and it is obvious that there is some disposable cash on the premises along with a lot of audio already throughout the home. In fact a whole cabinet packed with A/V distribution stuff. There are four satellite receivers packed on top of one another and 3 DVD players and an A/V distribution amp and lots of taped on IR emitters. So I ask the guy about it.




"This stuff never works right! The original guy that put it in won't return my calls, and we can't get him to come back."




Then the wife chimes in. "You know, he actually did call me the other day. He said he was driving by and saw that we were doing some building and wanted to know if there was anything he could do."




"Too little, too late," thinks John as we start going through the system. It becomes clear early on how frustrated my man is by the whole thing. And while I'm there I'm trying to get a feel for the system and see how it works, I go to switch from one input to another using the bedroom keypad and the system totally locks up. "What just happened?" I ask, chuckling on the inside while rubbing my hands together all Mr. Burns "ex-cell-cent!" like.





"Who knows?! It just does that. I wait a while, and sometimes it comes back, sometimes it doesn't. I go out and unplug things and plug them back in and then it starts working again. Do I know why? No."




We keep walking and talking and it turns out my man has never liked the system. "I told this guy that I wanted good quality stuff, and I think what he sold me was a bill of goods." Actually, the system isn't terrible, it's just more low-to-middle of the road. And it's all being controlled by Harmony remotes – which invariable have difficulty in multi-room scenarios – and giant surface mounted IR sensors and sometimes they work and sometimes they don't and...




So I see that he has Pioneer Plasmas everywhere and I throw out the compliment bone. "Well, he sold you some great TVs at least. Pioneer Plasmas were the very best."




"Oh, he didn't sell me those. I bought all of them myself. They're the only good thing about this whole system."




I can't disagree. The gear needs ventilation, the wiring panel is an absolute nightmare of a mess, the system is unreliable, and the homeowner isn't even totally sure how to use it after several years of living with it. So, we come to the finish line and I say, "Look. I don't really like the system you have in here. And I know YOU don't like the system. What I'd like to do is rip it all out, redo all the wiring and connections and replace it with something that we know and that we can support and make work for you going forward instead of just trying to slap some more band-aids on top of something that you already don't like that probably isn't going to make it work any better." (Now for a change I'm The Dude, ripping stuff out and replacing it. But it's not gonna be a waste this time and will be far more rewarding cause I'm gonna get the sale and the "you made it work!" glory!)




Total system proposal: $15,000.




Number of new BB's in the jar: 1. Number of existing BB's shined up anew: 1. Satisfaction in developing a call-me-and-I'll-be-there reputation: Maximus.




Other lessons to be learned: Show up for the frickin' meeting when you say you will. Return customer calls and set up an appointment to fix any issues they're having. And always leave room in the jar for more BBs.


0

/