Shopping Cart
Your Cart is Empty
There was an error with PayPal
Click here to try again
Thank you for your business!
You should be receiving an order confirmation from Paypal shortly.
Exit Shopping Cart
Features, Reviews and a Blog by John Sciacca
| | |
| --- | --- |
| Posted on July 6, 2011 at 9:37 PM | |
Few things in life have the power to trigger memories and instantly transport you to another moment in time like music. A song that is coupled with some event in your life can become so deeply ingrained into the personal, specific you-ness which is YOU, that they will one day likely find a way of extracting the individual musical memory notes from our  DNA to recreate the entire being of WHO we are.
That's what the best of albums – surely, what my personal Top 10 Best albums – can do. When I hear "Crazy Love" by Van Morrison, I am transported back to Florence, Alabama on January 28, 1995, as Dana and I have our first wedding dance. And when I hear the Talking Heads album "Little Creatures" I am taken to the late '80s and summer beach trips to Santa Cruz, California with Dan and Colleen and Lynn. And when I hear Talking Heads "Psycho Killer" (the live version, from Stop Making Sense) I am brought to the not such-a-pleasant-moment when I am having my wisdom teeth removed; the smell of the rubber and the giggly-chill of the Nitrous gas; the music blasting through the headphones I'm wearing as I try and drown out the nightmare sounds of crunching and destruction happening within my mouth, and the doctor hissing, "Damn! You made me break a root!" as I reached up to adjust the left phone...
But when coupled with a movie, the memory imprints doubly on two senses. And some films have a way of weaving music into them that will make them forever intertwined; where you cannot hear the song and not think of that scene in the film. Dana and I were driving the other day, and a song came on the radio and within just a couple of notes, I was instantly transported right into the movie where the song was featured, which then kicked off a bunch of memories of watching that movie and what I was doing at that point in my life, etc.
This made me think: What are some of the most memorable songs in films? You see, some movies have SO many great songs in them – (500) Days of Summer, Forrest Gump, Gross Point Blank, Reality Bites, High Fidelity – that no single song can really stand out on its own merit. These had to be regular songs that were raised to extraordinary status by being paired with the perfect film in that perfect film moment.  This, of course, led to spawning the Top 10 most memorable songs in films list/blog.
First, some rules... I didn't want to pick a title-track song that was written specifically for a movie soundtrack or with the movie title in mind; this just seemed like a cheat. This ruled out any of the great James Bond tunes (A View to a Kill, Live and Let Die, Nobody Does it Better), and others like Saturday Night Fever and The Graduate. I also discounted any actual musicals like Rocky Horror and Chicago.
Now, remember, I'm not saying these are the BEST 10 songs in films; I'm saying these are the most MEMORABLE. The songs that stand the test of time and that make you remember them for years -- even decades -- after. So now I give you...the Top 10! (Alphabetized by song title, as is the fashion of the day.)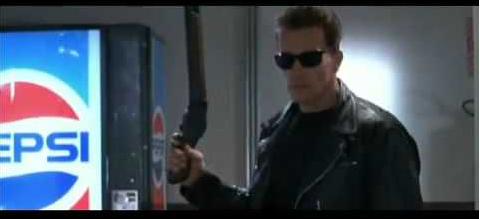 "Bad to the Bone," by George Thorogood, immortalized in: Terminator 2: Judgement Day.
When Arnie is bustin' heads in the biker bar, "I need your clothes, your boots and your motorcycle" he is clearly a bad ass. When he grabs the sawed-off shotgun and sunglasses from the bar owner, and this song starts playing, it's iconic.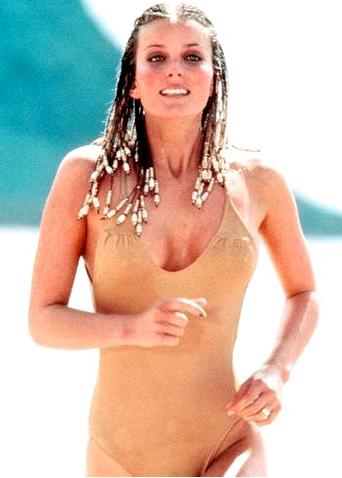 "Bolero," by Ravel, immortalized in: 10.
In 1979, I was 9. I didn't even know what "sexy" was. But, I knew there was something about Bo Derek running down the beach in her gold one-piece with beads in her hair that got me all sort of special-tingly that was...nice. I don't believe I ever even saw the movie, but if you were alive around 1979, you knew about 10. Which meant knowing about Bolero. Bolero has been called one of the most erotic songs ever, and while I don't know about that, I do know that every time I hear it, I picture Bo running towards you on the beach. And that's not so bad. And, I'm guessing that if you were born around 1970, it does the same for you.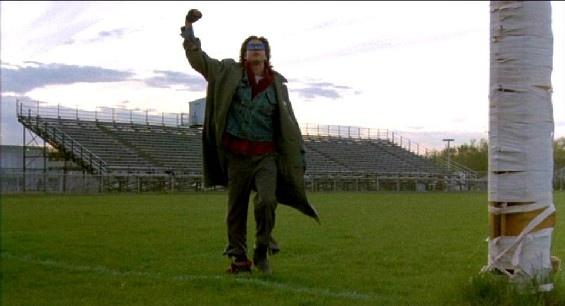 "Don't You (Forget about Me)," by Simple Minds, immortalized in: The Breakfast Club.
John Hughes knew how to use the music in his films probably as well as any director…ever! It also happened that he came along and made films for and about growing up during the '80s when music was especially meaningful and poignant to a growing-up John. The end scene as the volume of this song is starting to really ratchet up and everyone has finally come into their own and yet is about to leave each other and return to the normal-bizarreness of their regular lives is just…perfect. "You see us as you want to see us... In the simplest terms, in the most convenient definitions. But what we found out is that each one of us is a brain......and an athlete......and a basket case......a princess......and a criminal... Does that answer your question? Sincerely yours, the Breakfast Club."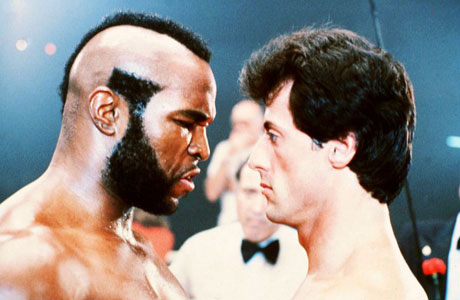 "Eye of the Tiger," by Survivor immortalized in: Rocky III.
It's hard to top the pumped-up hype-ness of the original "Gonna Fly Now" Rocky theme what with the trumpets trumpeting and the running and the punching and the raw egg guzzling. But Rocky needed to dig a little deeper for this third outing and a fight against Mr. T's, Clubber Lang. And he turned to Survivor who delivered this rousing number. "My prediction for the fight? Pain."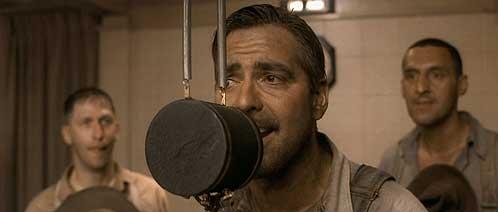 "Man of Constant Sorrow," by Soggy Bottom Boys, immortalized in: O Brother, Where Art Thou?
Granted, you don't often hear this song on the radio – our selection of bluegrass stations in Myrtle Beach is criminally limited; then again, this is probably the entire extent of the bluegrass music that I like, so... -- but it does pop up on my iPod shuffle play on occasion and each time I am thrilled to have it and think once again of Everett, Pete, Delmar and the gang. Not only was this a brilliant, wicked-smart-funny film, but the song is perfect for the movie and all on its own. "Deceitful, two-faced she-woman. Never trust a female Delmar, remember that one simple precept and your time with me will not have been ill spent."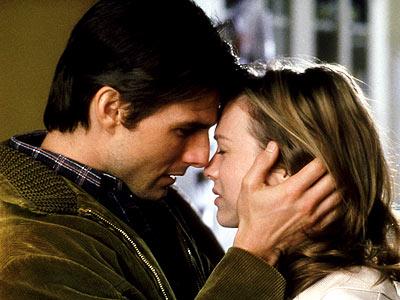 "Secret Garden," by Bruce Springsteen, immortalized in: Jerry Maguire.
It doesn't hurt that I loved this movie. L-O-V-E-D it. Tom Cruise was outstanding. Cuba Gooding Jr. was outstanding. Renee Zellweger was outstanding. The script was outstanding. Dana and I saw this not long after getting married, and it is a perfect romantic comedy married-and-dating movie. It is also the first DVD we ever bought. (OK, the first DVD I ever bought. Like she is into movie collecting.) When Jerry returns to collect Dorothy and get his family back, this Springsteen song is there to tie it all together with the right tempo, mood and emotion. "You complete me..."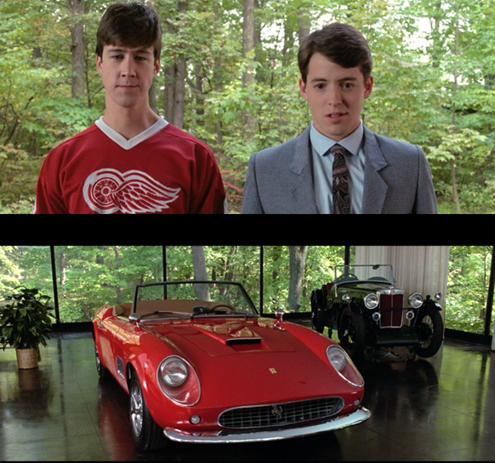 "Oh Yeah," by Yello, immortalized in: Ferris Bueller's Day Off.
If you hear chicka-chick-AH and don't immediately think of Ferris and Cameron gazing longingly at the gorgeous red Ferrari then I have to wonder if you still have a pulse. I'm sure there is a new generation of viewers that will have no idea where this song came from, but for the rest of the world, this song will be forever intertwined with Ferris. "The 1961 Ferrari 250GT California. Less than a hundred were made. My father spent three years restoring this car. It is his love, it is his passion." That song playing as the camera caressed and ogled the Ferrari's body, was just the *perfect* song for that moment.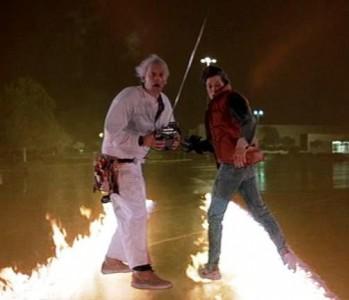 "The Power of Love," by Huey Lewis and the News, immortalized in: Back to the Future.
Granted, this song was technically written for the film and *might* violate my rule, but I can't help it. And it isn't like this song has a giant, emotional moment in the film, but is rather interspersed throughout. Maybe it's that it has had so much airplay for so long, but whenever I hear this song, I'm thinking about jumping in a DeLorean and revving it up to 88. "Don't take money, don't take fame, don't need no credit card to ride on this train..."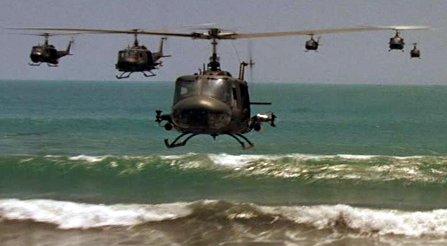 "Ride of the Valkyries," by Wagner, immortalized in: Apocalypse Now.
For the longest time, if you were thinking of buying either a HiFi VHS or Beta or – even better, you videophile bastard, you! – a Laserdisc player, this was the scene you were demo'd. The salesman would queue it up, place you between the speakers, crank the volume and then let it rip while he stood back to let you bask in the hi-fidelity glory of it all. The helicopters lined up, sweeping in over the ocean, speakers blaring, Robert Duvall chomping a cigar and loving the smell of napalm in the morning.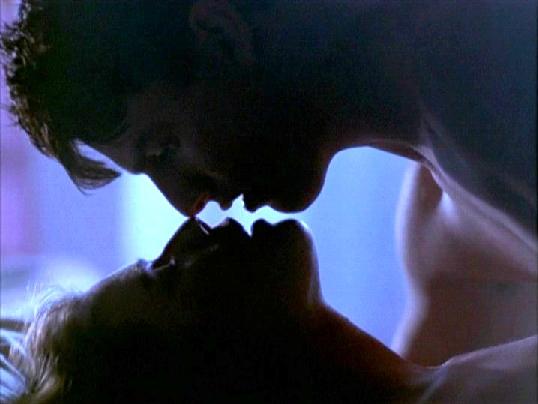 "Take My Breath Away," by Berlin, immortalized in: Top Gun.
This is actually the song that inspired the blog. While "Playing with the boys" will always bring the unwanted memories of sweaty and sandy, homo-erotic, beach volleyball, Breath brings to mind blue light, shadowey, slow, sweet loving and deep tongue-kissing of one Lt Pete "Maverick" Mitchell. I remember that we watched this in my high school senior English class for some reason (dead week of finals, maybe? Term papers all turned in on time? Who can remember) and how it got SO quiet and adolescent-awkward in the class when this scene came on. And then some guy piped up, "Tom Cruise? More like Tongue Cruise!" Classic!
Honorable mentions…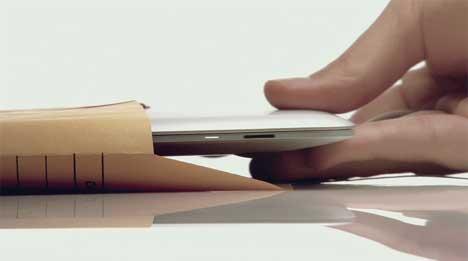 "New Soul," by Yael Naim, immortalized in: Apple's MacAir Book launch.
Granted, this isn't a movie, but come on! You will never hear this song again and not think how thin and awesome a MacAir is. That simple piano in the opening, as the guy is pulling the MacAir out of a manila envelope. It WAS a New Soul coming to this strange world hoping it could learn a bit 'bout give and take...
"Old Time Rock and Roll," by Bob Seger, immortalized in: Risky Business.
Underwear dancing, air guitar playing, sliding across the wood floor in your socks and lip synching? Classic.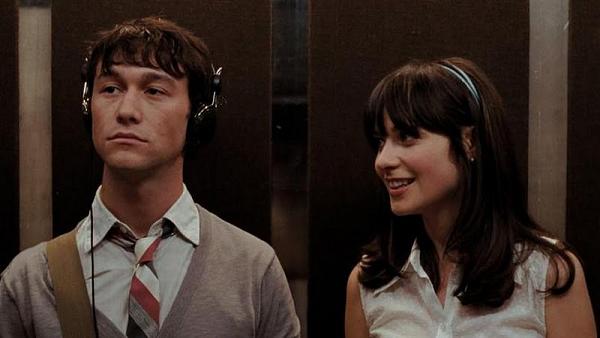 "There is a Light That Never Goes Out," by The Smiths, immortalized in: (500) Days of Summer.
Before this movie, I'm not sure I really knew much about Zooey Deschanel. But with this single scene in the elevator, I was hooked. As she is sneaking a listen to the music coming out of the headphones.... Oh, man.... She's just so *perfect* in that moment. You want to capture it and just live it over and over. "I said, 'I love The Smiths.' You–you have a good taste in music. Yeah. 'To die by your side is such a heavenly way to die.' I love 'em." Holy sh** indeed! This one scene -- that one little sing-songy quote -- that lasted maybe 30 seconds was enough to make me an instant Zooey fan and inspire me to explore her music career, in the form of the band She & Him. Memorable? Uh, yeah.

"It's in the Way That You Use It," by Eric Clapton, immortalized in: The Color of Money.
The finishing scene, right before the freeze and dissolve to credits when Paul Newman hits that break and he's back baby!
"You Never Can Tell," by Chuck Berry, immortalized in: Pulp Fiction.
The dance scene between Uma and Travolta possibly relaunched Travolta. And as iconic as that scene is, I couldn't recall the song name without looking it up. Obviously, that is kind of a deal breaker for a memorable song...
"Unchained Melody," by Righteous Brothers, immortalized in: Ghost.
Throwing of clay pots and getting a hot, pixie-cut Demi Moore totally worked up from beyond the grave?
Musical taste is totally personal as are memories. Love to hear yours. Where am I right and where am I wrong? The comment box awaits...
Categories: July 2011, Music, Top 10 List
/