Shopping Cart
Your Cart is Empty
There was an error with PayPal
Click here to try again
Thank you for your business!
You should be receiving an order confirmation from Paypal shortly.
Exit Shopping Cart
Features, Reviews and a Blog by John Sciacca
| | |
| --- | --- |
| Posted on July 7, 2011 at 2:55 PM | |
I performed an update on our store's thermostat software controller system yesterday that resulted in some rather unexpected consequences benefits. Apparently one simple little checkbox that was here-to-fore unchecked and unnoticed became now checked in the new update. And while this little checkbox would possibly be helpful in many cases, in MY case – really, the only one that I'm concerned with to be honest – it caused my thermostat to done went and go loco; forgetting that it was a heat pump system and instead trying to act all big and bad like it was a regular HVAC system.

The result was that even though the thermostat showed it was in COOL mode, showed that it was COOLING and showed that it was trying to get the showroom down to a survivable 72 degrees, it was actually blowing hot air. As in heat. In July. In Myrtle Beach. All night long! Hazzah! Causing me to be greeted by a shock-and-awe wall of 93 degree air when I opened the showroom this morning, which, I must say, is a bit like walking straight into a face punch. From Tyson. The pre-jail one.

However, once I rallied past the initial 4 hours of sweat, disorientation and unpleasantness, I started looking on the bright side. Perhaps there is some good that can come from your thermostat causing the inside of your showroom to actually be HOTTER than the outside. In summer. In Myrtle Beach. So, I've come up with a list of 11 reasons how a faulty thermostat can actually be a good thing.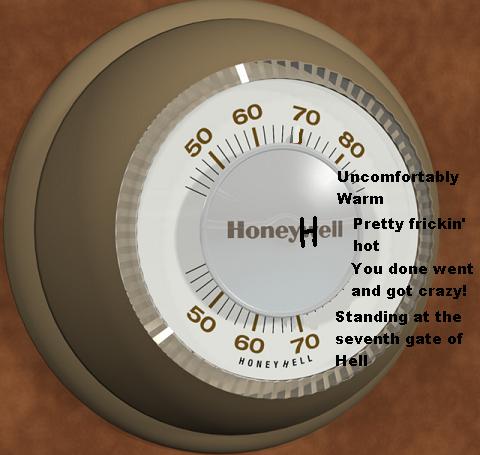 1)    You can charge people for an authentic sweat lodge experience. Why get all dressed up and travel hours to an Indian reservation? For a fraction of the time and cost, I can offer the same experience right here in town! And, in these uncertain economic times, this additional revenue generator can be just the thing that installers are looking for to help the bottom line! Any heat hallucinations you have are yours to keep! (Gambling license applied for...)

2)    Sitting for hours at a time in 93 degree temps is surprisingly good for cleaning out the pores. ALL of them. Ladies, bring your day spa gear and come on down! Also, I can offer you a movie watching experience during your spa day that NO other spa in town can touch! For an added touch, may I suggest our unique hot-rock therapy treatment? With several paver stones that have been sitting in the scorching sun behind our store laid gently and liberally onto your body, we can make sure that you blood and anti-oxidants are doing...something!
3)    Feelling a little tipsy from those multiple Effen Cucumber Vodka martinis that you drank last night? No worries! A little bit of time in mega-weather will have that vodka streaming out of your system in no time!

4)    Soldiers, looking for a way to train-up for your upcoming duty rotation to Afghanistan? Wondering how you could possible acclimate yourself to those high desert temps? Wonder no more! Feel free to run up and down ladders in our storage area or let our installers create a personalized workout just for you!
5)    Ever worry that all of those months off-duty in the summer is going to cause your HVAC system's heater to go all soft and flabby? Ever wonder if your heater will be ready for those cold days of winter when you need it most? With it running all night – even when its 97 degrees outside! – you'll be sure that it's up to the task and will ferret out any problems BEFORE they become a problem. Winter is only like 6 months away…prepare now!
6)    Ever wonder how you can tell the real customers from those just kicking tires? Tired of people coming into the showroom and wasting your time just hanging out and looking around? I assure you that one second in the 93 degree temps will *immediately* weed out the wheat from the chaff. If they are willing to stick it out and sweat with you through a full speaker demo, you KNOW you've got a live one!
7)    Computer fans rarely get the chance to really have a good, long, hard run at top speed. This can cause dust and hair and other grossness build-up inside the tower. By altering your daily routine in just one minor way – letting that thermostat go all Rogue Spear on you – you can be assured that your CPU's fan will kick into mach speed in no time, trying to cool that silicon down from the abnormal 93 ambient temps!  Word processing has never been so fun!
8 )    Dissatisfied that you aren't getting any kind of physical exercise? Every day at the office feels like just another sedentary day? Your kids say you have a sissy not-a-real-man job and wish they had a real-man for a father? Well just look at the expressions of pride and consternation on your face when you come home literally dripping in sweat! Never again will they doubt that you have a sissy-boy desk job!
9)    Tired of your install crew coming in from a hard day of working out in the sun digging trenches to bury wire or retroing a speaker into 130 degree attic and scowling at you and muttering unkind words under their breath when they find you sitting in a cool office, sipping a delicious sweet tea and working on some bit of blogging hilarity? Now they'll have a whole new respect for "office work" when they walk in from the outside only to discover that it is EVEN hotter INSIDE! Cushy desk job? I think not!
10)    Constantly orried about your weight? Find yourself snacking throughout the day? Can't stop thinking about lunch time? Well, that'll be a thing of the past when you're covered in a greasy film of sweat and any movement at all is an effort of colossal proportion and your stomach is roiling from the 93 degree temps! Eating will be the last thing on your mind! You'll also get the added bonus of having every day be a water cleanse day as you look to keep yourself hydrated just out of sheer survival instinct!
11)    Feel like an 8 hour work day just drags on tooooo long? Feel like the minute hand on the clock is actually winding backwards on you? Well, that's because you're awake and coherent the entire time, silly! After several hours dehydrating in the stifling heat, you'll soon succumb to the sweet surrender of heat exhaustion causing you to drift mercifully in and out of consciousness. It's 10:15…it's 2:36…why look at that! It's already time to go home! Thanks, thermostat!
/