Shopping Cart
Your Cart is Empty
There was an error with PayPal
Click here to try again
Thank you for your business!
You should be receiving an order confirmation from Paypal shortly.
Exit Shopping Cart
Features, Reviews and a Blog by John Sciacca
| | |
| --- | --- |
| Posted on July 13, 2011 at 11:30 AM | |
Generally when I get an e-mail communiqué from the Netflix Mother Ship, it is something benign and in a fairly predictable 1-2-3 pattern such as "Such-and-such a Blu-ray will arrive on Saturday," followed by the, "Did such-and-such Blu-ray arrive yet?" and then concluding the triple-play, "When did you return such-and-such Blu-ray?" I like to consider myself part of the Netflix team, one of the cadre of individuals out there who helps to shape the Netflix delivery nation, so I always dutifully answer these questions.
"Excellent, Netflix! I shall plan my weekend around this exciting, watershed event Popcorn and vodka abound! Huzzah!" (As this is a rhetorical question, I generally reserve this message for my own self-edification.)
Then, "Yes, Netflix! Freakonomics did arrive. Thank you! Excellent shipping prediction!"
And finally, "I sent it back on Monday, Netflix. Thanks for checking! Have a great evening, youself!"
I mean, we DEFINITELY use the crap out of their service and love it; you can see from the latest batch of movies we watched that we cycle films in and out of the Sciacca house pretty regularly. But more frequently when Netflix takes the time to communicate, it is not to notify you of imminent movie arrival. Rather it is to notify you of an upcoming, punishing imminent rate change. Last night Netflix dumped this little steaming nugget pile into my e-mail inbox; their latest bit of love wrapped in a red bannered F-you: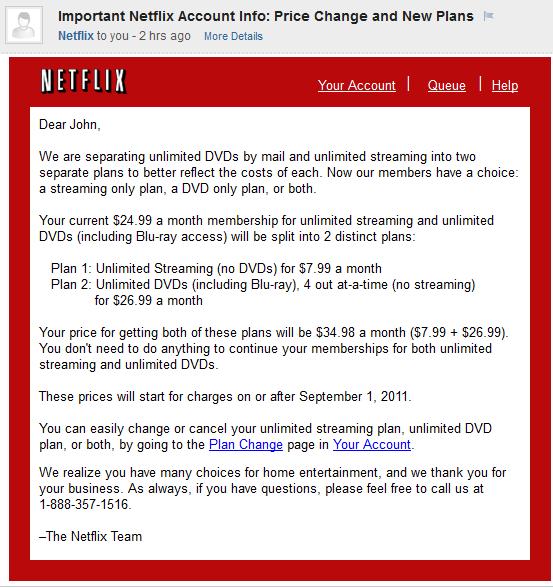 Now, I have quite a history with Netflix, and I can tell you in the past, they informed us legacy members that our rates would NEVER change. We were grandfathered in and would be immune to rate hikes and plan changes. (God, how I wish I had kept that e-mail! At the time I didn't think anything of it, and I'm sure it wouldn't be worth the digital kilobytes it was stored on, but it would be nice to have it for posterity. To just, I don't know, reminisce over a kinder, gentler time in the world there may have still be gaping holes in the o-zone and radiation leeching into the water supplies, but, by God! there were still fledgling start-up companies out there that cared for their plankholder members, and they were more interested in building a community and a family than they were of extracting every last shekel from those "we remember you when" founding members. Wait. Where am I? Got all disoriented in that whole "you word is your bond" thing.)
When I originally joined Netflix in 1998 my membership plan was for 4 movies out at a time for $17.99 per month. Then after a few months came the inevitable, "Oh, gosh, gee, golly, oh, well, man, we're really *really* sorry, and you don't know how much we hate to do it, but, uh, remember a little while back when we told you that we loved your being a loyal member and that we'd never raise your rates? Yeah, I'm sure you do; it wasn't that long ago. Well, we decided that e-mail was a total mistake. We're gonna fire the guy that wrote that; he was a jerk, drank all the coffee, never chipped in for donuts, and forwarded a bunch of spammy e-mail. So, uh, yeah, we've pretty much changed our minds. See, it costs more to do this than we thought, and would you believe that some of these discs are reported as lost or damaged? And then we've got to buy them all over again. That ain't cool! So, well, we're gonna raise your rates to help offset this unforeseen cost of doing business. And cause we'd like a corporate jet. But, mainly the offset thing. And, well, now that we've gotten a taste for it, we're probably gonna do it again in the future. And then again. You see, we're looking for that magic delta price point where we can extract the most money from our members while we simultaneously retain as many as possible. So, well, sorry, But not really. Love, The Netflix Team. PS: Our new jet is SICK!"
Pretty soon my rates went to $19.99. Still manageable, still fair, still like $2 a movie for my average 10 per month. Then Blu-ray came out and like a dutiful school-corner crack dealer the first taste was free but quickly followed by another price increase if you wanted to keep the Blu-ray option. Then, well, we didn't quite raise it enough the first time, so we're going to go from our original $1 increase to a $5 increase. But, hey, if you don't want Blu-ray, that's cool. You can always opt out of receiving Blu-rays and just get regular discs and your price will stay the same.  Then last November they raised rates across the board, taking my monthly pre-tax rate to $24.99.
Then we come to today's message from the Big Red One. So now, not only is my disc plan going up $2 a month, but I also lose the streaming capability. Well, maybe not lose it. I mean, I can always keep it for an extra $7.99. Meaning that if I want to keep the status quo, I will be looking at a $34.98 monthly tab, or a 40% price increase.
Taking away the streaming feature – which didn't exist when I first subscribed – my membership has gone from $17.99 to $26.99 or a 50% increase. What has happened in the past 10 years to justify this? Has postage skyrocketed? Well, rates have gone up; in 1998 were $.32 for a First Class stamp and are $.44 now, or a 37% increase.  Have DVDs gotten more expensive? Nope. If anything, they've gotten cheaper. Same with Blu-ray discs. Plus you've got to imagine that Netflix today has more buying power and mass disc buying capability versus the fledgling, newborn Netflix of yesteryear. Have fewer people turned to Netflix? They've abandoned the rental service in droves as Blockbuster continues to come in and out of bankruptcy like some horrible late-fee-charging Phoenix? Or maybe the instant gratification of the $.99 Redbox has caused everyone to scratch their rental itch elsewhere. All of this meaning that those of us remaining are the faithful standing on the deck of the Titanic, striking up a stirring rendition of "Nearer ,My God , to Thee" as the freezing water laps at our return envelopes… No. In fact, by all counts, Netflix membership has continued to grow at a steady rate. It is now a de facto feature in like every Blu-ray and TV and tablet device out there. More and more and even MORE users should mean that money is flowing like sweet-sweet wine and prices should come down if not remain level.
But when a company gets a taste of, "Hey, I think they'll pay more. Let's see…" profits, it is a slippery slope that can easily lead to becoming like the cancerous leeches over at Blue Cross, it is addicting and tough to stop. And until they start losing people in droves, what's to stop them from tightening the screws a little more…and more…and just a bit more…and one more eensy little bit…
For me, Redbox isn't an option, even when the discs are "free." (See what I did there? I put free in actual quotes. I did that because I know you can't see my mental air-quotes or hear the sarcasm in my mental stream of consciousness. Your welcome.) Their selection is too limited, especially when it comes to Blu-ray discs. You've got to hand it to Netflix; if it is available on disc, they've got it and usually plenty of it. And Blockbuster DEFINITELY isn't an option. They have wronged me once too often, and I'll not return to them. And I'm busy picking out just the perfect pair of shoes for when it is time to truly dance on their grave. (You want something that is light and flexible, yet provide good arch support for nice vaulted stomping and the hours of vigorous celebration dancing that will be involved.)
While I shall endure this latest increase on the disc delivery front, I'll no longer be a part of the streaming crowd. I so infrequently used that service, and was mainly just disappointed by the vastly limited selection each time, that it is worth maybe $1.99 a month to me; certainly not $7.99.
Netflix, it appears that you've finally done it; you've found the straw that has broken this long-term subscribing camel's back! And something tells me that I won't be alone at the ex-Netflix subscriber's oasis...

Categories: July 2011, Movies, Rants
/