Shopping Cart
Your Cart is Empty
There was an error with PayPal
Click here to try again
Thank you for your business!
You should be receiving an order confirmation from Paypal shortly.
Exit Shopping Cart
Features, Reviews and a Blog by John Sciacca
| | |
| --- | --- |
| Posted on July 15, 2011 at 12:37 PM | |
As a quasi-artistic-type myself, I understand that euphoria, that hypnotic borderline lunatic-crazy-inspiration-fueled burst when your synapses are all fired off simultaneously by something and there is no other outlet than to express your feelings through your art. Or cut off an ear. It can really go either way.

Yesterday, Lauryn was inspired by the Home Box Office cinematic representation of the DreamWorks film, How I Trained My Dragon.  Now, we have seen this movie before, and it didn't make that big of an impression on Lauryn -- or myself -- the first time. There was no late-night smock and easel sessions while she sweated out the creative fever dreams. No. There was just the, "I liked the black dragon guy. He can fly. He's cool." I was less impressed. But, I was sated with bottles of red wine. So, meh...
But, some things are best served in pairs, and apparently for Lauryn, the second viewing of Dragon was just the creative boost she needed. When I came home last night, she was quick to tell me that she had made some drawings and that she wanted to tell me about them.
Sensing a story about to break, I was quick to grab my laptop and then type like a madman trying to take it all in.
In my first exclusive interview with Lauryn the Artist, she was a little more temperamental and less forthcoming about her creative process. There were demands for "JUICE!" and "Why do you keep asking me these things?" Now I seem to have gained access behind the velvet ropes of this reclusive and often rage-filled curly-headed artist's trust as she was far more willing to open up; putting aside a bowl full of noodles and a cup of applesauce, eager instead to delve into her artistic process and give us a rare glimpse of just what drives Lauryn, The Artist. Below is a verbatim transcript of our candid conversations of her artwork.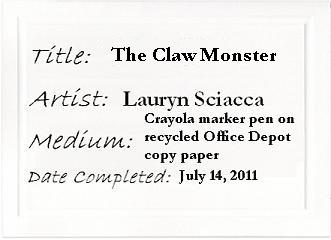 This guy is claw but deadly. The claw monster will grab you with its sharp claws on the bottom. He'll usually throw you with the claws on top. Claws on the left are the claws on the front; on the other side are his wings. The red things are part of his wings, the green things are his scratches from the first day I saved him.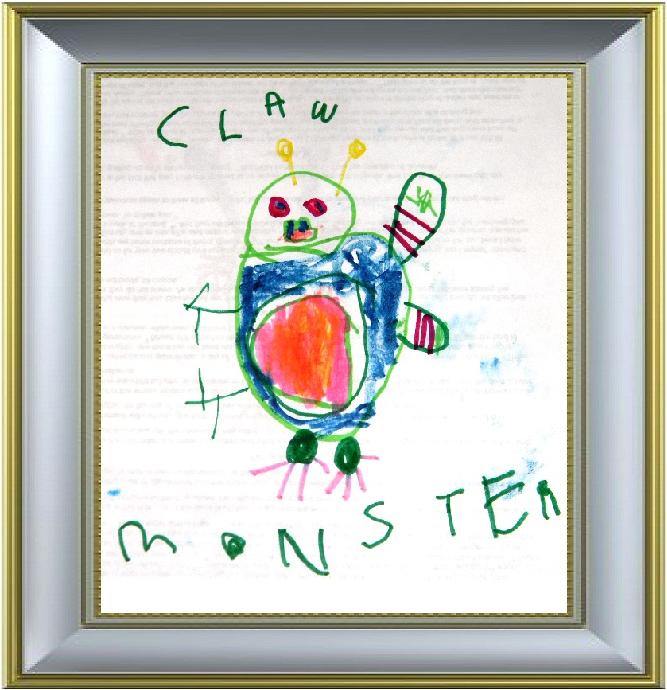 Getting bit by this monster will be death or big. Usually death is...usually you say, "Oh, please, please I didn't mean to do that! Ahhh!" And big means he'll get bigger if he bites you, so, he already is big. Fat but not likely big, the monster can fly instead of zooming everywhere. It can smell things with its antenna. If it sees something that it likes, it will swarm and attack it with the claws on the bottom. Its belly is the size of a boulder. It could roll real fast across a city. It could even eat a 1000 fish for a day!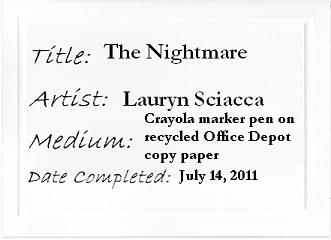 (I must admit, I am partial to The Nightmare as it is my favorite of the series, and I feel that I'm not able to give it an unbiased judgment. Everything from the composition to the colors to the way the smiling sun matches the smiling Lauryn... And something about Nightmare's expression and repose reminds me of a certain largest-Jesus-statue-in-the-world, the Cristo de la Concordia on San Pedro hill in Cochabamba, in Bolivia. I'll allow the Artist to describe this pivotal work...)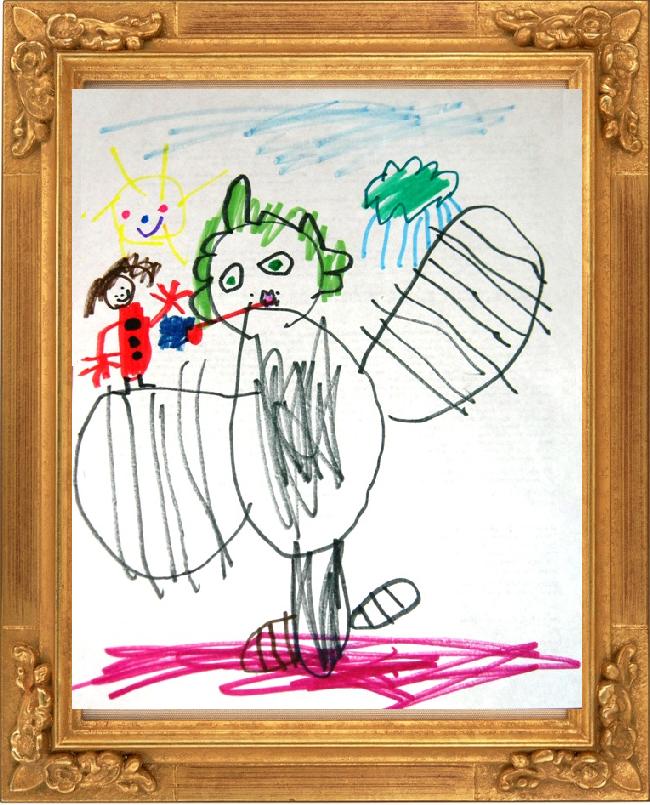 This guy is called The Nightmare. At night he creeps up on you. I'm a friend of his but he ran away last night, so... His mouth is purple because he bites hard. Like really hard. Like ten times harder than a knife. Like a knife would cut your finger just a little bit, but his teeth could bite my whole hand right off! Except I'm his friend so he wouldn't bite me. That's a rain cloud. It's raining because you can see that the sun is still out so probably there is going to be a rainbow. And his belly is SO huge, that if it tried to eat an electric eel, he wouldn't like it! His other fin was hurt so he had to get a new one. That's me right there holding onto the dragon's wing and he's holding onto a flower.
"Why is he holding onto a flower?" I prodded.
Uh, I don't know. It's just my drawing. He's just holding onto a flower, I don't know why. His real name is "Greeny the terrible but not scary dragon," but he's called The Nightmare. That red at the bottom is lava.
"Why is he standing in lava?"
He's not standing; he's flying in lava. He has wings so he can fly. That's cool.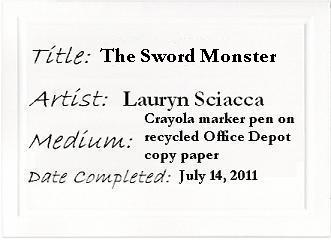 The Sword Monster made bananas, but it may instead of eating the bananas turn them into fire. It might protect itself; only when it protects itself, it will not get hurt unless a human comes by it and tries to touch it. It will lean its head over and...CHOP! He's a ninja chopping monster!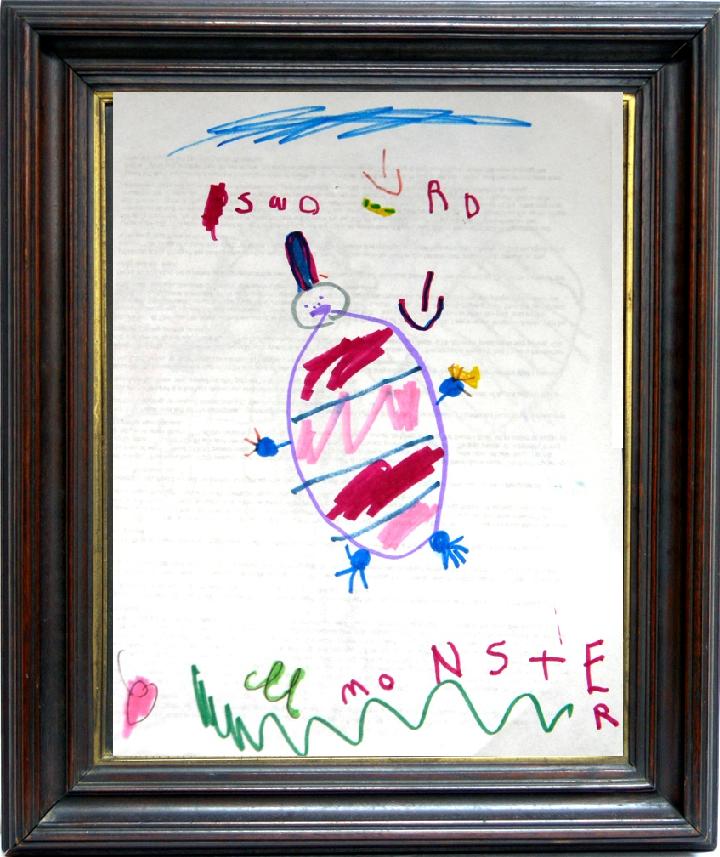 Chopping is the worst thing people have ever done to this dreadful monster. It is very, VERY not likely to touch. It has lived over 5 years and then died. At the bottom is just food and stuff that he had left over. If food gets thrown on the ground it will grow back; the monster will eat it and it will turn into fire and then it will grow back.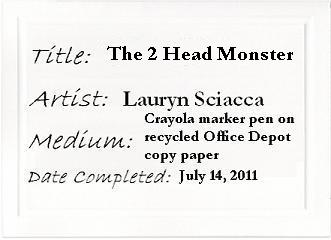 This is my favorite guy because it has two heads---that is SO cool. If you had two brains probably the brain that didn't know everything would be the second brain and the brain that was the new brain would know everything. You (indicating me) would be the old brain and I (indicating herself) would be the new, young brain.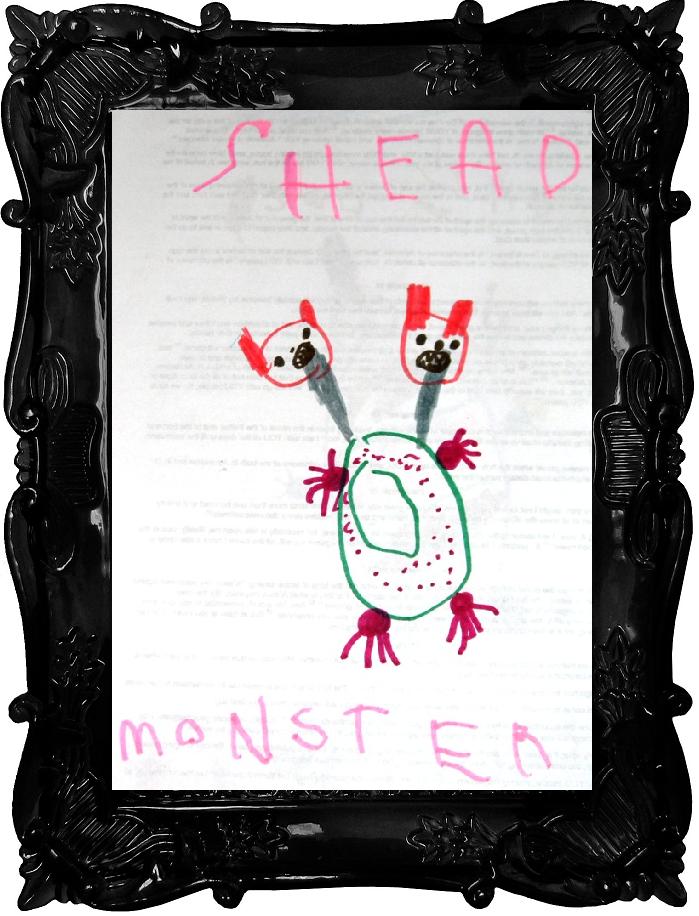 (Beyond it's obvious value as the artist's favorite from this series, there is also bound to be cult collector status for her unique and clever use of the backwards "2.")

The two head monster, well, the head that is on the left corner controls the left hand; the one that is in the right corner controls the right hand. They both control the same feet. It will fly only if it is bothered or it doesn't not like you. The heads look the same but one head bites you, one head spreads out fire. The claws do everything they do: scratch! They will do everything to get their life back even if they die. If a female or a male gets dead it will grow back into body size. Using this monster will make a lot of sense but you must never, EVER touch this dreadful monster. When it was two years it got a neck sticking out. When it was 3 years old it got it head. When he was 4 years old he got a perfect, other head!
Following our lengthy interview – which concluded with a bit of unfortunateness of me having to say, "Look! You're not allowed to talk about your pictures ANY MORE until you finish eating your noodles and applesauce. OK? I'm not even listening if you keep talking!" --  this here old head could tell that Lauryn had received some PR training in how to deal with us fickle members of the press corps. When I asked, "So, what made you make all of these drawings?" she responded with an answer sure to garner favorable praise.
"I saw things that looked like all of these drawings and I said, 'Wow! I've got to make something for dad!'"
Categories: July 2011, Family, Movies
/