Shopping Cart
Your Cart is Empty
There was an error with PayPal
Click here to try again
Thank you for your business!
You should be receiving an order confirmation from Paypal shortly.
Exit Shopping Cart
Features, Reviews and a Blog by John Sciacca
| | |
| --- | --- |
| Posted on July 16, 2011 at 5:53 PM | |
As I sit here in my nice black leathery office chair, luxuriating in the cool, quiet air conditioned cocoon of my Custom Theater office on this warmish summer afternoon – the hint of the salty ocean hanging tantalizingly heavy in the outside  air – instead of being outside and enjoying the wonderfully puffy and sparse Ferris Bueller-like clouds floating by in the blue-blue sky, I am instead looking at an invoice from Grayman Climate Control, Inc.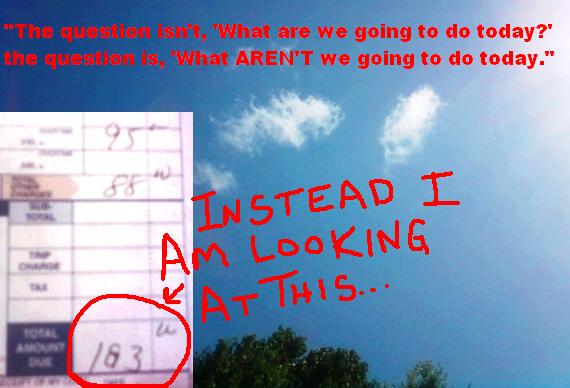 You may recall that I had a bit of a thermostat malfunction earlier in the week. And by "malfunction" I mean that I updated the operating system on our store's automation system which somehow glitched and sent our HVAC system into a "What do you mean you're a heat pump?" conniption fit. Instead of not bothering anyone and just lying passively there on the floor, biting a wallet and drooling, this was a "turn heat on full blast!" kind of fit that ended up not being very passive at all.
Now, I turned lemons into lemonade and came up with a playful list of 11 things that you could do when your thermostat goes on the fritz and leaves you weltering and withering in 94 degree heat.
But the truth is, this isn't really that funny now. This is an actual invoice that I'm starring at. And written on the invoice is, "Found bad capacitor. Replaced capacitor. Found unit running in heat mode due to upgrade performed on computer controlled thermostat system." That was a capacitor that was working A-OK, 5 by 5, all-cool-all-the-time right up until the second that I performed the company suggested upgrade. Then...poof! Broken. And I'm soon sitting in 94 degree weather.
Also written on the invoice? $183. And these are $183 actual real, partly-coming-out-of-John's-pocket dollars. Dollars that I don't necessarily think my company should have to pay for.
And while this may be uncommon – not very often does a failed manufacturer part cause actual damages, though I've no doubt that at some point an amplifier has self-immolated and actually burnt something down; I mean, the law of averages and unintended consequences about demands that it's happened like at least once, right? – it speaks to a theme that is all TOO common of the kinds of things we seem to face as custom installers.
We install something to the correct standard, it breaks, we fix it, and we eat all of the collateral. I talked about being tired of eating it in a previous post; about all of the "No Charge" worksheets that were coming across my desk. But I guess I *still* haven't gotten my appetite back for this particular brand of crap sandwich.
When things break, it is virtually always at the burden of the installer to just "absorb" the costs. Even when manufacturers are great about handling replacing product – Definitive has been consistently wonderful about sending us replacement parts even when items are way into that nebulous and questionable warranty coverage period -- there are still PLENTY of actual, real out-of-pocket costs involved; the costs of retrieving the rogue unit, the time for repairing the rogue unit, reinstalling the freshie, testing to make sure it actually IS repaired and then paying the shipping charges to return the defective parts back to the manufacturer.
And at a time when gas is frequently pushing $4 a gallon, UPS is charging like $15 to even drive by and look at your store, and margins are thinner and thinner, these are very real, sucking-the-marrow-from-my-profits, kinds of costs.
The truth is, we install things that are often SO integrated that if something breaks, it is totally unreasonable to expect a homeowner/customer to retrieve it on their own. Seriously, I can rarely get a person to sack-up and just unplug their frickin' cable box or remove a battery from a remote for heaven's sake, you think I could get them to disconnect an A/V receiver, unplug a faulty surge protector or pull down a projector?  (That was a big, fat rhetorical. Not only couldn't I get them to, for the love of everything that is good and holy, I wouldn't even WANT them to! Being able to interact with the smart remote and press the button labeled "Watch TV" is about as high-functional as I want my clients to get.)
This doesn't even include the time spent in the field testing potentially suspect gear. If you've been an installer for any period of time, then chances are you've spend looooong minutes on the phone (after looooong minutes of waiting on hold) with someone that said something along the lines of, "OK, let's just try a few things before we declare this broken. So, what I'm gonna need you to do is completely blank the system and then let's try reflashing it with some new firmware and then we'll try like 10 other things before I'll even think about considering that the piece you have MAY be broken. Now, this is going to take some time so..." That all takes time. Frequently a lot of it.
And, daddy is here to tell you: Time IS money. Either money I'm billing or money I'm losing.
Recently I had a wonderful tech support experience with David Bishop from Lutron. He treated me like a professional, was a total rock star about owning my problem and the whole thing cost me absolutely zero. Except time. But, it was in my own house, and it was my own system so I was a totally A-1, motivated, happy little camper to make it work. (And turned out to not even be a Lutron problem at all!)
But if it had been a client? I'd have been out HOURS of labor. And had a client that for weeks didn't have a working lighting system. Making them think that I probably didn't know what the hell I was doing (mostly not true) or that I sold them a crappy system (totally not true).
So, even when you're note losing money, you can be losing something even more important: reputation and credibility. Because going forward, any time something breaks, you think they're going to immediately going to error on the side of, "Wow, my installer is so great! Everything he puts in is just SO rock solid!" Probably not. Think they might be more likely instead to say something like, "Man! I hate that stupid system so-and-so installed! It is ALWAYS broken!" to some of their friends? Probably way more likely.
Now, I understand that service contracts could be a way of insulating us (me) from these costs. But really, isn't that just passing the buck on to the customer? It just makes them pay – or gamble on NOT paying – for a mistake that really isn't theirs either. Honestly, the person that should be shouldering this burden is the manufacturer. If you include a warranty and that product breaks within that warranty period, is it really thinking too far outside the box that the FULL costs of the labor to mitigate that problem should be covered? Including my travel, my gas, my repairing expertise and my shipping costs?
I doubt it will ever happen, but if a company really wanted to garner good will amongst the installer crowd, they could ditch the rhetoric of things like, "We're protecting our dealers with exclusive territories" or "We're stamping out all unauthorized Internet sales. Honest this time!" and say something like, "If our stuff breaks, we'll pay you your costs to get it fixed. All of them." I imagine that would perk up a few ears. I know it would mine.
Now, if you'll excuse me, I have a $183 check to write...
Categories: July 2011, Rants, CTA
/